The Best of Bitlanders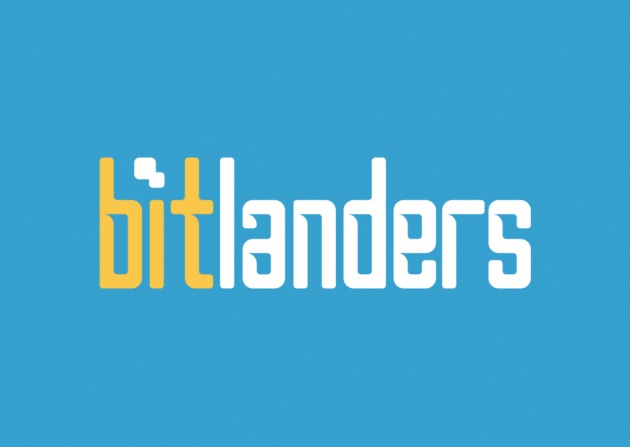 image source: bitlanders.com, google.com
Hello everyone especially to beginners and to those who are not yet members. I am known as "rex_sensei" in Bitlanders. I have been with Bitlanders since August 2015. Well, I'm not considered as a "top user" - what I mean is I'm not in the top 30 leaderboard but I do have over 800 subscribers(a lot of people still add up to my subscribers list everyday) and my buzz score ranges from 70-90. I think I'm a bit popular already or maybe it's safer to say that a lot of bitlanders users already know me or knows that I exist here! Hahaha! And now I would like to share with you the secrets to my somewhat slow but sure success, so that you may also become a successful user and get some extra cash by earning bitcoins(btc for short) in Bitlanders.
Just for you to know, I'm earning 0.0008-0.001 btc per day which is equivalent to US$0.2261-0.2813 or Php10.49-13.10 per day. In total, I've earned 0.05 bitcoins(Php656.00 or US$14.11) since I joined Bitlanders. "Top users" earn much more - ranging from 0.009-0.025 per day which is equivalent to US$2.532-7.038 or Php117.9-327.6 per day! As the btc currency exchange rate changes constantly, you can check the current btc currency exchange rate yourself by clicking this links: for btc to US$, click here! and btc to Philippine Peso, click here!
credits to http://preev.com/ for the btc currency exchange rate
Now, how to start earning? If you are not a member yet, register here!
Video - Creating a Bitlanders Account
Four Ways To Earn
Bitlanders provided four different ways to earn: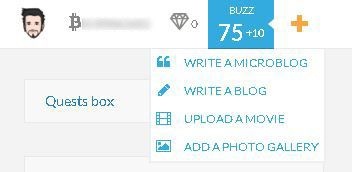 1. Microblogs - Post short status updates, questions, thoughts, pictures, etc.
2. Blogs - Write quality blogs.
3. Movies - Upload quality videos.
4. Gallery - Upload your pictures.
I will discuss each of them. Let's start with:
1. Microblogs
Are you the kind of person that has always something to say, something to post, a thought, an idea, what you do, what you feel, a quote. You have done this a hundred or even a thousand times in facebook or twitter. Well, bitlanders call it "microblogs", a twitter like way for you to post your thoughts or updating your status just like what you do in facebook with the maximum of 160 characters only. This is 20 characters more than twitter. If you tweet a lot, why don't you just do it in bitlanders in the form of microblogs and earn bitcoin from it? If you intend to to it, I recommend you to post at least 10 microblogs every single day just like me, but maybe you can post more. More microblogs, the better you earn. Below are some examples of my microblogs. Or visit my microblogs section.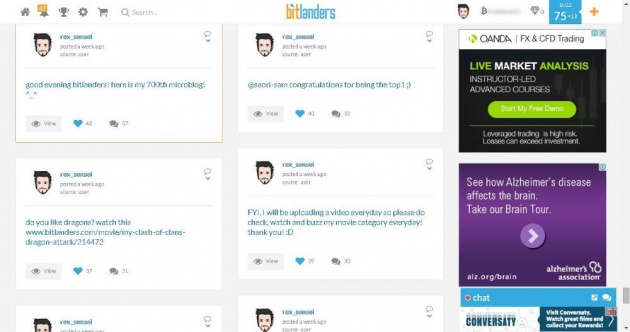 Microblogs Sample I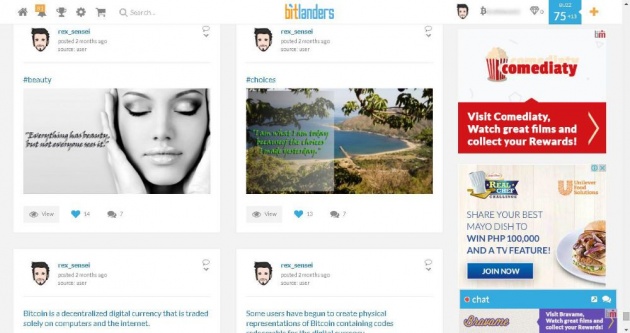 Microblogs Sample II
2. Blogs
If you are a blogger, this fits you well. Or if not, you can practice blogging here. Well, blog is a great platform to talk about many things. As far as i know, I consider myself as a dumb blogger. But I still blog, practice makes us perfect. Try creating a blog and submit it for review, bitlanders will rate it from 1 star(lowest score) to 5 stars(highest score). If you get 3-5 stars from your blog review, that means you have a quality blog. To make you familiar about "quality blogs", I will give you some links of blogs made by "top users". You will learn a lot from their blogs but I warn you not to copy any of their work whether it is in the form of videos, images or just pure text.
Here are 5 blogs of some "top users": Just click the blog's title to read it.
Top 1 User - Minato is from the Philippines - This is one of his 5 star blogs: Pros and Cons of Online Freelancing
Top 2 User - AdGoggleKo is from the Philippines - This is one of her 5 star blogs: bitLanders and Bitcoin Exchanges
Top 3 User - mannythemovieguy is from the United States - This is one of his 4 star blogs: Filmmakers to Give Out Legal Marijuana in Colorado at Movie Premiere! No Purchase Necessary, Of Course!
Top 5 User - saori-sam is from the Philippines - This a 4 star blog she wrote: Bitlanders' Rewards
Top 6 User - LookUp is from Indonesia - This is his last reviewed 5 star blog: Immortal Songs 2 : Singing The Legend Part. 1
-credits to the "top users" mentioned here
More "top users"? Check the leaderboard!
If you want to read more of their blogs, just click their names to go to their profile and click their blogs section. I have more than 12 blogs but haven't submitted any of them to be reviewed. I am planning to submit this blog and let's see how many star will it get. I have another blog: History, but I'm not sure if it is worthy for a review. I will try to check and edit it and add a little more images or videos before submitting it for a review. You can also check the rest of my blogs here.
3. Movies
In the movies section, you are allowed to upload your own videos. It's better if you have a high quality or high definition video. I recommend you upload original videos if you plan of submitting them for review. Bitlanders is really for video sharing, much like youtube. You can upload your birthday videos, wedding, other party videos, what your kids do, what your siblings do, your own version of popular songs, what your pets do, funny things you recorded, video tutorials and any video that is not against the terms of use. I have about more than 20 video uploads already and most of them are my original video edits using Cyberlink Powerdirector application. I even recorded some replays of my Clash of Clans attacks if you are familiar with this popular game! This link is one of the Clash of Clans attack video I uploaded, Clash of Clans Gowiwipe Attack. You can watch all of my videos by clicking here. The video below is also one of my video uploads.
Video - The Youth's Hiking Activity
Start making your own original video and upload it now!
4. Gallery
In this section, you will be dealing about images or photos. It would be a great start if you are a photographer. Maybe you are using Instagram. You are fond of making photo memes. You like editing or even creating images using photo editing softwares like Adobe Photoshop. You have 50 selfies from the past months, instead of uploading them in facebook or instagram, upload them in bitlanders to earn bitcoins. It can also be pictures of your neighborhood, your town, a tourist spot near your area, your childhood pictures, anything as long as it is legal or appropriate for any ages. I only have 2 galleries that I think is worth a try to be submitted for review because the pictures included are originally owned by me. They are taken or produced by my mobile phone's camera, not taken from other sites, other users and sources. You can check these 2 galleries below, just click their titles.
Random Scenes from our beloved Municipality of Narvacan
Below are just screenshots of the 2 galleries mentioned above.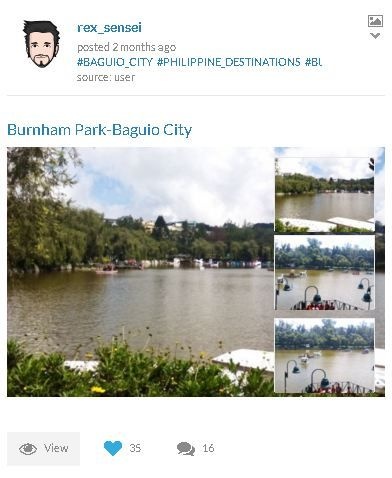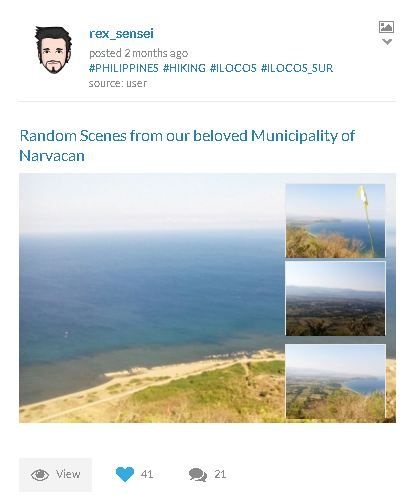 Find Bitlanders on Facebook: https://apps.facebook.com/bitlanders/
Download and Install Bitlanders for android now!
Download and Install Bitlanders for ios now!
Content Review
Maybe you are a bit confused about the "submit for review" I mentioned earlier? Actually, it is generally called "Content Review".
What is the "Content Review"?
"Content Review" is a feature which allows users to submit their contents to our editorial team. Once reviewed, submitted contents may receive additional Buzz bonuses depending on their quality. Higher quality contents will receive higher scores and higher bonuses.
Currently, only blogs, movies and galleries may be submitted for review.
What are the requirements for the submission?
For blogs:
Only English submissions will be accepted.
Submitted posts must be written in proper, well formed and well formatted English.
Submitted posts must be original.
Submitted posts must be exclusive and can not be present anywhere else on the web.
Submitted posts must be tagged accurately.
For movies:
Only English submissions will be accepted.
Submitted movies must be original.
Submitted movies must be tagged accurately.
For galleries:
Submitted galleries should follow a theme.
Submitted galleries must contain more than 5 images.
Submitted galleries must be tagged accurately.
How do I achieve high scores?
For blogs:
Write original content (Submitted posts must be exclusive and can not be present anywhere else on the web).
Write in proper, well formed and well formatted English.
Make your posts visually appealing by adding related images and embedding related videos.
Do not plagiarize content from the web or other bitLanders users.
Make sure you use accurate and related tags
For movies:
Upload meaningful content.
Upload high quality movies(picture and sound).
Present your movie well by writing an exhaustive synopsis and choosing a related image as a poster .
Do not plagiarize content from the web or other bitLanders users.
Make sure you use accurate and related tags
For galleries:
Make sure your images are related and suitable for the theme of the gallery.
Upload high quality images.
Each gallery must contain more than 5 images.
Make sure you use accurate and related tags
REMEMBER: NO PLAGIARISM! If you copied some text, phrase, sentence, paragraph, images or videos from other sites and people - please give the credit to them.
credits to bitlanders.com FAQs
More About Bitlanders - Other Features Available
Charity
Bitlanders is giving you the privilege to voluntarily donate some of your earnings to your chosen charities. A lot of kindhearted users even donate all of their earnings. But I just want to emphasize, donating your earnings to charities is voluntary. It's up to you to decide if you will keep all your earnings for yourself, or donate a part of it, or donate all of it.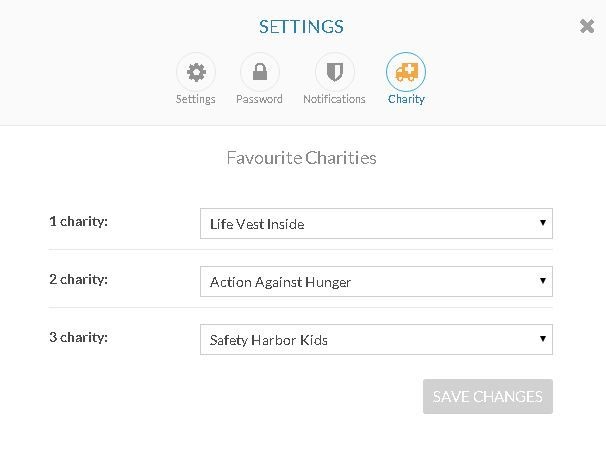 These are currently my 3 Favourite Charities. We can change it anytime we want.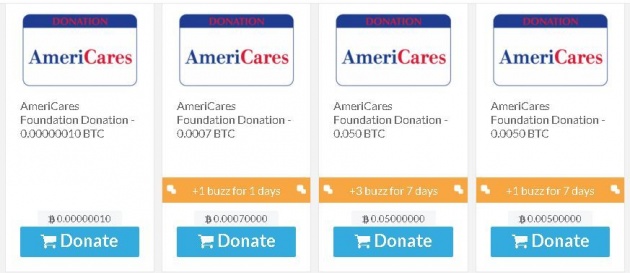 As you can see in the image above, you can receive buzz bonuses depending on the amount you donate.
Earn More
You can also earn more bitcoins by inviting people to join or register! If they join, you will be receiving +3 buzz for 3 days and 20% of their buzz score rewards for life!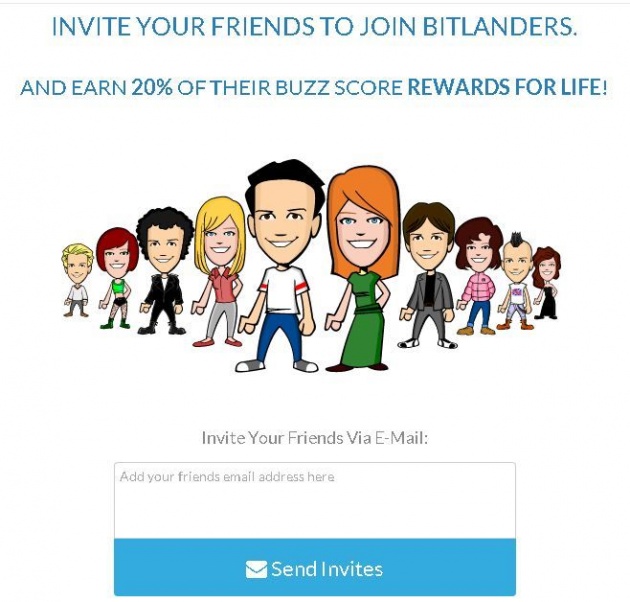 You can invite them by email.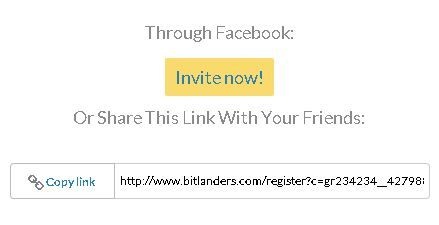 You can also invite your facebook friends or just share them your own unique link provided by bitlanders.
Global Chat
If you like chatting with your friends on facebook, bitlanders has its own chat - only a simpler version. Global chat is one of the best ways to promote your blogs, movie/video uploads, and galleries. If you are having a hard time locating the Global Chat, it is in the lower right side corner of bitlanders. I just don't go there often because a lot of new members keep on spamming "sub/buzz me" these last few days. Let's hope that soon, bitlanders will be able to offer us a better chatting platform.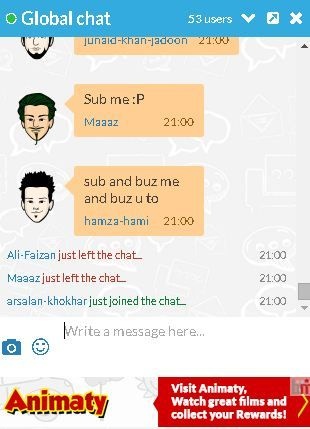 There you go, some of the spammers are caught in this screenshot.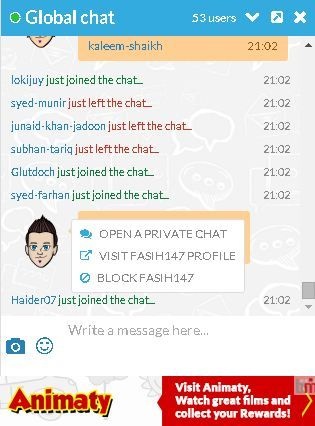 If you click on someone in the chat, you will the option to go on a private chat with them, visit their profile, or block them.
How to Withdraw Earnings
The last thing I would like to discuss is about how to withdraw your bitlanders earnings/rewards.
First, you MUST create a bitcoin wallet. This is where bitlanders will send your bitcoins after you redeem your earnings. You should also take note of the email address/es connected to your bitlanders account and bitcoin wallet account.
Bitlanders requires a minimum amount of 0.0251 btc for you to withdraw. Go to your earnings to check if you reached the minimum amount and click "WITHDRAW". Click "Redeem" then type the email address connected to your bitcoin wallet then click "Submit" button.
Video - How You Can Withdraw Bitcoin on Bitlanders

I do not own this video. Credits to muhammad-kalim
You can check the status of your Redeem reward here. It will look like the image below. Under the "Status" column, your Redeem reward can be "rejected", "confirmed", or "delivered".

If it is your first time to withdraw, bitlanders will be sending you an email like the one you see below requesting you to submit 2 valid ID's for verification purposes. It usually takes about 2-4 days before you receive this email. Just check your email's inbox regularly. (On your 2nd withdraw, 3rd withdraw, onward, bitlanders will not require you to submit ID's anymore. You will just wait for your bitcoin wallet account and bitlanders to confirm and deliver your payment.)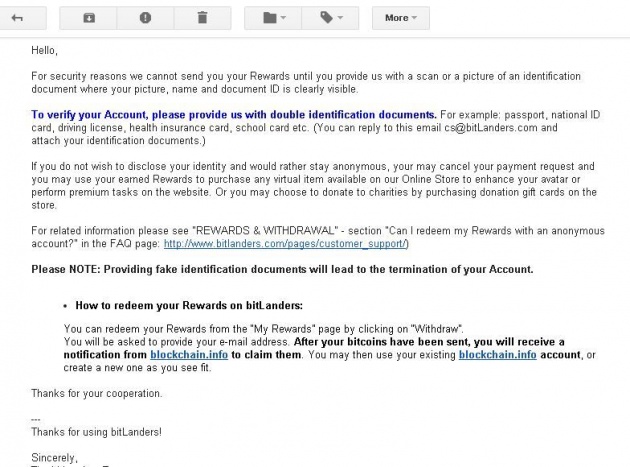 You will be sending them a reply with your attached ID's. I sent them scanned copies of 2 valid ID's in microsoft word file or format. Check my screenshot below.

Bitlanders will then again take 2-3 days to verify your account using the copy of ID's you sent to them. They will be informing you whether your account is rejected and not allowed to withdraw; or if your account is verified and allowed to withdraw like the email they sent me below.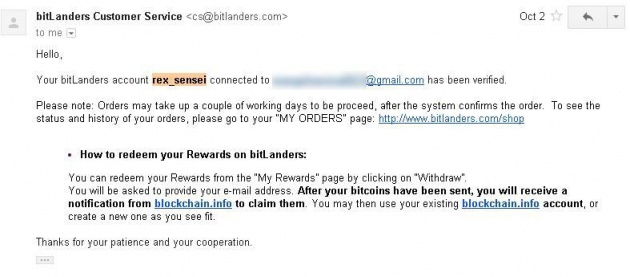 You will have to wait for another 2 days before your bitcoin wallet account and bitlanders confirm and deliver your bitcoin payment. The email will look like the image below, just click "Click Here to claim this payment" to move your bitcoins to your wallet. Login to your bitcoin wallet account to access your wallet.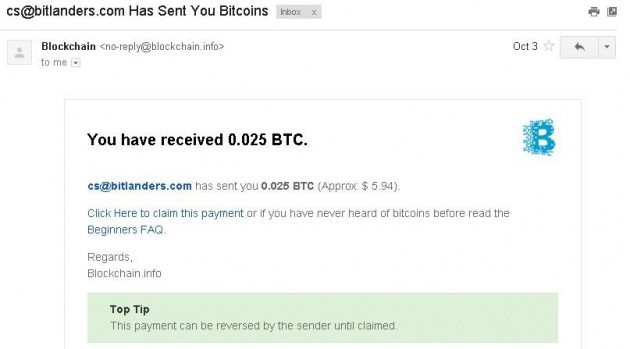 For my fellow Filipinos to easily cash out their money, I recommend that you create a coins.ph wallet. You can directly put your coins.ph wallet address on your bitlanders preferences so they will send your earnings directly to your coins.ph wallet after you withdraw your earnings or: You can transfer your bitcoins from your bitcoin wallet to your coins.ph wallet and you will have a lot of methods to cash it out: Cardless ATM Instant Payout (24/7), Bank, Cash Card, Mobile Money, or Door-to-Door Delivery. Coins.ph also gives you the option to use your bitcoins to Buy Load and Pay Bills! (Know more about coins.ph)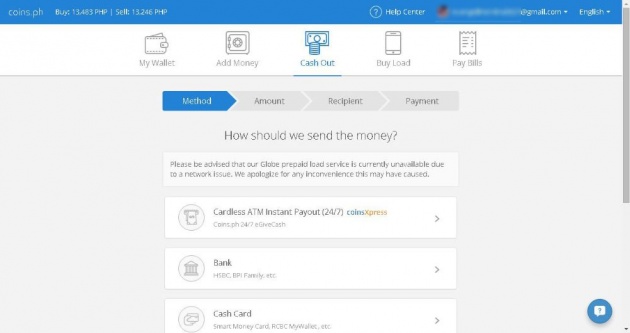 Well, that concludes this blog. I hope that this has been a great help for you. Have a good time doing the exact same things/stuffs that you do in facebook, twitter, youtube, instagram, and other blog sites while earning at the same time! This is rex_sensei, wishing for your success in bitlanders! Cheers!
(1st blog submitted for review)