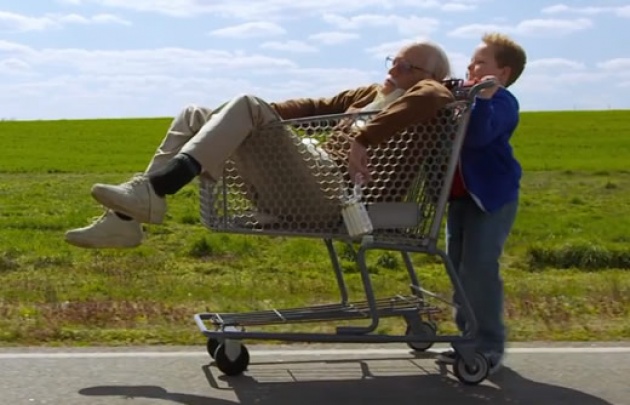 It took a "Bad Grandpa" to finally dethrone Sandra Bullock from the top spot. "Jackass Presents: Bad Grandpa" took the top spot at the domestic box-office kicking "Gravity" down to the second spot. "Bad Grandpa" made $32 million in its debut weekend, while Alfonso Cuaron's fantastic sci-fi thriller scored $20.3 million in its fourth weekend.
After being the box-office champion, "Gravity" fell a notch but still created an impressive box-office performance bringing its domestic total close to $200 million.
"Bad Grandpa" might have been the box-office champ this weekend, but it was well below than the $50.4 million debut of "Jackass: 3D" in 2010. The fourth installment even has a plot with Johnny Knoxville playing the title role of the bad grandpa aka Irving Zisman to his 8-year-old grandkid, Billy played by Jackson Nicoll (check out my review below).
"Captain Phillips" starring Tom Hanks followed at No. 3 with $11.8 million. So far, the Oscar hopeful has made $70.1 million.
Another Oscar hopeful, but failed miserably (both critically and commercially), was Ridley Scott's "The Counselor." With an admirable director, a script from one of America's greatest living writers (Cormac McCarthy), and a talented cast featuring Brad Pitt, Cameron Diaz, Javier Bardem, and Michael Fassbender, how can "The Counselor" go wrong, right? Well, this one's lifeless and its box-office take mirrored that. "The Counselor" debuted at No. 4 with just $8 million. Dead on arrival indeed!
The sequel "Cloudy with a Chance of Meatballs 2" round out the Top 5 with $6.1 million.
The super good-news of the weekend belonged to "12 Years a Slave" from director Steve McQueen. The Oscar bait pulled in $2.15 million in just 123 theaters! Take that "The Fifth Estate!"
Here's the estimated Top 10 Box-Office Films for the weekend of Oct. 25th:
"Jackass Presents: Bad Grandpa" - $32 million
"Gravity" - $20.3 million
"Captain Phillips" - $11.8 million
"The Counselor" - $8 million
"Cloud With a Chance of Meatballs 2" - $6.1 million
"Carrie" - $5.9 million
"Escape Plan" - $4.3 million
"12 Years a Slave" - $2.15 million
"Enough Said" - $1.55 million
"Prisoners" - $1.06 million
Here's my reviews of "All is Lost" and "Jackass Presents: Bad Grandpa."