This week, I was back at work after two weeks in France for the holidays. I didn't watch any French movie, but I definitely feel like I ate all the food from Julie and Julia!
The week was short so I mainly had time to catch up on all the movies received, write blogs and take care of our social media platforms. So I started with the new short films. We are presenting dozens of new videos on the National Archives and The White House Wire Web TVs. Jeff Chiba Stearn has some new animations on his Meditating Bunny Web TV. Ignacio Ruiz Alvarez uploaded several videos on a stop motion animation workshop made by children in Chile. We also now have some of his drawings and storyboards in our Behind the scenes photo albums on the Film Annex Facebook page.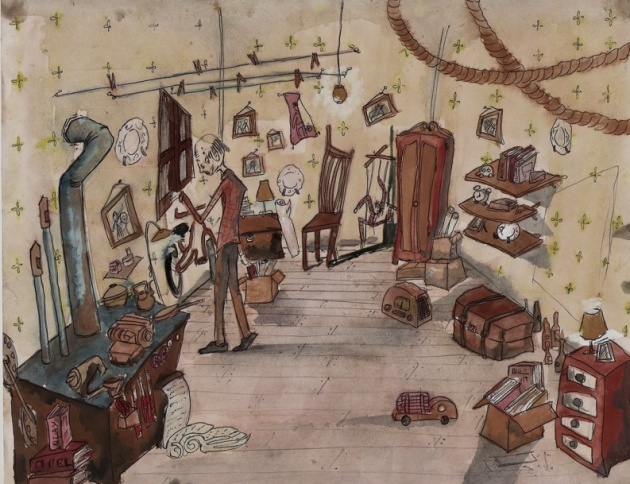 Drawing from 'Humanoide No Robot' by Ignacio Ruiz Alvarez
Mark Kuczewski is the first of our filmmakers to present director's commentaries of his films. I'll Call You Back being one of my favorite movies on the platform, it was a pleasure to see it and listen to Mark's commentaries at the same time. I hope we can get more of those and I will encourage filmmakers to upload more behind the scenes, making of, commentaries, director's cut, etc. I also intend to work on a blog about those kind of videos with examples from our filmmakers. Last year, we did a special behind-the-scenes and making-of newsletter which should inspire me for that. Speaking of those, Anderson West sent us the Behind the scenes video for his short film Rest.
This week was the release of Alex Nakone's last film, Ouroboros, exclusively on Film Annex. Eren Gulfidan interviewed him about the film. I also exchanged several emails with filmmaker Lisa Stock. She sent us the trailer for Persephone, a 4-episode web series that she chose to premiere exclusively on Film Annex in the Spring of 2013. You can read my blog about it here.
This week, we are welcoming Sarah Jenner on the platform, who was referred to us by Sorcha Anglim and Amy Hill. She graduated from Staffordshire as most of our "UK crew". I really like her first film, Finding Charlie, about an unlikely friendship between two apparently opposed characters, which reminded me of Amy Hill's movies like Kyle or Notice.
Thanks to Lisa Stock, I have been in contact with Emmanuel de Bourboulon of After-Set, a private online community for professionals working in the film industry. Yesterday, they published an article about film distribution where they talk about Film Annex and how it contributes to remodeling the film distribution industry. Lisa is preparing an article only on Film Annex for their website. I can't wait to see the result.
Lastly, I continued my series on Filmmakers and social media with a blog about Nick Fox-Gieg, one of our filmmakers who came to our studio last month for an interview. You can read the blog here.
Next week I will update the social media platforms statistics for December 2012. I will also dedicate some time to prepare a recap blog about Film Annex and social media in 2012.
As people make New Year's resolutions, I'll make some 2013 goals. Let's work on bringing the most talented and creative indie filmmakers on Film Annex. Let's take advantage of social media's possibilities to be more creative and show what makes us different.
Happy New Year!