This is hilarious. So, I'm sure that everyone in the world has seen a video on YouTube by now, but, have you ever clicked that little button below the video that says 'more'? Well, my friend, you are in for a treat. There's three choices: Report,Transcript and Statistics. Transcripts( I say to myself. Because there's no one else here)?
What could this possibly be?
Well, let's take a looksee right here. Click(that's me hitting the transcript button) loading...And then it appears.
Apparently YouTube and +Google have figured out some sort of super amazing Technology to tell us dummies what is being said in the videos. Only thing is...it's not amazing.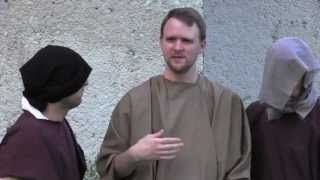 It's HILARIOUS!
Here, just have a look for yourself at the Sasketchshow video for
Jesus of Nazareth:The Last Summer
Umm, I suggest reading along with it after watching it through once. Unless you've been one of the lucky few who have already laid your little eyes on the fantasticness that is Sasketchshow; I think it'll be even more an 'out of control chuckle' that way. You should believe me...I have absolutely no reason to pull your leg.
Ok. So you watched it through once? Good. Now, prepare yourself, get your scroll button ready, grab your reading glasses, a cup of tea, hit replay and ready yourself for a little read along. It goes beyond ridiculous to the point where it probably should have been filmed this way. K, go...
a motion picture me with love and understanding recreates
authentic detail grades adventure me four degrees adventure in the history of
mankind
was never told until now jus fence apartment which Judas
scarier I don't know about that kid first meeting way
he's alright wealthy you don't know my guy should be so quick to judge
Jesus have Nazarene the last summer
it's good times great memories for two sons game the apostles
I'm gonna set them aside the summer evolve summers the last
summer you will hold the keys man don't let her silver
Hamid me he's persuade you to do anything you don't want to do
store that transcends %eh arrival see romeo & Julia and some guy right so much
merrimack
maybe what's the single currency other a higher bar to bring this true
for now that's how we get a frock now
just sprinkle the seeds of destruction water
sure it's my friend pants its
and a friend of mine that brings you here
you my friend
he seems to be ignoring you cops he's just
and mistake alright of
yeah I know don't miss a creature called the motion picture event of all time
she's amassed last summer coming soon the Bob Gibson is Matthew
on thanks ciao indisputable
gonna grab a scary Magnum birds at as Judas
Circle Quest mother Mary Andy Samberg is
cheese
_____________________________
Share/Follow