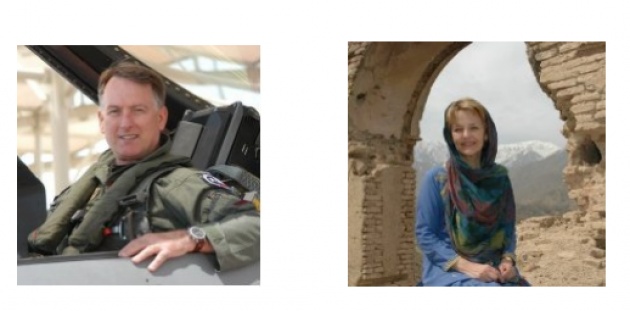 "With the right vision for the future and the right emphasis on improving the quality of education and getting 100 % of school age children in better quality schools, there is an opportunity for great progress in Afghanistan. We are very optimistic about the future there."
The Lamia Afghan Foundation's goal is to provide humanitarian aid to the children and families of Afghanistan. The future of Afghanistan is in the hands of its youth. With winter relief drives, school supply drives and other donations, Afghan children will be offered educational opportunities and basic necessities they need to secure a brighter future.
FA: Please tell us about yourself and your background.

JB: We are John and Jan Bradley, married for almost thirty-eight years. Lt. Gen. John A. Bradley is Chief of Air Force Reserve, Headquarters U.S. Air Force, Washington D.C., and Commander, Air Force Reserve Command, Robins Air Force Base, Ga. As Chief of Air Force Reserve, he serves as principal adviser on Reserve matters to the Air Force Chief of Staff. As Commander of Air Force Reserve Command, he has full responsibility for the supervision of all U.S. Air Force Reserve units around the world.
As a fighter pilot, General Bradley flew 337 combat missions in Vietnam. He has commanded a fighter training squadron, fighter group, fighter wing and numbered air force. He also served as Deputy to the Chief of the Air Force Reserve and as the Deputy Commander of Joint Task Force - Computer Network Operations.
Jan was a wife and mother who devoted herself particularly in later years in doing a large amount of volunteer work, dealing with American servicemen and women who were " wounded warriors." She then started an effort collecting huge amounts of humanitarian aid that would be distributed to orphanages in Kyrgyzstan and to the needy in Afghanistan. She was appointed as the program director for Office of Air Force Chief of Chaplains, Bolling Air Force Base, Washington, D.C., to coordinate efforts assisting Wounded Warriors and orphanages in developing countries.

FA: Please tell us about The Lamia Afghan Foundation and the philosophy behind it.

JB: We founded The Lamia Afghan Foundation in 2008, after John retired from a 41-year career in the United States Air Force. Our interest in Afghanistan began in December, 2007 when Jan collected 40,000 pounds of humanitarian aid which was loaded onto one of John's Air Force Reserve C-17 cargo aircraft headed to Bagram Airbase, Afghanistan. The 40,000 pounds of aid was packed in cardboard boxes almost entirely by Jan. We were giving this aid to Operation Care, a volunteer military service organization which supported and still supports local women and children who enter the base to receive medical care at The Egyptian Army Hospital. As these women and children left the base, Operation Care volunteers would give them large bags of humanitarian aid supplies.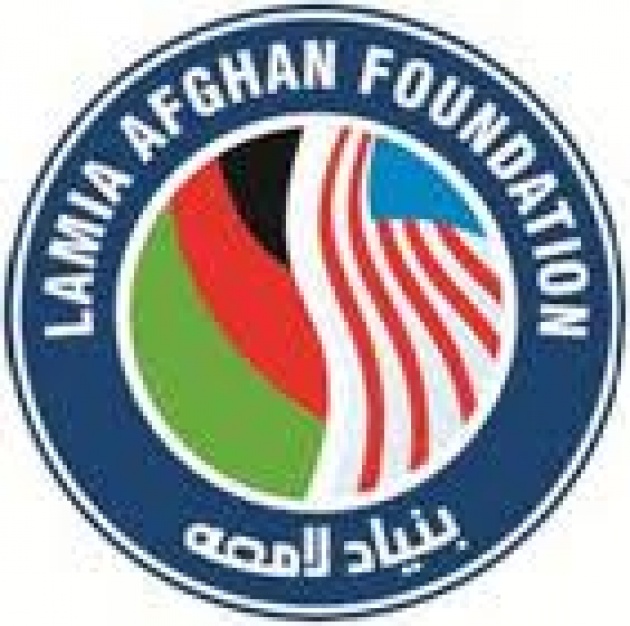 While visiting Bagram, John asked to be taken to a local village to hand out some of the aid he carried into the country. While in this village handing out blankets, a little nine-year old girl wearing a tattered red head scarf approached John, begging him for a pair of warm boots like he was wearing. It was winter and very cold. Her feet were frozen in her little sandals and her face was severely chapped and cracked. John told her he had no boots to give her. Upon his return to the United States, John told Jan this sad story. We went shopping for her and mailed four boxes of winter clothing, jackets, blankets and four different sizes of boots to the security personnel at Bagram who had taken John to the village. John sent them a photograph of the little girl and asked them to locate her to give her the boxes. They did.

We both wrote her letters praising her for her great courage in breaking through a line of little boys to reach out to a strange man in uniform. A great LEADER we thought she would be and told her so in our personal letters which were read and translated. John told her he would be back in Afghanistan in May of 2008 and he hoped he would be able to see her again. He did. The little girl's name was Lamia.

Three months later, John retired from the United States Air Force. He and Jan decided that what they wanted to do in retirement was to continue to help the people of Afghanistan. In October, 2008, we formed The Lamia Afghan Foundation, a non-profit foundation chartered and registered in Tennessee. They applied for and received approval from the Internal Revenue Service as a 501(c)(3) non-profit foundation.

The Lamia Afghan Foundation was established by John and Jan to provide educational, economic and humanitarian aid assistance to very needy people in Afghanistan. We have held true to our charter for the last 4 1/2 years.

FA: What is special and different from other NGO's of The Lamia Afghan Foundation mission and operation?

JB: We are an all volunteer, two person, "mom and pop" foundation, which works at the grassroots level in rural villages and refugee camps in Afghanistan. We travel to Afghanistan twice a year, typically for a month at a time, putting our" boots on the ground." We work there directly with the people we are helping, without any security, without any government assistance, either Afghan or US, to do this work which we consider vitally important.

A big difference in our foundation and any other non profit is that we never use any foundation money for our personal travel, living expenses, or any administrative overhead costs. We pay for those things out of our own retirement pay and savings. All donations to our foundation are used directly in the work in Afghanistan, not to support us or to help us personally in any way.

These donated funds are used to build schools, initiate Afghan women led sewing projects; one in Bishud, Wardak; one in Daschte Barchi, Kabul; and one in Khairabad village, Shindand District, Herat Province. We are partnered with the Minister of Education in Kabul to build schools in remote villages where children have no opportunity for education. We introduced ALTSO, A Leg To Stand On, which provided state of the art prosthetics in Afghanistan for the first time last year. They are working with Kabul Orthopedic Organization (KOO).

Our main accomplishments over the last four years are that we have built two schools for girls in eastern Afghanistan in Paktika Province where girls could not attend school beyond the sixth grade. We built a ten classroom school building on the outskirts of Kabul for 400 boys and girls living in a refugee village. We completely renovated the huge Amir Dost Mohammad Khan School where 3,000 children attend classes. We have assisted in putting up tents in refugee camps for schools for the children. We worked through the Ministry of Education in Parwan Province and with the Provincial Reconstruction Team (PRT) of the Republic of Korea in Parwan to get a new school built for 1,200 girls and boys in grades one through twelve. This school will be opened this spring when school starts in late March. We have supplied all these schools and more with school supplies that we shipped to Afghanistan.

We have sent more than 1,250,000 pounds of humanitarian aid from the United States to Afghanistan for distribution in at least fifteen provinces, particularly for rural villages and for refugee camps. This aid includes: winter clothing, boots and shoes, blankets, food, liquid nutritional supplies, school supplies, teacher supplies, medical equipment, medical supplies, and fabric and sewing supplies for sewing training programs. We are told by the Denton Program Office in USAID that our little "Mom and Pop" non-profit foundation has sent more humanitarian aid to Afghanistan than any other non-government entity.

Also, we requested from the MOE that Hoopoe Books, old Afghan tales told around campfires for a thousand years in Central Asia and Afghanistan be considered as standard curriculum for all school children in Afghanistan. These books were approved with the MOE's stamp of approval. They are now printed in Dari and Pashto.

We are members of the US-Afghan Women's Council, homed at Georgetown University in Washington, DC. It was established in 2002 by former President George W. Bush and President Hamid Karzai. As members of the US-AWC, we are partnered with The Concordia Summit NGO in New York City, which brings public-private partnerships together to address economic, educational, health and security issues globally.

We have also worked for over a year as the volunteer co-executive directors for another NGO, The Marshall Plan Charities (MPC), founded by Ms. Joanne King Herring. MPC works at the village level providing five essentials--a food source, a water source, a medical clinic, a school, and a job or skills training facility for men and women. The first chosen village is Khairabad Village, in the Shindand District of Herat Province. MPC raised the funds to build the medical clinic, the school and the skills training center. All construction work was accomplished by the local men of the village. The men also laid the pipeline for the water source for irrigation and for the drinking water. MPC had an expert teach the local villagers how to plant, harvest, and make recipes using soybeans, a fabulous source of protein. This over time will greatly improve the health of everyone there.
All of this is done because a small nine year old girl named Lamia touched John's and Jan's hearts. Had she not asked John for some boots, we would have our efforts focused somewhere else.

The work we do does more for "nation-building" than any high dollar projects of USAID. We are with the people, we respect their culture, and we ask them what they need, and we listen to them. We don't just go in thinking we know what they need. They need to be asked. That is our "different" approach.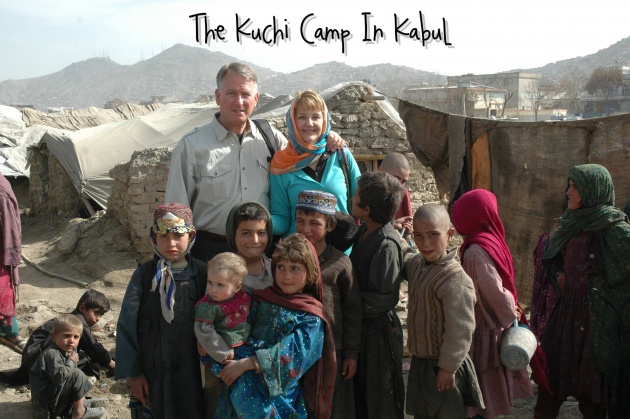 FA: Do you use social media to promote your projects? If yes, how?

JB: The Lamia Afghan Foundation has a first rate web site provided pro-bono by TIG Global, Bethesda, MD. We keep it up to date and periodically, our point of contact with TIG Global makes modifications for us. We have a Facebook page for The Lamia Afghan Foundation. This is the extent of our social media experience. Our operation is extremely difficult with only the two of us doing this work. We don't have the time to delve into other social media opportunities, but we need to find a way.

FA: Where do you see the future of developing countries like Afghanistan? Do you think educational opportunities and vocational training with social media can help improve their economy and education system?

JB: Afghanistan could possibly make more progress in the next half century than any other country on the planet. Now, this is partially because they are so far behind the rest of the world in so many ways. Thirty years of war would do this to any country. A lack of education for half the population (girls) would do this to any country. Added to that, many of the older generations are not literate. And the education these children receive is not on par with the rest of the world. Better teacher training will help this over time. This problem will not be solved overnight. With the right vision for the future and the right emphasis on improving the quality of education and getting 100 % of school age children in better quality schools, there is an opportunity for great progress in Afghanistan. We are very optimistic about the future there.
There is a great hunger for access to computers and all the opportunities that derive from being connected to the world through Internet and all social media outlets.