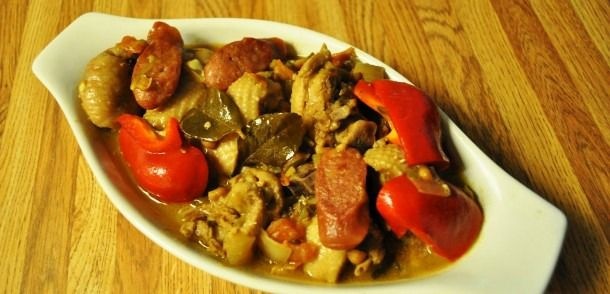 Ingredients:
1 kilo duck or itik, chopped in to medium sizes
1 small can liver spread
2 tsp. garlic, minced
1 medium size onion, sliced
1 cup corn oil
1 red chili pepper or siling pula, sliced
1 small can tomato sauce
1 chicken bullion cube, dissolved in 2 cups hot water
½ cup bread crumbs
Salt
MSG
How to cook kalderetang itik:
Fry the chopped duck until slightly brown in corn oil.
After frying set aside. Use the oil for sautéing.
Sauté the garlic and onion until medium brown then pour in the 2 cups of dissolved bullions cube.
Simmer until the meat is tender. Add water if necessary to avoid drying up.
Then add the liver spread and tomato sauce. Then add the chili pepper.
If the mixture is cook already, add the bread crumbs, salt and MSG to taste.