Kanye West is at it again; collaborating with clothing brands to make a ridiculous clothing release. It wasn't that along ago when The Yeezy 2 released; Nike Yeezy being Kanye's signature shoe. The shoe being exclusive and desperately wanted by sneaker collectors all over the globe, they sold out everywhere online in a matter of seconds. Hundred's of people were camping outside for hours (even days) all over the USA. It was said only 5000 pairs were made, and both color ways, Solar Red and Platinum, retailed for $250. Fans would do anything to get their hands on any shoe in the franchise...and no sooner than 1 day later, The Yeezy 2's were being put up on eBay for $3000 at the least. If that's not insane enough; people were buying them instantly. Sooner than later, The Yeezy 2 was released with a price tag of $1000 at the Royal Oak store; and although the price is still up their in the "ridiculous" category, it was considered a "steal" to sneaker lovers that weren't able to get the pair for retail at $250. The devotion to this pair of sneakers is insane If What could be said to the shoes defense is that they were unique; influenced by Egyptian culture, such as containing hieroglyphs in parts of the shoe; the logo on the front being the Egyptian God of Ra, etc. Side panels are anaconda textured; having a spine like texture on the back of the shoe.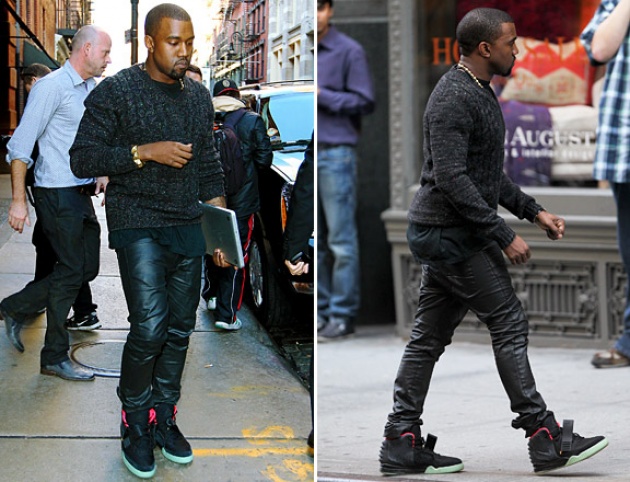 Kanye wearing the "Solar red" color way of the Nike Yeezy 2
Recently, Kanye has collaborated with A.P.C, to produce a plain t-shirt, that retailed for $120. Quite unique? A description of the shirt surely made the shirt look better; "contains Egyptian cotton" and "ribbing at the neck". A.P.C, a French fashion line, released the collection on its site just couple days ago. The site getting stampeded on by die-hard Kanye-fashion supporters, and it even ended up crashing. However, after all the fancy descriptions, the shirt ended up to be just another plain white t-shirt that can be bought in a local clothing outlet. It still doesn't stop crazy Kanye fans from sheepishly buying every product he influences. Several twitter user's were seen tweeting complaints on Kanyes collab collection; stating the obvious... spitting up $120 for a plain t-shirt that supposedly contains cotton from Africa is over the top.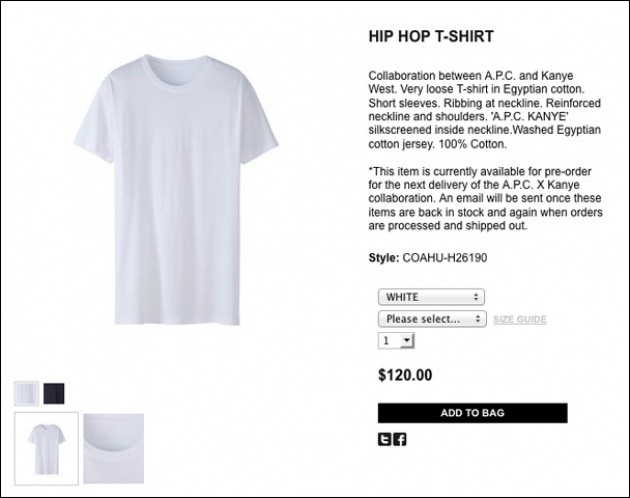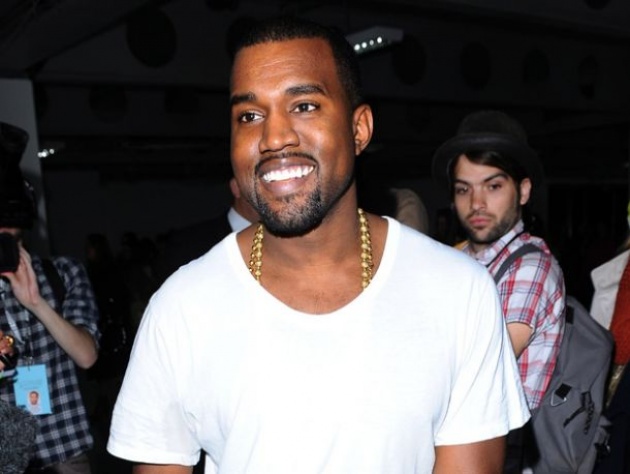 And even if it does contain cotton from Africa, does it really make any difference? Made in US, or in Egypt, quality-wise its all the same.