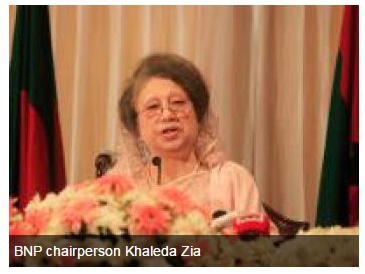 BNP chairperson Khaleda Zia reportedly has been confined in her Gulshan office from Saturday night as police kept it besieged a day before her party-led 20-party's much-hyped January-5 rally.

The presences of law enforcers increased since morning while journalists were barred from entering the office.

However, state minister for home affairs Asaduzzaman Khan said police have taken the measures as part of security beef up for the BNP chief.

Police also stopped Bikalpadhara president AQM Badruddoza Chowdhury, when he went to meet Khaleda.
Meanwhile, police charged baton and arrested some BNP activists when they tried to bring out a procession in front of Gulshan office on Sunday morning.
Party sources said Khaleda was confined to her offices around 11:30pm on Sunday. BNP Vice Chairman Selima Rahman, Mohila Dal general secretary Shirin Sultana are among others, with Khaleda.