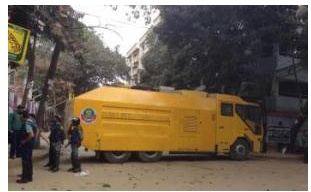 Police have put BNP chairperson Khaleda Zia's Gulshan office under lock and key.

The law enforcement agency made the move around 12:15pm.

Meanwhile, Khaleda's press secretary Maruf Kamal said the BNP chief will go to the party's Naya Paltan office after 2:00pm.

Police early Monday cordoned Khaleda's Gulshan office with a dozen trucks.
The sand-carrying trucks were placed on two sides of the office since 12am while additional police forces were deployed in the area.
Police also barred anyone from entering her office since morning.
The BNP chairperson has been kept confined to her office since Saturday night as she threatened to hold mass rallies in Dhaka to mark 'Democracy Killing Day' today (Monday).
Sources in law enforcing agencies said they had information that Khaleda might take position in BNP's Naya Paltan central office ahead of their 5 January programme.
Currently, Khaleda has been kept confined inside her Gulshan office and she won't be allowed to move anywhere, sources added.