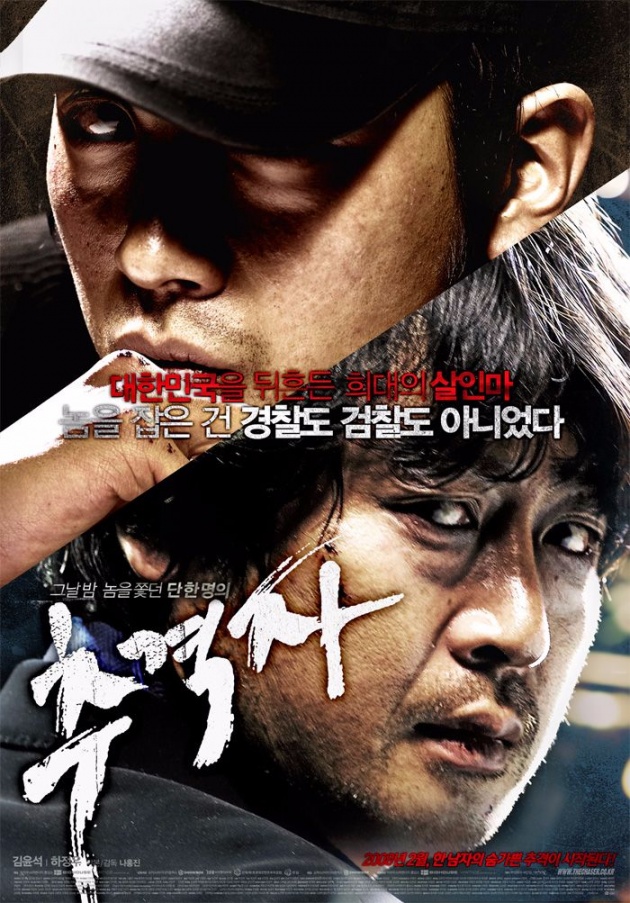 The Chaser (추격자)
Tell me one reason why I should let you live
Hi guys~! It's me again :3 A few days ago I was bored because there was no internet connection all day. So I decided to watch a movie. When in search of a movie files on my hard drive, I found the movie that I have saved since long time ago but I have not had time to watch it. Yup, the title is The Chaser. The reason why I decide to watch this movie was because the movie received much praise from movie critics both in South Korea and internationally. I will try to give an overview of The Chaser in this blog and what my thought as an amateur movie reviewer. So enjoy and happy reading~!
"The Chaser (추격자) Trailer Video"
Video Source: Youtube
About The Chaser
The Chaser (추격자) is a South Korean movie which released in 14 February 2008 with suspense, thriller, crime, and drama as its genre. The Chaser is a movie based on real events about the serial murders committed by Yoo Young-chul. He was convicted in 2005 on charges of killing 20 people. With a duration of 123 minutes, this movie came from the well-known filmmaker Na Hong-jin as a director and writer, Hong Won-chan, Lee Shinho as a writer, and Choi Moon-su, Jeong Seung-ku as a producer.
"The Chaser (추격자) Poster"
Image Source: Google
Upon its released, The Chaser was ranked second at the box office and later topped the box office for three consecutive weekends. The Chaser received a total of 5,120,630 admissions nationwide, which made it the third most popular film in South Korea in 2008, after The Good, the Bad, the Weird and Scandal Makers.- wikipedia
Based on IMDb, The Chaser got rating 7,9/10 from 35,313 votes as of now. As a non-Hollywood movie, that rating was quite high and can be considered as good movie. And this was one of the reason why I decided to watch this movie.
Story
The story begins with the discovery of Jung-ho's car which neglected parked on the roadside previously brought by one of his female workers. Jung-ho is a former detective who now works as a pimp. Jung-ho at first suspected that his female workers is running away without paying the debt, and it impacts on his finances. But then he realized that there was something wrong about the disappearance of some his female workers and suspected that they have been sold by someone. Then he found a mysterious phone number '4885' from a mobile phone belonging to one of his female worker who were missing. It turned out that the number is linked to the disappearance of his women.
"The neglected Jun-ho's car"
Image Source: Snapped from video by me
One of the workers said that the owner of the phone number is a crazy psycho. Incidentally at that time, Mi-jin one of his female workers who are sick are forced by Jun-ho to serve the owner of the mysterious number. Jung-ho is clearly understand what kind of situation he's facing now, he then asking Mi-jin to immediately report to him the address after she arrived at the designated site.
And the hunt begins...
Cast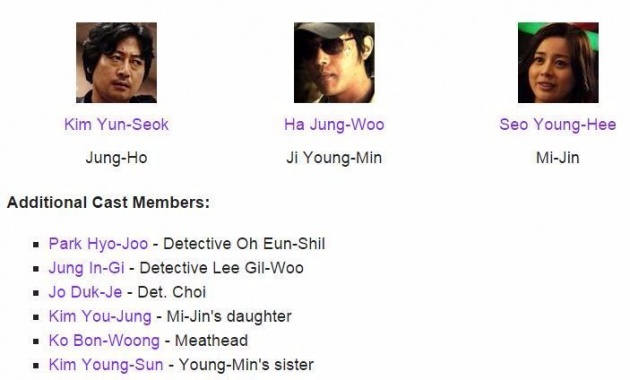 "Mi-jin going with Young-min to his place"
Prominent Acting
All the cast did a great job in terms of acting, especially the third main character. You could feel the anger and depression Jun-ho who is trying desperately to find Mi-jin. And thumbs up for Ha Jung-woo who plays a killer psychopath in this movie. Of all his films I've ever seen, this is the first time I saw him as villain. He really did not disappoint me and amazed me with his acting.
"The little Kim Yoo-jung"
Image Source: Snapped from video by me
As a bonus, I was surprised to see Kim Yoo-jung young to took a part in this movie even just a little. Although still child, but her acting was good, no wonder if now she is become one of the talented and famous teen young actress.
Chasing Time
One of the uniqueness of this thriller is that the audience has been told in advance who the real killer. Yeah, from the beginning we already know that Young-min is a murderer who was later arrested and taken to the police station. There is a rule that a person can only be detained for 12 hours without warrant arrest or approval from prosecutor. Within that time, Jun-ho struggled to find Mi-jin who is probably still alive.
"Jung-ho chased Young-min after the car incident"

The Chaser is a movie about the hunt, Jung-ho as the hunter must catch the real killer even though he's right in front of his eyes. But Jung-ho could not do anything because there is no strong evidence. And the hunt begins with a limited time. The plot is quite interesting and was able to make me glued to the screen. Although sometimes I feel annoyed with some of the characters in this movie. I felt like I wanted to hit them with hammer or just tell them about the truth.
Bloody Violance
As a thriller movie, this movie is filled with violence and you will see blood everywhere, so prepare yourself in advance. In addition, many pieces of the human body that will be shown throughout the movie. So this movie is not suitable for children or people who are afraid of blood. But, for you who like the movie with thriller, suspense, and crime as its genre, I'm sure you'll love The Chaser. All the scenes of violence that are made almost like a real. Supported with good setting place and the performance, it add the thrill in this film.
"Murderer place filled with blood"
Image Source: Snapped from video by me
As for me, I really enjoyed this movie, despite the violence and the blood everywhere, but that didn't stop me to watch until the end, because its good and interesting plot.
Award Winning Movie
The chaser has received many awards in South Korea, both in the category of best film, best director, best actor, as well as in other categories. Additionally, this movie also has won several awards in the Film Festival. This provides an evidence that The Chaser is a good quality movie and can be reckoned with.Even there was a news that Hollywood will make a remake movie from The Chaser as Warner Bros has bought the rights to do remake of the movie. But until now there has been no news about its continuation. However, Bollywood has made a remake from this movie titled Murder 2 with similar plot to The Chaser, although it is still not clear about the copyright.
2008 (12th) Puchon International Fantastic Film Festival - July 18-27, 2008
Best Film
Best Actress (Seo Young-Hee)
Asian Award

2008 (45th) Daejong Film Awards - June 27, 2007
Best Film
Best Director
Best Actor
Best Production
Best Cinematography
Popularity Award (Kim Yun-Seok)

...

cr: AsianWiki
After I finished watching, I read a lot of comments that are disappointed with this movie and assessing unreasonable with the plot story. But not with me, for me the whole story is plausible. If you watch this movie, consider everything in detail, because there are some things that are not explained but it makes sense if we look closely again.But back again to the tastes of each audience.
"Ji Young-min covered in blood"
Actually, one genre of The Chaser is drama. There is a reason why there is a child in this movie. If you look deeper, then you will know how brilliant The Chaser is. Overall, I am quite satisfied with The Chaser.
If you like movie with thriller, suspense, crime, and OK with disturbing scenes like blood everywhere and sadistic murder then The Chaser is a must watch movie for you. Expect unexpected from this great movie.
Don't forget to read this article after you watch this movie if you want to know the real story behind The Chaser:
Image Source: Google
Regards
LookUp
©2016 LookUp. All rights reserved.