It has been a wonder for us living in the warmer area in the Philippines as to why strawberries are just super expensive compared to the other kinds of fruits in the market. It is not as accessible compared to let's say mango, apples and grapes where vendors are just everywhere. These common fruits can be sold anywhere, there are vendors in the sidewalks offering them but in Cebu specifically, there's no street vendor which sells strawberries. These fruits are available in little amount of supply in the supermarkets which are air conditioned and not in those warm areas. This situation gave us a notion that the reason why strawberries are expensive is because they are imported from the other countries which have colder weather temperatures. Now that was an incorrect mindset because strawberries grow in the country and that the main city which provides this can be located in the Benguet province.
STRAWBERRY
The seeds are located outside of the fruit.
One of the wonders when I first had my hand on this specific fruit was why are the seeds located outside of the flesh. We are all aware that most common fruits do have seeds but they are usually inside fruit itself. However, the strawberry is not your normal kind of fruit because of how the seeds are placed in it.
With this, I researched a bit about why the seeds are located outside of its flesh.
Revelation:
I just learned based on my own research that these strawberries are not really considered as fruits because of how their seeds are placed, yes they are placed on the outside of its flesh. Strawberry plants are actually runners, and are not grown or produced by seeds just like how other fruits are. They have an average of 200 seeds per fruit which are actually one of the ovaries of the flower. Strawberry is in fact a member of the rose (rosaceae) family. There are hundreds if not thousands of varieties of strawberries in the entire earth due to crossbreeding techniques, it is also being grown in almost all parts of the world.
That fact is indeed shocking and if I didn't research about it, I wouldn't know. But fruit or not fruit, we still eat it. It's good by eating it itself freshly picked from the farm and even better if you add it on a dessert or make it into an ice cream just like how the locals here in La Trinidad and in Baguio had done due to the supply of this fruit.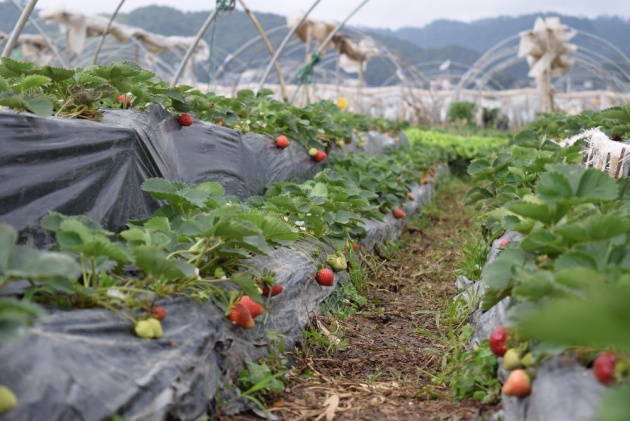 Health Benefits:
While this fruit has been considered as a luxurious item for the common Filipinos, it still has health benefits that every one can acquire, while enjoying its great taste and flavor. Let me list these benefits for you all:
Eating a good amount of strawberries provide your body good dose of fibre, folic acid, manganese and potassium. This will boost our bodies' immunity of course.
In Britain, it has been a tradition that a newly wed couple will have strawberries with soured cream for their meal either for dinner or breakfast since they believe that it has this content.
One of the issues when we are getting older with age is our eyesight. Because of the antioxidants of strawberries, it can help prevent the clouding over in our eyes lenses which is called cataracts this will then cause blindness in the long run.
Strawberries are rich in Ellagic acid and Anthocyanidin which is known to have properties to shield one from the cancerous properties in our body.
There are lot more benefits of these red hearty shaped fruits and we won't be ending this blog yet so let's now move on to the farm this time.
How To Reach La Trinidad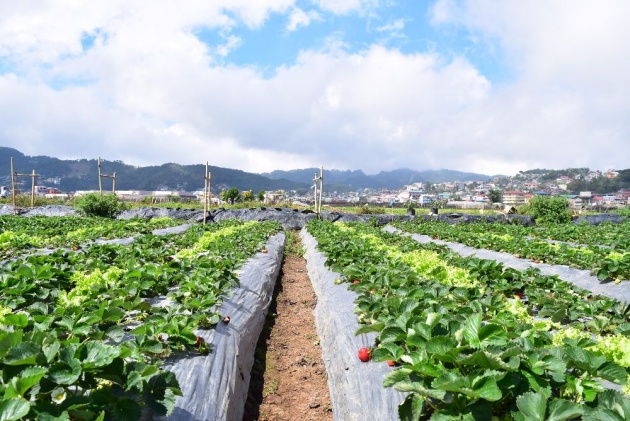 We planned to go to La Trinidad on our second day in Baguio but unfortunately, we were unable to do so because the weather was super cold that we stayed in our room almost the whole morning. So on the third day of our stay instead but we were out of idea as to how to get there. We first thought that it would be a good idea to check out the Lion's head first since it is on the Kenon road and we were staying at the Phil Am area which is just corner going to Kenon.
But then we didn't know that the jeepneys or the public vehicles going to Kenon will be staying at the downtown Baguio and won't go without it being full so each time a jeepney passes by where we were waiting, it will not stop.
We were advised by some civilians to go to the downtown Baguio so we can take the jeepney, we decided then to pursue La Trinidad.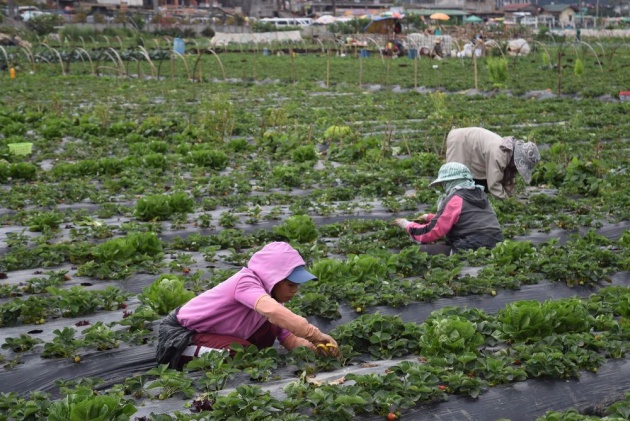 From downtown Baguio where the Baguio Burnham Park is located, we walked towards the Rizal Monument. Took some minutes taking photos and we asked another civilian where the jeepneys going to La Trinidad. He pointed a line of jeepneys just a distance away and we hopped into one of the empty jeepneys.
The driver was friendly and asked us if we were going to the Strawberry Farm, looks like we were kinda obvious that we were not locals in the city. He said he will just drop us there since it will take 20-30 minutes drive.
And good thing the driver didn't wait for the vehicle to get full before moving out. We passed by lots of establishments and school and then I thought, this isn't a province anymore. After a good thirty minute drive, we passed by a university and the driver said we had arrived!
What We Did in La Trinidad
Here's a list of things that we did while in La Trinidad and of which can be done if you feel like visiting this area.
~Pick Strawberries~
The main attraction of La Trinidad is their strawberries and what's best thing to fully experience this is through personally picking those strawberries yourself. It will only cost you Php 400 per basket and if you think this is too expensive, always remember that a kilo of strawberries would cost you 300 pesos and these ones you are paying are your personal choice of fruit and that if there are damage which can't be avoided, take it as part of the amount which you had paid.
We entered the main farm and can spot kids and little children picking the strawberries themselves. These kids don't really care about the plants but then since they are paid for it the caretakers would only be left saying and reminding them that they should select the reddest of them all because these are the ones which are really ripe.
There are lots of farms around the La Trinidad Strawberry farm and it will be your choice whichever part of the farm would you be picking the strawberries with.

~Purchase Other vegetables~
Aside from strawberries, the farm also offers other kinds of vegetables like cabbages, spinach, carrots, etc.
These vegetables can be purchased took for a specific price which are lower compared to the prices outside the farm specially from those in the malls and supermarkets.
These vegetables are displayed inside. While we were walking around the farm, we found some farmers harvesting these vegetables and in the corner, they are selling them too. We were offered a lot of times and I thought if I just live nearby, I would definitely buy a lot of these vegetables. They would be great for salads and even for juices.

~Try Their vegetable lumpia~
It was almost noon time when we reached the strawberry farm which was the reason why we got really hungry after some time of roaming around the huge farm.
Hubby and I were both walking towards an area where there were people who had clot into the end of one of the farms.
We found certain farmers offering lettuces at Php 50 pesos only for two or three kilos, I had forgotten how many kilos was it up to but I know those were only cheap.
Then a woman came near to us and offered her own Vegetable Lumpia. That was the first time that we have eaten a very fully stuffed vegetable lumpia. It was obvious that the the vegetables in it came from the farm too! Both hubby and I were satisfied with it!
~Indulge in their Tasty Strawberry Icecream~
Ice cream!
I nearly shouted when I saw these vendors in La Trinidad Strawberry Farm's entrance area. Vendors were wiggling their bells calling out customers to try their delicious strawberry ice cream! One of the vendors even screamed that his ice cream is very tasty and he promised about it. Since he promised, we went to him instead from all the other ice cream vendor around and asked for one cone. That cost 30 pesos I guess, if my memory served me right.
Indeed it was a tasty! I can literally taste the strawberry in it and there were even bits of strawberries when I went in and indulged myself. Hubby isn't much of a fan of ice cream so he just let me eat it myself which I did to my delight!
~Eat Freshly Picked Strawberries~
Nothing beats freshly picked strawberries!
The strawberry farm made our day and of course we went home bringing with us our purchased strawberries which we had only ate in one setting! It's just different when you are eating fresh fruits specially those ones which you know personally that is fresh. Some other sores would often say that there fruit is fresh or something but in fact it isn't really that fresh but once you know that this certain fruit has been harvested and picked just right there in the backyard of the vendor's stall, you'll definitely take it and eat t right away. That's what we did.
It was the first time that we had eaten freshly picked strawberries and we would like to do it once again in the future!
~Buy Strawberry Souvenirs~

Don't feel guilty if you are indulging yourself too much on those red hearty shaped strawberries alone, why be guilty when you can bring home some? How about more?
In La Trinidad, locals not only sell the freshly picked strawberries but they also sell other items made from strawberries and even souvenirs items like keychains which are designed as strawberries, cupcakes with strawberry toppings and a lot more!
Oh and of course there were also jams and other kinds of food tripping jellies! Your family and friends would definitely love them!
After a strawberry-full day, both hubby and I recommends visiting La Trinidad Strawberry Farm, bring your kids and your entire family for a much happiness and strawberry filled trip!
I have other blogposts about our Baguio Special Anniversary Vacation, check them out below:
Copyright Jean Beltran-Figues.
All rights reserved.