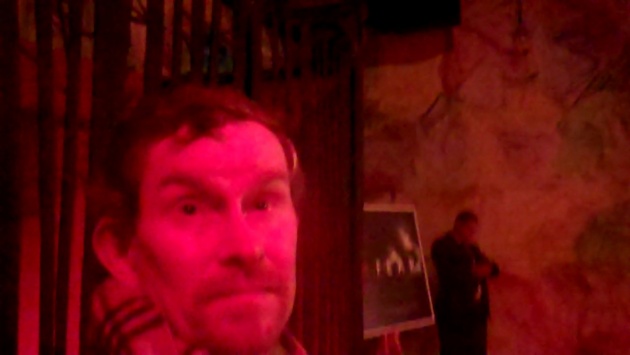 Friday 1 November 2013
It's Friday, I'm in Paris, without either Lady O (no passport) or Kumar (attending English revision class, that is, revising how to speak English – really – slow-ly). What is an old man to do? Why have breakfast in the charming restaurant area under the stairs of the Paris Ibis Styles Republique at 9 Rue Leon Jouhaux. They're a bit quick at cleaning the table for us oldies. I left my cup of coffee at my table when I got up to select a mini pain au chocolat and when I returned it was gone. So I had to get another coffee. Fortunately my pain au chocolat did not disappear. I did not put this in my Trip Advisor review because, let's face it, it's rather banal.
What's an old man to do next? Why, check out and make my way to the Cine Cite Les Halles to see first SNOWPIERCER then LE MAJORDOME or THE BUTLER to you.
OK. So now it's just gone two in the afternoon, so what's an old man to do? Why, go to that mini shopping centre next to the Louvre and pick out a present for Lady O.
I hate picking out presents.
I don't begrudge spending the money, but I don't want to buy anyone anything they will not use: a book they won't read, a candle they won't burn – not even at both ends – or a fancy looking lighter that I didn't know was one until I put it close to my eye and – aieee! Well, fortunately not that close, but these things are dangerous – and only four euros and ninety-nine cents.
Here's a list of things that I considered and put back:
A Mona Lisa swatch that depicted ML holding two fingers up – how was it for you? 45 Euros
A hair brush in the shape of a ballerina, albeit one with bristly legs – 18 Euros
A glasses case with an intricate design – 15 Euros (but Lady O already has a glasses case; this one was nice and made in China)
A passport cover – 22 Euros (but Lady O doesn't have a passport, so that's gonna be useful)
I could have bought her chocolates – and maybe I should have.
So, I leave empty handed. What next? Try that other UGC Cinema near Opera, but it shows nothing I haven't already seen.
What next? Walk back in the approaching gloom to Les Halles, but too late for screening of MALAVITA. Muffled scream! See 16:50 show of PRINCE OF TEXAS or PRINCE AVALANCHE to British viewers. Screening surprisingly full!
Really fed up of UGC range of ads and trailers!
I take the Metro back to Gare du Nord and get bumped by a Parisian voleur trying to pick my pocket. He gets off next stop.
Go through Eurostar security and the inevitable frisk – my defibrillator would set off the x-ray machine.
Overpriced chocolates greet me in the tiny station gift shop. I say 'non'.
Eurostar Premium Economy: the meal that I paid extra for is cold and not filling. Have two small bottles of wine (18.7cl) but refuse a third. Write my diary.
Back in Londres, I visit Marks and Spencers I pick up some biscuits so I don't return empty handed.
Lady O is asleep when I return. Unfortunately I wake her. Then Kumar gets in on the act. They watch more TV and I slip out. Fin.
Saturday 2 November 2013
A typical Saturday spent laundering, shopping and basic food preparation for Lady O and Kumar. In the evening Kumar accompanies me to a screening of DRINKING BUDDIES at Cineworld in Enfield (far North London). Kumar is very disappointed and grumbles all the way home. One bright point: my second cup of filter coffee bought at the cinema (free refills with cups bought in store) lasts me the entire movie and the way home.
Atypically, Arsenal beat Liverpool 1-0 (match played at home). With 25 points they are top of the Premier League, but for how long?
Sunday 3 November 2013
Why do Kumar and I no longer make movies together? Mainly because the last lot were so bad! ALL STUFFED, MAHLER AND ME, THE LONE WRANGLER and DUELLING JEFFS, these are works that deserve to be missing presumed lost. Still, maybe we'll get our collective mojo (or should that be mojita) back.
Lady O sleeps so we abandon the plan to take her to see CAPTAIN PHILLIPS and head for West India Quay Cineworld. Kumar sees THOR: THE DARK WORLD, which he pronounces as 'a good movie but maybe not quite as good as the original' whilst I see SHORT TERM 12, a feel-good social care movie that is not getting the audience it deserves. Lady O is furious when we return: 'you should have got me up!' We all know she deserves her sleep. In the evening we watch LATE NIGHT WITH JIMMY FALLON and HOMELAND. Kumar is sorry but he cannot remember who was on.
Monday 4 November 2013
A quiet evening in, so quiet I can scarcely recall what happened. I am sure I listened to FRONT ROW during which SEDUCED AND ABANDONED was slammed by the visiting critic. No accounting for taste. I write and post a piece on SNOWPIERCER.
Tuesday 5 November 2013
Remember, remember the 5th of November. Can't think why? I write and post a review of SHORT TERM 12 but it is not enough to save it from being removed from British screens after one week. Arsenal wins away at Borussia Dortmund keeping the club's Champions League hopes alive. Nine points from four games. Kumar attends Future Film Steering Group and talked about programming the 'Youth in Film' season for 2014. Predictable choices but Lady O and I have some 'late night fun' adding to his list – the only sort we have, maybe that's too much information.
Wednesday 6 November 2013
Kumar returns home late after a lengthy session at BFI Film Academy. I am vexed as he explains to Lady O that he took the bus after talking to students. Earlier I write and post a review of THE YOUNG AND PRODIGIOUS T S SPIVET – thumbs up from me, then listen to football which is enough – yawn – to send me to sleep. The two Manchester clubs play in the Champions League. Manchester United draws 0-0.
Thursday 7 November 2013
E.On proves to be a company you can rely on to take your money and not provide a service. I paid over £130 to have the electric meter for my late neighbour's flat de-energised and her gas meter removed. The purpose is to stop the company from applying a standing charge. The electricity engineer comes to perform the first task but tells me that this won't stop E.On charging me for a standing charge for electricity. He removes the meter which he says will do the job. There is nothing for me to sign. I phone E.On to check whether the gas engineer is coming. I'm told it is booked. The gas engineer doesn't arrive. So I have paid for a service that hasn't been provided whilst E.On charge for a service that they don't provide. I hope my experience dissuades others from switching to their company. E.On: increasing your debts after death. We don't care.
In a lighter frame of mind, wrote my review of DRINKING BUDDIES and entered a competition to win tickets for a screening of IN FEAR at London's ICA sponsored by a well-known beer company. Well, you never know.
Also of note, Kumar and I finally watch WES ANDERSON'S MIDNIGHT COTERIE OF SINISTER INTRUDERS the Saturday Night Live sketch which some kind soul, probably illegally, has uploaded onto YouTube. It's not fair that we cannot see it in the UK. Edward Norton plays Owen Wilson as 'wow, some weird looking guys are standing outside of our house. One has a record player, another has a falcon, two of them are in matching track suits.' Notes are exchanged between the homeowners and the intruders. Intruders: 'May we kill you?' Homeowners: 'No, you may not?' Tild Swinton turns up to get stabbed (well, tastefully) and there are characters in animal masks working on their suppliers. It's a fun parody that plays on motifs from THE ROYAL TENENBAUMS, FANTASTIC MR FOX and MOONRISE KINGDOM. I don't think the sketch-writers have seen THE LIFE AQUATIC WITH STEVE ZISSOU or THE DARJEELING LIMITED. No reference to Bill Murray, a Saturday Night live alumnus.
I also discover the surprise film at this year's London Film Festival was THE GRANDMASTER. I ask someone whether the Weinstein Brothers did to it what they threaten to do to SNOWPIERCER.
Friday 8 November 2013
I win tickets for next Tuesday's IN FEAR screening, sponsored by well-known beer company. I have to let Le President know who is coming with me. Maybe I'll invite A, but we'll see. Tweet review of DRINKING BUDDIES and discover Jakob Davies (or his agent) has re-tweeted my review of T S SPIVET. Thank you young Jakob (or his Tweetmaster)!
Miss AGENTS OF SHIELD; Kumar assures me that it was a good one. Kumar bathes – yay – then stays up to watch GANGSTER SQUAD on Sky Movies.
Saturday 9 November 2013
Kumar has agreed to help one of his Film Academicians with her science fiction short film college assignment to be shot in Stevenage in a location reliably described as 'really cool'; it was previously used in the movie DREDD (as opposed to the movie FOREBODING). I drop him off at London's Kings Cross where he meets up with another member of the crew. I buy him his own Network Card to obtain discounted tickets for him and three others but need not have bothered as the director took care of that. £30 wasted? Well, maybe not.
Shop, launder, lunch and sleep until 17:15. Kumar is back at 18:00. Pizza for tea, then two episodes of JIMMY FALLON, the latter displaying Harrison Ford's ear-piercing skills – has he been endorsed for them on Linked In? Then bed.
Kumar's revision schedule arrives by post. He has work to do!
Sunday 10 November 2013
After almost a week of no cinema, I start to create movies in my head. I'm talking dreams, the sort that feature me in a vehicle and then in a siege situation before squaring off against trolls. One wishes one's dream self would say 'I'm too old for this stuff' but you never have the good one liners whilst sleeping. I awake at 07:53am and decide that Kumar is not going to see GRAVITY in IMAX today. With Lady O he works on his revision schedule which mostly consists of the word 'free time'. I notice that he doesn't schedule a bath. I write a review of THE BUTLER for a publication. We lunch at the Devonshire House where the television has been replaced by a chalk board. The rather rude duty manager has been replaced by nice staff. Kumar eats all his vegetables in front of Lady O and she tries very hard to seem unimpressed. She has the roast beef Sunday lunch which she does not enjoy. Afterwards, I shop then claim some tickets to see SAVING MR BANKS next Sunday morning – if only I can persuade Lady O (and I think I might). In the afternoon, I listen to the miserable spectacle that is Arsenal verses Manchester United. Arsenal loses 1-0 to a Robin Van Persie goal. The script is sadly predictable. Still top of the league but gaps have been narrowed.
I find a website called UNSUNG MOVIES that appears to feature articles on films that deserve recognition; a 'contact' (though I don't think I know her personally) Angeliki Coconi writes for them. I send an enquiring email to the editor.
Kumar does some revision but upsets me when he works on his Facebook page on my computer. The last time this happened it got a virus and cost me £50. We briefly butt heads. Still, we make up afterwards. Rather like David De Gea and Jonny Evans during the Arsenal-Manchester United match this afternoon.
In the evening, Lady O and I watch JIMMY FALLON and HOMELAND on TV. Kumar makes a guest appearance on the sofa at home. After the ad break, he disappears. I never understood that.
Monday 11 November 2013
Presenting the most tiiiiiiiitanic battle since Dayyyyyyyvid whooped Goliath. In the red corner, weighing 100 lbs, North London's answer to – complete name of obscure film critic here – Laaarrreee Oliver. And in the blue corner, representing the Oyster payment system, London Underground. Oyster takes £4.60 from Kumar's card for a journey from Haringey railway station to Westminster tube station when the fare from Finsbury Park to Westminster, one short stop on is £1.05 for a sixteen year old with a Zip Card. What's Larry going to do? He's going to complain. Look, he's queueing, he's talking to the lady behind the ticket counter. He's raising his voice – not a good sign. He's going in to the 'you're ripping off a kid' speech, also not a good sign. The lady is having none of it; she's telling him to complain to Boris Johnson (as if the Mayor of London administers the Oyster card system).
Round two, after travelling to North Greenwich with Lady O and watching GRAVITY in 3D at the O2 Cineworld Sky Superscreen, a trip Kumar describes as his best ever, Larry goes man-o e Dave-oh with Dave, the man at the ticket counter at Finsbury Park station. 'When I was 14 years old, I was charged as an adult,' says Dave. He isn't prepared to argue either. Larry has the crowd against him. Four people queuing moan about the time he takes. They don't care that if the Oyster system mischarges a kid, they could mischarge him too. 'I want to get home,' moans one woman.
There are automated machines taking all ticket types, except fake money.
Larry leaves dissatisfied. The movie tickets did cost £3 each for Lady O and Kumar thanks to Sky TV, so this offsets the loss. But there is definitely something wrong with the system that charges a child an adult fare for a whole journey when Oyster is supposed to be cheaper. Why have Oyster readers at train stations if they don't apply the same fare structure? Larry's advice if you want to combine a tube a train journey, don't!
In other news, Lady O spills curry sauce on her blue polo shirt whilst preparing curry for young Kumar. She is distraught. Djokovic beats Nadal in the ATP indoor tennis champions' final in two sets at the O2 Arena – hey, Larry was there.
Tuesday 12 November 2013
It is the night of the IN FEAR premiere at the Institute of Contemporary Arts, 12 Carlton House Gardens. Doors open: 19:30. I have tickets but no companion. Kumar stays home to revise (yeah, right) and watch THIS IS THE END. But I have also booked to see the new British film (well, Welsh actually) THE MACHINE at Fox Preview Theatre, 31/32 Soho Square. The screening starts at 18:30. Which do I see?
Answer: both.
I take the Piccadilly line to Holborn. It would be easy to change trains and get the Central line to Tottenham Court Road, right?
No.
It takes an age to change platforms. There are hundreds of people trying to get on to the Piccadilly line platforms which I leave. Entry for passengers is staggered. The queue out is slow. The Central line train is packed. At least sardines have brine.
We disgorge at Tottenham Court Road and progress slowly to the exit. It is almost 18:30. I am late. The street is busy but I get there –
- In time.
Water is served. We are in the small screen. I have a seat in the second row.
I am unable to offer you my opinion of the film at this time for contractual reasons.
Test card: me staring into space holding a set of balloons. A young girl looks at me, accusingly.
It is not quite 20:00 and I race through London streets. Dean Street, Shaftesbury Avenue, Chinatown, Panton Street, Haymarket, that road I can't remember the name of where the Institute of Directors is located.
I am there. The code for attire is 'dress for a party' but I try to be apolitical.
I am ticked off the list and given a wristband. I ask a lady to tie it for me.
I follow directions and arrive downstairs where I am greeted with a tray of plastic glasses of Prosecco. Not what I agreed on, knowing that alcohol can have negative impact.
I am faced with a room full of young people – and Nick Frost, the star of next year's CUBAN FURY. I don't know Mr Frost and he has no reason to want to know me, so let's leave it at that. I try not to bother celebrities.
Should I make a circuit of the room? I'm not an electrician, you know – though I did try to change a light switch once. (Too hard.) Anyway I take a turn about the throng, and turn again, back from whence I turned.
Describe the room: pretty person, pretty person, cardboard cut out of IN FEAR poster art, bouncer, photo spot, youngsters in horror make up, pretty person, pretty person. I stand by some stairs, handy for grub (mini hamburgers on cocktail sticks and tiny portions of fish and chips). Having finished said prosecco (I'm sure I misspelt it) I partake in the sponsor's lager and very refreshing it is too.
A glamorous young woman in a black dress is photographed right in front of me; to be accurate, I am standing behind the photographer as the lady puts one leg over the other, hands on hips. Later I discover she is Alice Englert, the star of IN FEAR.
I go back into the room. At this point, for the benefit of you, dear reader, I shall hit the fast forward button: back in room, meet man from Eleven-Fifty-Five, the event organiser, get another beer – and cup cake – get picture taken, see Simon Pegg, smile at lady from SPACED (TV show), finish beer, go to cinema, don't take seat in (competition) winners' row but sit in front instead, photograph introduction, film starts, need to use bathroom, hold it, hold it, hold it.
Never mind spoiler alert – SOILER ALERT!
I have to leave, right at the denouement.
'Don't worry,' I tell security, 'I'm coming back.'
Why would they be worried?
'I'm not scared', I add, 'I just need the little Larry's room.'
Release, flush, wash, mirror, signal – what signal?
I return to the auditorium as the film ends.
I have to ask someone what happened at the climax. Rule One: the elderly should always go to the bathroom before the film starts.
Rule two: the elderly should always go to the bathroom before the film starts, but I am referring to a different product from Rule One.
The goodie-bag has a key ring – if you love it, put a key ring on it - and a special edition of Little White Lies as well as a door sign. I also save a cupcake for Lady O.
Thank you for a pleasant evening. Oh, and there's cricket on the radio. England verses Australia's Invitational Eleven live from Sydney. I listen to half an hour of England bowling until it's 2 for 23.
Wednesday 13 November 2013
In which Kumar goes to his BFI Film Academy Meeting and Larry writes a review of IN FEAR and posts it on Film Annex and Kumar returns just before Ten O'Clock at night and we say our goodnights. Lady O watches MASTERCHEF AUSTRALIA and something else. E.On calls late. I inform them that my neighbour's gas meter has not been removed. The operative, Daniel, promises to investigate.
Thursday 14 November 2013
Angeliki Coconi does not know me but has endorsed me on Linked In under my other name. I don't ask why. She is the editor of a website entitled Unsung Films. I propose to write a review of BLUE RUIN for her intriguing site. She agrees. I write said piece and e-mail it to her with some stills. I discover that it was (part?) funded by Kickstarter. The director Jeremy Saulnier raised $37,000. It is the most impressive Kickstarter funded film I have seen without prejudice to VERONICA MARS, which actually means nothing to me – I'm old.
Daniel from E.On rings back – he maintains that the meter has been removed. But I cannot check; the box is locked up. I decide to take his word for it. Fingers crossed, no more gas and electricity bills for my dead neighbour.
Friday 15 November 2013
In which I don't see THE COUNSELLOR but shop, eat potato wedges and drink some combustible (read: out of date) orange juice before watching MARVEL'S AGENTS OF SHIELD in which Saffron Burrows plays that scientist who was attacked in DEEP BLUE SEA – no she doesn't – in an episode directed by Bobby Roth. Fitz and the square jawed hero have to disable a weapon that can control or destroy other weapons, but there's no extraction plan – they have perfect teeth, see. So Agent Coulson, whose mantra this week is 'trust the system', and the other Shieldlings have to rescue them with a cool looking plane with twisty thrusters – I know, right? Kumar judges it moderately entertaining. Lady O cannot wait for THE BLACK LIST.
Saturday 16 November 2013
A dream – a real one. Lady O, Kumar and I are on the top deck of a bus in a foreign country. The road is icy. Vehicles in front of us up-end, slide on their roofs. The bus sways. We enter a narrow road. But we make it. We get off. I walk ahead of Lady O and Kumar as usual but then my feet freeze. I am stick in ice. Then I see some very thin looking ducks vomit out egg yolk. The yellow streams from their bills are vivid and, well, eggy. I wake up.
I tell Kumar. Kumar is cold. Lady O brings us breakfast in bed. Toast with peanut butter for me, toast with Nutella for Kumar; then tea and a drink for Kumar. The heating is switched on.
I fail to persuade Lady O to see THE MAN WHO LAUGHS at the Cine Lumiere. In fact, I don't see it myself. Instead, I launder, prepare lunch (shop bought pizza for Colonel K, shop bought cottage pie for Lady O and I), watch Lady O play a video game in which England improbably triumphs over Australia in a 20-20 match – well, it is an old game. After lunch, Kumar initiates another one of his 'how am I going to enter the film industry' discussions (try writing a script and making films with your friends when your mock exams are finished). Then I drop off some unwanted books at Oxfam Charity shop, do a small amount of shopping at Marks & Spencer at Muswell Hill, go to the library and check my e-mails, print out the ticket for tomorrow's screening of SAVING MR BANKS at Lee Valley, write a piece on STARDUST MEMORIES for Unsung Films, post it (without stills), watch two episodes of JIMMY FALLON (first with Rachel Maddow and MIA, second with Billy Crystal and Evan Rachel Wood), write this diary then retire. In the afternoon, Kumar and Lady O watch ANCHORMAN; the former for the second time. Lady O is not impressed. I also win a ticket for Wednesday's screening of KLOWN at the Horse Hospital. Thank you, Billy Chainsaw!
Sunday 17 November 2013
In which Larry Oliver's young ward Kumar Williams wants desperately to see DON JON, an '18' rated film and the pair see FREE BIRDS (in 3D) at Cineworld O2 instead. The pair scores seats near the front behind a young child who has shoes with lights on them. No child with shoes with lights on them should ever be allowed in a cinema. They are irritating beyond comprehension. It is only worth the sixteen year old, still pubescent Kumar attempting to see DON JON at a cinema from which he would not mind being banned. However, it is not on the Cineworld West India Quay. The pair travel to Cineworld Wood Green but arrive a good hour after the 18:40 performance has begun. They return home with chocolate for Lady O, which placates her somewhat. Lady O and Larry watch HOMELAND before lights out.
Monday 18 November 2013
I write a piece on FREE BIRDS which I place on Film Annex.
Tuesday 19 November 2013
Germany beat England at a friendly football match. It makes two losses in a row for manager Roy Hodgson. The match is a totally pointless exercise and a distraction from the exciting Premier League. Kumar attends Future Film Steering Group.
Wednesday 20 November 2013
Good news. Suzanne Vega has a new album out next February and a tour to match, though the best seats at her Barbican concert have already been sold. The new album has a very long title with the world Pentangles in it. My hopes are not raised. A new song is entitled 'Don't Uncork what you can't contain' which sounds a bit like one's bowel movements. She is playing in Dublin on 20 February at the same time as the Dublin International Film Festival. I feel an overseas trip coming on.
Closer to home I see the film KLOWN or KLOVN THE MOVIE at the Horse Hospital. This is an art gallery with a screen erected just in front of the bar. I arrive at 19:30 and tell the doorman 'my name is Larry Oliver, unlikely as it sounds.' 'I thought you were going to say Larry the Lamb, that would be unlikely,' he replies. I get a voucher for a free beer. The film is in poor taste, unlike the beer, but has some amusing moments, involving a 'pearl necklace' and a parent. It borders on being paedophile fodder. The audience all seem to know each other. People have dyed hair all the colours of the rainbow, though not the colour of Bungle's shart, which, let's face it, is an unattractive hair colour (a reference to a 1970s British children's programme there).
When I arrive home I discover that Kumar has done no revision but 'had to use the internet urgently'. This puts me in a foul mood.
The first match in the Ashes series commences in the early hours, Australia verses England at 'the Gabba' in Brisbane. Australia bat first. England takes 8 wickets by close of play. I send my review of WHAT RICHARD DID to Angeliki at Unsung Film.
Thursday 21 November 2013
... and then promptly collapses after taking the last two wickets on Thursday night/Friday morning UK time, all out with a pitiful 136. Could it get any worse? Yes.
Meanwhile I write a review of COMPLIANCE for Unsung Film, which is subsequently published on Saturday.
My application to attend the Film Distributors Association Winter Film Preview is accepted. I receive the programme for Sunday which runs as follows:
08:30am register
09:00am: bloggers event
11:00am: THIS AIN'T CALIFORNIA, a documentary about skateboarding
12:30: Lunch
13:20: FREE BIRDS
15:00: VENDETTA
16:45 Q and A with Danny Dyer (star of VENDETTA)
17:25: HER
19:25: LAST VEGAS
21:25: HOME FRONT
I am partially excited.
Friday 22 November 2013
Marvel's AGENTS OF SHIELD features Peter MacNicol as an Asgardian, as opposed to being Ally McBeal's boss. A long staff makes people angry – well, it would, staff envy. Australia amasses a 560 lead in the early hours of Saturday. Then get two wickets. At 07:45am, on Saturday morning (UK time) England scores 24-2, needing 537 to win. Trott and Carberry are out. No chance!
Saturday 23 November 2013
A morning of laundry, getting rid of another bag of books, shopping and making lunch for Lady O. Kumar revises some history but no English Literature; he is destined to fail the latter. I buy him a ticket for DAY OF THE DOCTOR 3D at Muswell Hill Odeon which he is due to see with a friend. However, his friend does not turn up. Kumar enjoys it anyway. Lady O and I watch it at home with a bag of American Snack Mix and some Rose wine. It makes the reversal of an essential tenet of DR WHO philosophy, that the Doctor's home planet has been destroyed – no, not really it is hidden in a painting – easier to take. Tom Baker cameos, but David Tennant effortlessly steals the show as the charismatic Tenth Doctor. I post a review of BLOOD TIES on Film Annex, and discover that I have seen the film on which it is based, LES LIENS DU SANG, back in 2008. I remember going to see it but not the film itself.
Arsenal beat Southampton 2-0, consolidating their lead at the top of the Premier League, 4 points in front of Liverpool who draw 3-3 at Everton. Olivier Giroud scores both goals, one fumbled by Southampton's goalkeeper, the other from the penalty spot. Theo Walcott makes his first appearance for a while. His passing is rusty.
Sunday 24 November 2013
The First Test ends in the early hours on Sunday morning with ignominious defeat, Australia winning by over 300 runs. Once Alastair Cook lost his wicket, the rest were knocked over pretty easily. There are complaints about sledging: 'get ready for a broken arm'. In the aftermath, days later, Jonathan Trott will go home citing a mental strain. The scraping at the crease, his ritual, is symptomatic of autistic like behaviour. He needs to reconcile himself to it and move on.
Kumar has a Film Academy event to go to, casting his movie in which he will be recording sound. I head to the Vue, Piccadilly Circus by tube, arriving a little after 08:16am. A man of North African extraction (I guess) is being held by two policemen, one of whom is holding a British passport. 'What are you doing here?' he is asked. It doesn't look like a normal stop and search – what is 'normal'? It is as if the arrested man is a facilitator of some kind.
I don't linger to take in the drama. Instead I head to M's to check out the price of breakfast – too much – then the bank on Piccadilly. A man cycles on the pavement behind me before chaining his bike to a lamp post. I mutter something about it being illegal.
In the Vue, I am asked to wait and sit near to some young people who are waiting to pick up their badges. In all, there are a dozen of us. We are offered coffee, then to sign in. I end up with a cup of weak tea by mistake – it was almost American. More young peopled turn up from Ideas Tap, whatever that is.
A little before 9:00am we file into Screen Four where we will spend the best part of a day. There is a discussion about blogging in which Orlando from Yahoo, Chris from Total Film and Charles from Heat magazine gave advice on how to move from unpaid blogging to paid employment. Here are the tips:
Get good at writing 100 word reviews; they will be your starting point
Have an expertise e.g. comic book movies that you are known for
Cultivate unknown producers; who knows you might end up going to the Oscars with the team behind the next KING'S SPEECH
Do interviews, red carpet stuff, working your way to getting a better spot
Cultivate distributors, PR companies
Be prepared to work in multi-media e.g. radio, TV as well as print and on line
Find an angle e.g. 10 Best Movie Haircuts of the Year rather than 10 Best Films
Network
I'm sure I haven't done most of those.
Then the first movie, THIS AIN'T CALIFORNIA, a compelling documentary in which the central character, Denis 'Panik' Paraceck isn't real. If you see one made-up mock documentary about East German skateboarders, this is for you. The Q and A with the director, Marten Persiel was frustrating as the interviewer did not ask the right questions. I spent the lunch interval – or more accurately the time in which FREE BIRDS was being shown – looking at articles that confirmed it was a fake.
At Marks and Spencer, I bought a pair of trousers and two school shirts for Kumar. I arrive back in time for another cup of coffee and VENDETTA.
VENDETTA is not a good movie; a sub-standard DEATH WISH with Danny Dyer as no one's idea of Charles Bronson. Emma Samms, whom my generation may recall from ARABIAN ADVENTURE (with Oliver Tobias and Christopher Lee) plays his mum; a thankless part. The film is fairly offensive for much of its length; totally offensive once you consider how nonsensical it was. No surprise then that Danny Dyer did not turn up for the post-screening Q and A. As I noted in a Tweet, last night at the Peckham Premier must have been a blinder.
HER followed quickly after that. An embargo prevents a comment. Then LAST VEGAS – ditto. I didn't stay for HOMEFRONT but instead bought Kumar back a caramel muffin which he wolfed down eagerly. I was in bed by 11:00pm.
Monday 25 November 2013
Today THE WORLD'S END was released on DVD and it was my duty – nay, my privilege – to escort young Kumar to Fopp in London's Shaftesbury Avenue to queue up to get his newly purchased copy signed by director Edgar Wright. This was the culmination of an entire year waiting to speak to his hero, whom he saw introduce screenings of SHAUN OF THE DEAD, HOT FUZZ and attend the Edgar Wright all-nighter with his co-leading man, Nick Frost. So what was Kumar going to say to him?
He just wanted a photo.
Muggins here of course was on shaky cam duty. We waited fifty minutes for THE BIG MOMENT. Then it happened. 'I've waited ages for this,' said Kumar. 'Enjoy it, said Mr Wright.
Then it was over. I'm not entirely sure Mr Wright was his exuberant self. He had after all split from Anna Kendrick this year and was burying himself in ANT MAN. I wasn't going to say anything and didn't.
There was a preview of TWENTY FEET FROM STARDOM at Odeon Covent Garden but I didn't think Kumar would wear it. After buying Kumar a pork bun from a Chinese vendor of choice, I popped into the Vue Piccadilly to check out the screenings at Cinema Showcase – DELIVERY MAN followed by HOW TO MAKE MONEY SELLING DRUGS. I decided sleep was more important. I gave back my ticket for the Cineworld Surprise Film, which turned out to be THE SECRET LIFE OF WALTER MITTY and not LAST VEGAS as I predicted and returned home and made dinner.
I wrote and posted a review of THIS AIN'T CALIFORNIA complete with photograph.
Tuesday 26 November 2013
My sister telephoned to say that my father's common law wife died last week. She spoke to my half-sister by phone, made an attempt to start dinner and died. Police recovered the body a few days later. The funeral would be next week. None of us from the 'other family' would be going.
Before receiving this news, I saw NEBRASKA at Vue Piccadilly (missing the first ten minutes). It does not feel right to sully this diary with a movie review or even mention that Arsenal beat Marseilles in their Champions League match 2-0.
Rest in peace
Wednesday 27 November 2013
In which Kumar went to Film Academy and I to JAWDANCE (at the Rich Mix Arts Centre in Shoreditch) missing MANDELA: LONG WALK TO FREEDOM. I performed a poem but failed to record it. Should have used the new Flip not the old temperamental one! I only stayed for half of the show for the purpose of an early-ish night. Wrote up and posted a piece for Film Annex. Kat Francois was a good MC.
Thursday 28 November 2013
Kumar was late home for a trip to La Swap, a suite of secondary schools that formed a Sixth Form college. He had revision and did not return until 16:45. Why couldn't he tell me in advance? I could have cooked dinner while I was waiting.
Apparently, he did not have access to the internet.
Why did he not ask one of his teachers to email?
No excuse given.
Consequently I missed my film that evening (THE MISSING PICTURE). We visited two out of four sites and met tutors in Film Studies, Combined English, Spanish and History. Kumar was excited.
Afterwards, cooked dinner and watched the second half of a Europa League match on ITV in the evening with Lady O in which a European club triumphed over an anaemic Welsh one.
Friday 29 November 2013
Saw GETAWAY at Warners in Theobalds Road. The film was not very good – all fast cutting and zero father-daughter chemistry between Ethan Hawke and Selena Gomez. The two beers made the evening enjoyable. Thank you, Warners.
Saturday 30 November 2013
Kumar went to shoot SACRIFICE DATE – or more accurately held a microphone whilst others did creative stuff – whilst Lady O and I threw out an assortment of his old toys that had seen better days.
In the evening he saw the stage version of LET THE RIGHT ONE IN at the Royal Court which he described as 'awesome'. I had given him enough tube fare to get home afterwards but he insisted on taking the bus home – or more accurately several buses. I had fallen asleep and woken up again before he returned. I had to stay up to let him in. I was not in a good mood.