Hey guys!!! Before I start this new blog I just want to say thank you to Bitlanders for giving me good feedback on my previous blog. Haven't read it yet? You can check it out here, My 2018 Art Summary.
So, you see I've been writing about some stuff on what happened in my previous year. Got some backlogs in writing (not to mention that I just got back this month so I have tons of stories to tell). But most probably this will be the last one relating to my 2018 experience. As my title goes, "Last Minute" you bet this will be the last one. So expect me to post more about 2019 after this blog.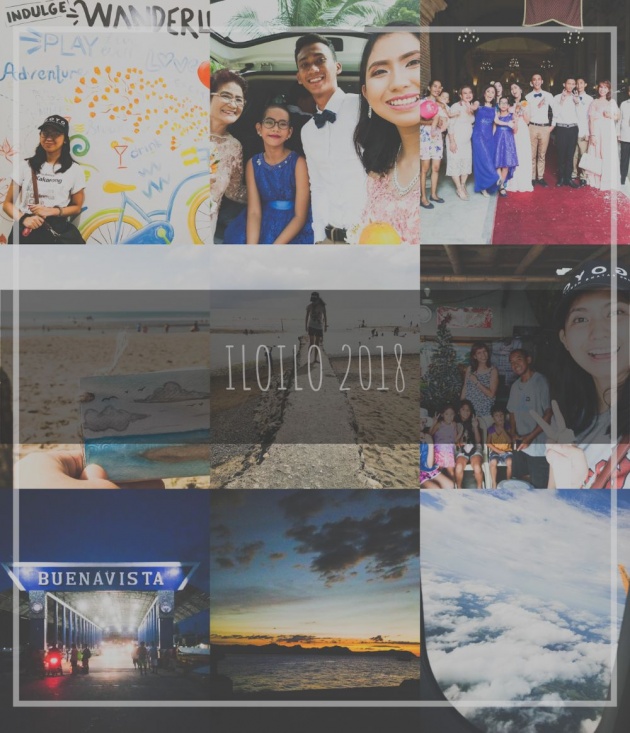 Photo Credits: Yannn via bitlanders.com
I am so happy and grateful to have this last minute travel with some family and relatives in our hometown. It was 7 years ago when the last time I visited our province and with that, I can tell that I'm still a kid by then. So it brought too much excitement when my Mom told me that we will be going home this December 2018!! I'm talking about our hometown, Iloilo. Both of my parents are born and raised in the same region, only in different "Barrios". Back then in 2011, the last time I visited our province I didn't appreciate every moment staying with my relatives (maybe because I've been occupied and been a feed of the "City Culture" that province culture didn't have enough appeal to me). But now as a young adult, who lived in a noisy, crowded and toxic place in the city, long for a place where you can rest and have some peace. And that I am certain that Iloilo can give me that satisfaction. Unfortunately, we're just given a few days there. 4 days to be exact, but a few days are better than nothing right? So shall we start the journey?
• DAY 1 — THE ARRIVAL •
Video Credits: Ilonggo Dad via youtube.com
8:30 am of December 28, 2018, we landed at Iloilo International Airport. It just took us an hour to travel from Manila to Iloilo (The power of Aircraft yes!!) It was a little bit cloudy and misty that day, probably it's because of the Low-pressure Area. So the original plan to go sightseeing in Guimaras was canceled. Considering the weather, our parents don't want us to catch a cold because we're preparing for something great the day after. The Wedding of my cousin, Angela. So we just decided to prepare for the big event tomorrow. And by that, we dropped by at Robinson's Pavia to buy some makeup and blower. I was astonished to see the wall near the comfort room.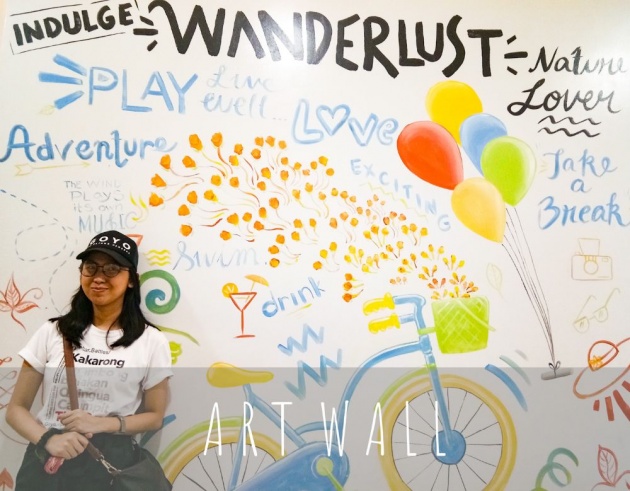 Photo Credits: Yannn via bitlanders.com
I can't help it but take a photo with it. It was an Art wall. And to tell you honestly it is my Dream to make a Mural someday. Just like my local favorite Artist, Anina Rubio. I am inspired and have the urge to paint walls!! But I guess it's not my time yet. And I still need a huge improvement in performing such a task.
After we went to Robinson's Place Pavia, we went to my Grandmother's house in Lapuz, Iloilo City to fetch some of our cousins because there will be a church practice in Sta. Barbara Church for the wedding. (I and my cousins are Bridesmaid and Groomsman, not to mention that this is my first time so I have no idea what to do). We travel for more than an hour and finally, we arrived at the Sta. Barbara Church. After a few walks and Instructions, the practice is over and we'll be heading home in my Aunt's house in Sta. Barbara. But before anything else, I and my cousins planned a surprise because it's my Auntie Dolor's birthday! We bought a cake and some food to share it with. We ate our dinner and headed to the reception are to decorate the whole place. Long story, short we finished decorating the place at 2 am and everyone is tired. So we headed home and rest.
• DAY 2 — THE WEDDING DAY •
12/29/18, Rise and shine! The big day is here!! Everyone is busy doing their thing, preparing the clothes that they will use. At 10 am we headed to the Casa to have our makeup before the photo shoot. Unfortunately, we arrived at the place a little bit late so I had my make up after they worked on the makeup of the bride. After a few hours of preparing, it's finally done and we had a few shots before proceeding to the church.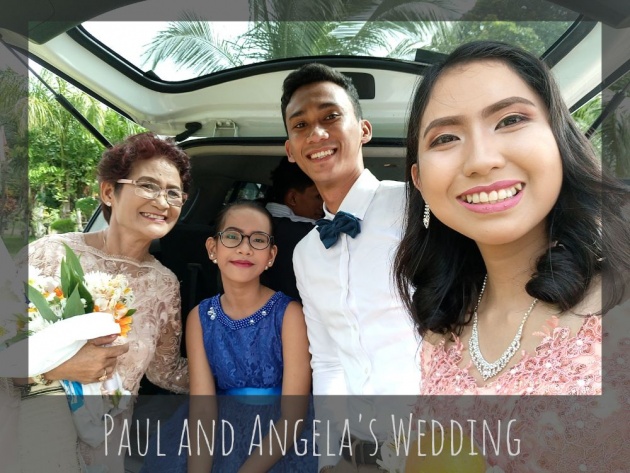 Photo Credits:Yannn via bitlanders.com
I had an opportunity to reunite, talk and have some laughs with my Aunties and cousins. It was a rare moment because I wasn't able to see them every day. (Although there's a dull moment, maybe because I haven't seen them for a long time we're still able to interact). We headed to the church and in no time we arrived at the church and the ceremony started.
I am glad that I was able to see such a wonderful event. I was sitting beside the co-teachers of my cousin. (Oh yes, she is a Teacher by profession). And I cannot explain the feeling but it got me teary-eyed, seeing her walk in the isle of the church. And when I turn my eyes to her co-teachers they are all crying. I assumed they are really happy for her. The ceremony was ended and of course by tradition in all wedding, after the ceremony, there will be picture taking with the beloved of the Bride and Groom. After so many shots, we're instructed to proceed in the reception area. But as we reached the door of the Church, my Family seems like to have some few photos of us before leaving.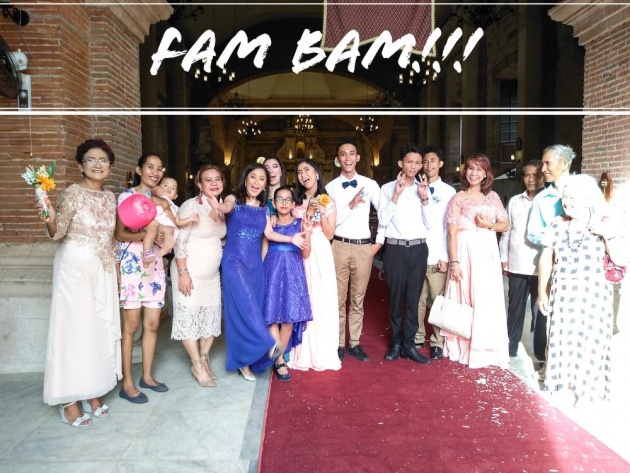 Photo Credits: Yannn via bitlanders.com
I love this photo so much to the point it really entertains me. Just look at how me and my 3 cousins having the same pose (shock with mouth open) HAHAHA! I guess telepathy works on us! Finally, after the long day, it was finished and almost everyone left the reception area to go home. And finally, we can have our proper rest too!
• DAY 3 — IT'S OUR FREE DAY! •
12/30/19, after a long day yesterday finally we had a day where we can visit some places and clearly just have fun! Also, this is the last day of my Auntie Dolor and my cousin Aeisha in the province. (They arrived a day before us because they need to go back on the 30th). On their last day, our Grandfather, Lolo Loreto invited us to go and swim in Katagman Beach Resort, Oton! And guess who's excited? Us!!!!
We left the house at 8 am and travel to Oton! We arrived at the place before 10 am. And my little cousin is dragging me to the beach to swim. But before that, I just have to paint the place very quickly.
Since this is my comeback to our province, I wanted to make it memorable so I decided to bring my art materials to paint some sceneries or place. And because we have limited baggage I need to be creative as much as possible. I cut a whole watercolor pad into 1/8 size paper and collate it using a wood string. Put some paint in my palette (so I don't need to bring all my paints) and bring my waterbrush so whenever I will be, I can paint.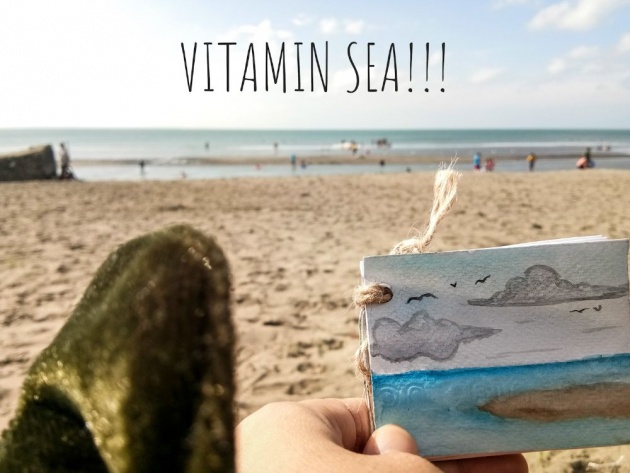 Photo Credits: Yannn via bitlanders.com
It's also been a while since the last time I went to the beach so it brought me so much excitement to be there. We are also happy that the sun decided to shine that day (as I mention earlier there was a Low-pressure area by that time) I was so glad to make a quick paint of the place. Though I still need to practice in painting the skies and the seas, I am happy and grateful with the result of my work.
We swim for a few hours, played with the water and had our lunch together. It was a fun and calm day at the beach! Before we left the place, I wanted to have a souvenir photo with the place.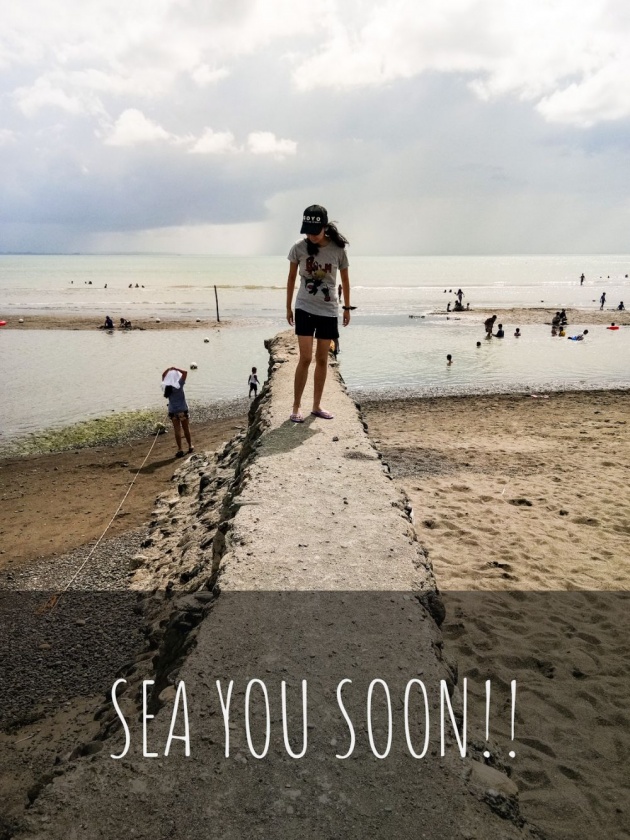 Photo Credits: Yannn via bitlanders.com
This photo is actually a stolen shot. I let my little cousin took the photo and surprisingly this became my favorite. The camera caught me smiling while looking below (up until now I am still thinking what am I looking at that time) but hey, at least my face tells you the truth that I'm happy!!
Also, I feel like a nerd here, wearing my favorite Bakugou shirt by Uniqlo's Jump Shounen edition. And my Goyo cap is given by Ninong Alvin Anson. (Unfortunately I lost my cap in the airport as we went back to Manila, that's so sad!!!)
During that afternoon, we went back to our Grandmother's house and went to some of our cousins. While my mom is preparing some food to eat for our Merienda, I, my Auntie Dolor and little cousin went to one of our Cousin, to Kuya Daniel's house. Time flies so fast that he has his own family already. He was running a motorcycle repair shop for a living and a Sari-sari store. He had 3 cute children and they are all lovable!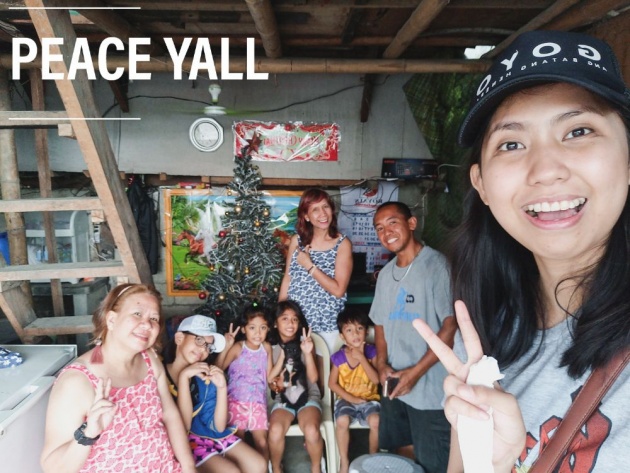 Photo Credits: Yannn via bitlanders.com
We stayed there for a while, catch up with each other and shared a few stories about our life in Manila. After an hour, the rain pours and surprisingly we don't have an umbrella with us. So I called my mom to fetch us up, and as she arrived riding a tricycle. But before we left, we happen to visit another relative near the place. It was another cousin, Ate Gemma, who's currently pregnant and almost due! Yay! We didn't stay that long because we still have some errands to do.
We got back to my grandmother's house, ate our Merienda and prepare to leave. But just before we go back to Sta. Barbara, we went to the Cemetery to visit our grandma. She died the same year we last visit our province. It was in 2011, a few months after our visit she finally breathed her last. After we visit the cemetery, we had our dinner and buy some "Pasalubong" in the city. I guess the timing to buy some "Pasalubong" is perfect because my Auntie and cousin will be boarding on the same night.
By 9 pm, we reached Sta. Barbara and they fix and prepare their stuff before they leave. Good thing the place where we stay is near the airport so they will not have any problems with traveling. By 11 pm, they left and finally say goodbye to us. Surely time is so short, my little cousin doesn't want to go home yet. But they have to.
• DAY 4 — NEW YEAR'S EVE •
Here we go, the day before New year!! We woke up early to start the day right. Had our breakfast and eventually went to some of our relatives near the area. We went to the relatives on my father's side. And there we met the family our one of my closest cousin, Kuya Ergine. He used to live with us in Manila a few years ago, and look at him now he has his own family already. We went to the wet market to meet him and to escort us where our grandmother has been buried. Last November 2018, the mother of my Father died. It's sad that we weren't able to see her again. We came and visited her in the cemetery, said a little prayer and left. We went back home to had our lunch and rest for a while. My Auntie Terry asked me if I still want to go to Guimaras. (Of course, I still wanted to because that's one of my goal upon visiting Iloilo). But before that, my mom wanted to drop by at the church to give thanks for everything that happened this 2018. A few hours later, we arrived at the port and we're waiting for my Auntie Terry.
I was kinda worried because it's 5 pm already and the sun is about to set. I'm pretty sure we will have not enough time to see the area. But still, I have hope that at least we can visit the place. Finally, my Auntie arrives and we can finally leave.
Photo Credits: Nomadic Mike via youtube.com
It was my first time to ride a boat (Although I was able to ride a ship already years ago I must admit that I still have some fears). The operator started the engine and we're about to go! The waves are kinda huge and it's sorta windy. I asked my Auntie if its just normal and she said the waves are kinda big but she assured me that it's alright. And upon hearing that, it relieves me that we will not sink (we just have to trust God! Hahaha!) It took us 30 minutes before we reach the island! And it's after dark already.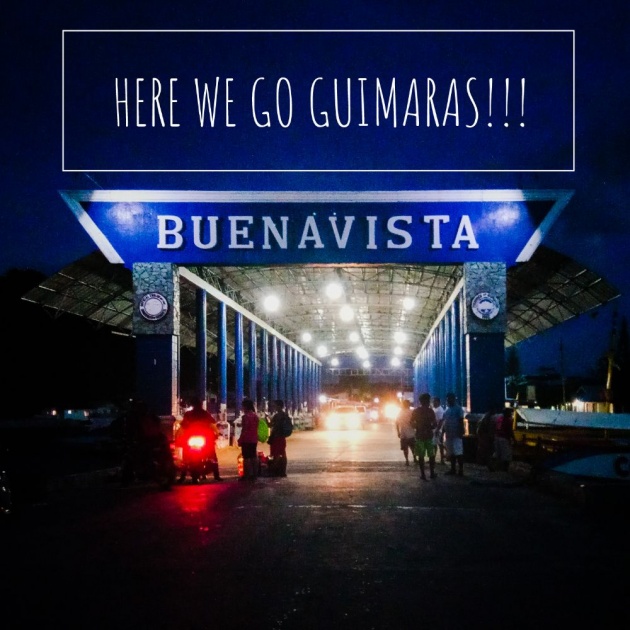 Photo Credits: Yannn via bitlanders.com
We arrived at Buenavista at 6 pm. And it saddens me that I wasn't able to see the beauty of the Island and the mountains! That's really sad!
Actually, before we went here, one of my plans is to hike on the mountain nearby. But they didn't permit me because they are concerned with my safety. So instead of hiking, I decided to make a way to go to Guimaras. Fortunately, we made it! (It's just we weren't able to go around the place because it's dark already) and everyone is so busy preparing for the Medianoche.
But if there is one thing that amazes me as we visit the place, it is the sunset that we witness with our naked eyes.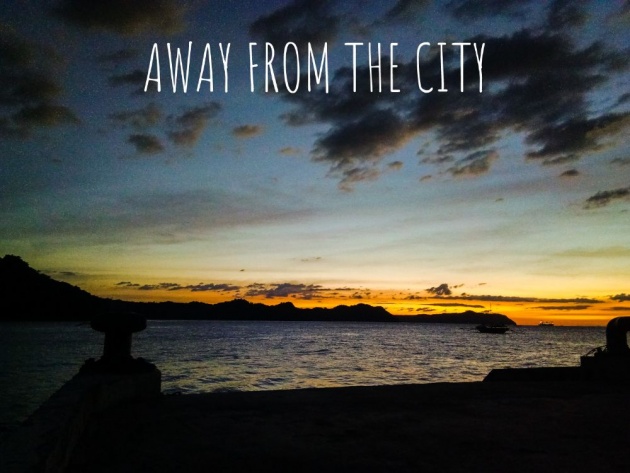 Photo Credits: Yannn via bitlanders.com
I was in awe when I saw the sun is about to set and not to mention that it was set with the background of the sea. Am I dreaming? I just saw such things in the movie or in the anime. I feel like crying at the moment.
After a few minutes, we left the place because we need to head back to Sta. Barbara (or else we will not able to go home and we might celebrate the new year in the streets). But before that, we dropped by at the park called "Iloilo River Esplanade" it was a famous park in the city where people usually go and just had a relaxing time with their loved ones. We walk and took some photos and decided to finally go home!
At 9 pm, we had our dinner and we started cooking and preparing some desserts for the New year's eve. And finally we made our last visit to our Uncle Leonard at 10:30 pm, we ate and shared a few stories. Couldn't believe that my cousin (who is just a year older than me) had a baby already! I guess everyone is starting a family already. We went home at 11:30 pm, just in time to be home and celebrate the new year's eve. We sang in karaoke, ate some dishes and desserts and as the clock hits the 12mn we started greeting each other "A Happy New Year". My uncle lit a fountain fireworks outside the house to keep the bad spirits away. We watched the fireworks outside and I must admit that it was the most peaceful new year's eve I ever had. (I mean for a person with Asthma, I really don't like smoke from firecrackers).
It's almost 2 am already when they told me to had a nap because we're about to leave at 6 am. And as much as I wanted to stay awake and celebrate the New Year, I obeyed them and had a nap so that I will not get sleepy by the time of our boarding.
• DAY 5 — GOING BACK HOME •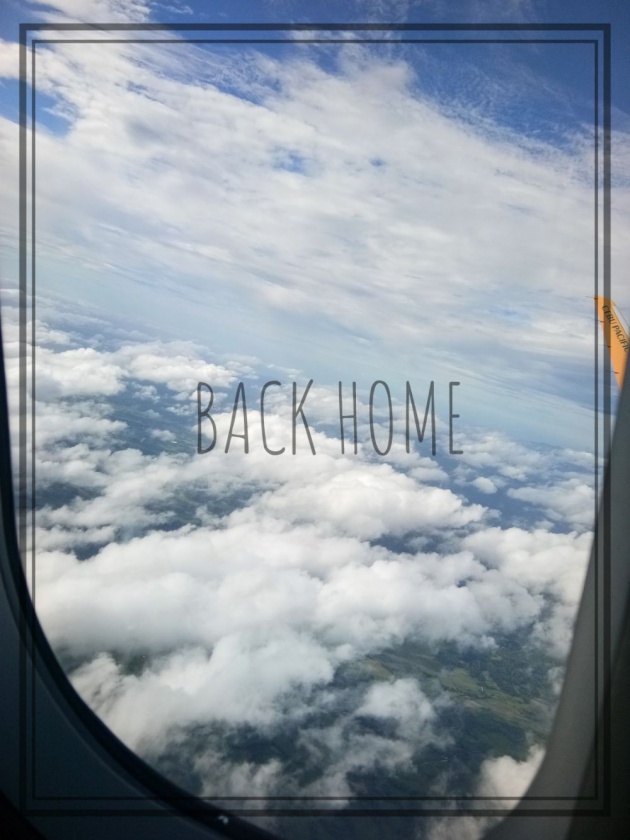 Photo Credits: Yannn via bitlanders.com
01/01/19, I woke up at 5 am, my mom already packed all our stuff and we're about to leave. I just had a shower and change my clothes and we headed into the Airport for our flight. Our flight is not until 8 am but we need to be early for us to board early too. We just wait at the airport as soon as our boarding time arrives. By 8 am we went our way to the plane and it saddens me that our trip is finally over. Surely that 4 days wasn't enough to catch up and to do everything that we plan. But taking this last minute trip is worth it! I didn't regret it even if it costs me just a few days to spend.
We're in the plane already and I am kinda excited because I was assigned in the window seat! (you have no Idea how fond I am in clouds and skies!!!) So instead of sleeping, I decided to stay awake to witness how we flew. (Not to mention that I am also afraid of heights, but that didn't scare me not to look at the window!)
And as the plane started to fly, every memory, stories, waves of laughter are flashing back in my mind. If only I could stay longer, I would. But work resumes the day after New year and I need to be there. But I promise myself to go back this 2019! I'll go back to Guimaras and by that time, I'll make sure to make the most out of it!!!
Then there you have it! My last minute trip to Iloilo last 2018. Howbeit it's short but surely it was memorable and fun!! We're hoping to return this summer, hopefully, our schedule and budget permit us!
Thank you for reading! Hope you had fun! Have a great day!!