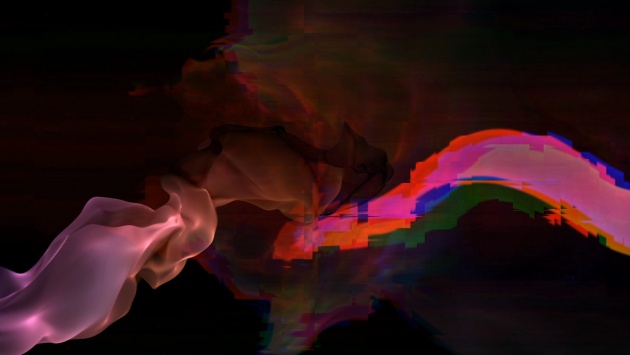 Hello fellow Film Annexers! Firstly I'd like to apologise for my recent absence on Film Annex. It's been a busy couple of months. I have been tirelessly working on and trying to complete a range of projects and sadly this has left precious little time to blog on Film Annex. This however is going to change as I hope to update you on several upcoming projects over the coming weeks and months.
Today has brought good news which I wanted to share with you all. I was informed this morning (31/03/2014) that Left of the Border Films Collaboration Four has been selected for screening at the 2014 Australian International Experimental Film Festival. This is the first time one of my more recent experimental films has been selected by a film festival and I am understandably very pleased that A.I.E.F.F. has deemed my work good enough to share with its festival audience.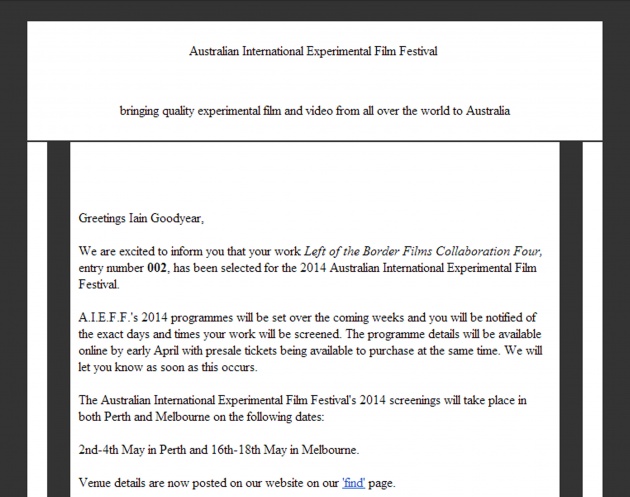 It would of course be remiss of me to take sole credit for this achievement as 50% of Left of the Border Films Collaboration Four is down to the exceptional sound design of Chris Gladwin a.k.a. The Wyrding Module. If you have not heard the complex and multi-layered sound of The Wyrding Module I suggest you seek it out as it really is rather good!
With regards to A.I.E.F.F. the Australian International Experimental Film Festival was established in 2010. The festival has been screening a superbly broad variety of experimental film work from a range of international film makers for the last four years. You can check out their 2013 festival programme HERE to learn more about the films and film makers previously selected.
So, exciting times lie ahead with lots to tell you. In future blogs I will be updating you on upcoming Left of the Border Films Collaborations, sharing more of my photography and premiering my next solo experimental short film Noise With Noise.
Thank you for taking the time to read this blog. To read more of my blogs please click HERE. If you are currently viewing this (or any of my other blogs) through the newly re-designed Film Annex website, I would also be very grateful if you could show support for my work by clicking the BUZZ button at the top left of your screen.
If you are new to Film Annex and want to upload your films or blogs to this great platform click HERE to begin. Subscribe to my Film Annex profile page and notify me of your content uploads via Twitter @iaingoodyear. By doing this I can help to spread your content to other Film Annex users via my social media platforms.
To receive future updates about my photography and moving image work please subscribe to www.filmannex.com/iaingoodyear.