The Argentinian passes Zarra and becomes all-time hat-trick leader for Spanish clubs in official games

Leo also passes Cristiano Ronaldo on the league hat-trick list and ties him on season scoring leader list.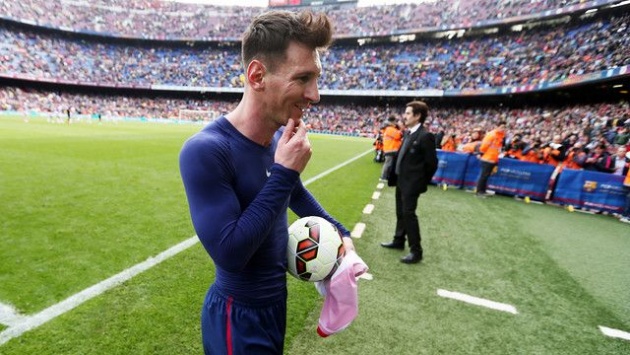 Leo Messi has done it again, setting two new records and becoming the league's scoring leader on the season in Barça's 6–1 win over Rayo Vallecano on Sunday.
ALL-TIME HAT TRICK RECORD FOR SPANISH CLUB. No other Spanish club player ever made 32 hat tricks. Messi now has 24 in league games, five in the Champions League, two in the Spanish Cup and one in the Spanish Supercup. He leaves Telmo Zarra (31), Alfredo Di Stéfano (28) and Cristiano Ronaldo (27) behind him.
ALL-TIME HAT TRICK RECORD IN LEAGUE GAMES. Messi's 24 in La Liga pass Ronaldo's 23. Di Stéfano and Zarra – each with 22 – and Mundo, with 19, are way back.
LEAGUE SCORING LEADER FOR 2014/15 SEASON. Leo's trifecta versus Rayo give him 30 league goals this season, and tie him with Ronaldo, who had led all season until today.
SIXTH STRAIGHT SEASON WITH OVER 40 GOALS. It's an incredible streak. Messi now has 41 goals in 38 games, the same number he had all of last season in 46 games.