As a first blog post I thought I would discuss one of my hobbies and how I found it. Loom knitting is a method of knitting that uses a row of pegs instead of two needles. The method predates needles but is often perceived today as new and a children's craft. There are many options, from plastic to wood to making your own. Yarn is pretty inexpensive, as crafting materials go.
I started loom knitting a few years ago after being laid off as the result of a department shut down. At first knitting was something to do between job searches to keep my hands and mind busy. Knitting is very therapeutic and remaining productive helps keep the mind sharp. Then before I knew it I had a big box of colorful bags, scarves, e-cig holder key chains, hats, and more. I sold those items at a yard sale to clear out the space and was surprised by how much I made.
Since that first box I have made several items for gifts and sale and sent thirty scarves out with boxes of goodies to overseas troops. I've found regular employment but truly enjoy continuing to have a side income from my own handicraft.
Often in life we are faced with huge change that is not of our own choosing. No matter the challenge thrown at you it is important to make the effort to think outside the box about your situation. How can you be more proactive? Are you effectively using your time and effort? Keeping creativity flowing and learning a new skill can pay off both figuratively and literally.
I'm certain at some point I will again be unemployed, however briefly. I no longer worry that I will be reliant on unemployment benefits alone, which is a relief. I always have a full box in waiting.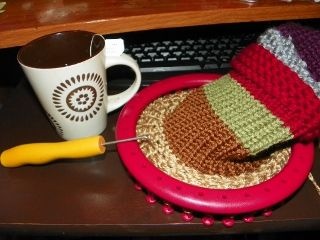 J