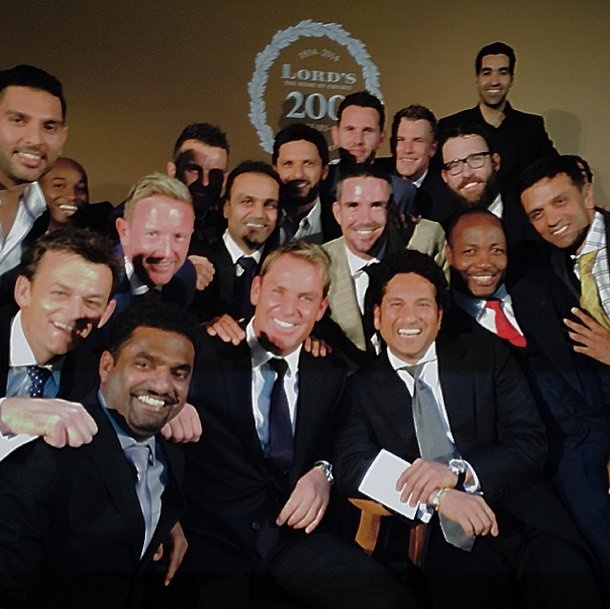 The stage is set, as the legends battle it out at the 'Lords'. The match will be played on 5th July, 2014 as the retired batting icon, Sachin Tendulkar (center right) and retired bowling icon, Shane Warne (center) would be leading their sides to a single win-match of 50 overs.
Sachin Tendulkar will captain the Marylebone Cricket Club where he was awarded Honorary Member of "MCC" in 2010, along with Brian Lara, a record holder West Indian great and Rahul Dravid, a great Indian batsmen against Rest of the World lead by Shane Warne, a team featuring his close friends 'Adam Gilchrist, Kevin Pieterson, Shahid Afridi and the magical Muttiah Muralitharan'.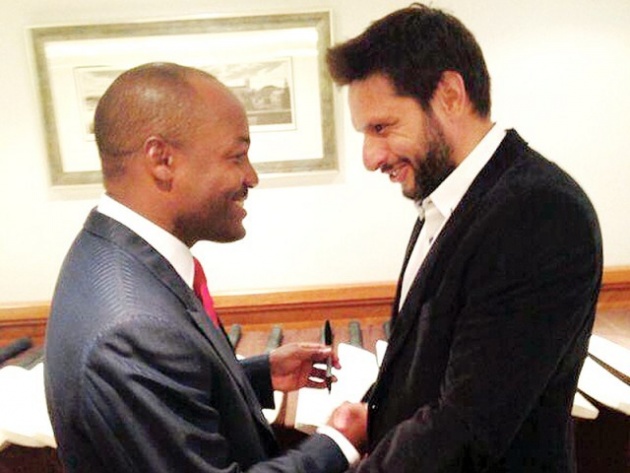 Today, on 5th of July Shahid Afridi aka Boom Boom Afridi, posted a picture with Brian Lara, at a dinner meeting in London hosted for the MCC vs Rest of the World Cricket Match. Shahid Afridi described him as,
Meeting my toughest opponent, as a batsman he was the best
The teams are as following.
| | | | |
| --- | --- | --- | --- |
| MCC | | Rest of the World | |
| Name | Country | Name | Country |
| Sachin Tendulkar (captain) | India | Shane Warne (captain) | Australia |
| Saeed Ajmal | Pakistan | Shahid Afridi | Pakistan |
| Shivnarine Chanderpaul | West Indies | Tino Best * | West Indies |
| Rahul Dravid | India | Paul Collingwood | England |
| Aaron Finch | Australia | Adam Gilchrist | Australia |
| Umar Gul | Pakistan | Tamim Iqbal | Bangladesh |
| Brian Lara | West Indies | Muttiah Muralitharan | Sri Lanka |
| Brett Lee | Australia | Kevin Pietersen | England |
| Chris Read | England | Virender Sehwag | India |
| Shaun Tait | Australia | Peter Siddle | Australia |
| Daniel Vettori | New Zealand | Yuvraj Singh | India |