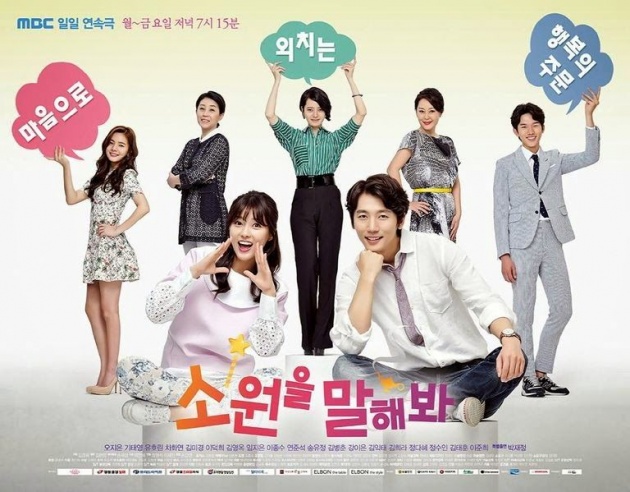 Make a Wish MBC New Korean Family Drama 2014
Make a Wish is about a stepmother and daughter, who face the biggest challenge in their lives and overcome the difficulties with their special relationship.
'Kang Jin Hee' will be helping out 'Han So Won,' who tries to solve the mystery behind her husband's unfair death.
An affiliate of JStars Entertainment, Ki Tae Young's agency, stated, "Thankfully, many projects have sent love calls and we chose carefully as he will be returning to the small screens in a long time. They are still in the planning stages now but once the filming starts, he will only be focusing on this project."
Ki Tae Young also said, "A man will be able to overcome his pain by meeting a woman. I felt charms from 'Kang Jin Hee,' who is like 'daddy long legs' in that the only thing he can do for the woman he loves is to be at her side. I ask for your interest and love."
Ki Tae Young will be returning to the small screen through Make a Wish. Ki Tae Young will be taking on the role of 'Kang Jin Hee' in MBC's daily drama Make a Wish, which is to air following Shining Romance.
Also known as: Tell Me Your Wish
Genre: Family, Romance
Episodes: 100+
Broadcast network: MBC
Broadcast period: 2014-Jun-23 to 2015-???-??
Air time: Monday to Friday 19:15
Original Soundtrack: Make a Wish OST

This drama shows the struggles of Han So Won who attempts to prove her husband's innocence because he is being framed for embezzlement and he ends up being in a vegetated state after an accident.

Main Cast:
Oh Ji Eun as Han So Won
Ki Tae Young as Kang Jin Hee
Yoo Ho Rin as Song Yi Hyun
People from Dongsan-dong:
Kim Mi Kyung as Lee Jung Sook (So Won's step mother)
Song Yoo Jung (송유정) as Han Da Won (Jung Sook's daughter)
Park Jae Jung as Jang Hyun Woo (So Won's husband) special appearance
Lee Duk Hee as Kim Choo Cha (So Won's mother-in-law)
Lee Jong Soo as Jang Gyun Woo (So Won's older brother-in-law)
People from Sungbook-dong:
Cha Hwa Yun as Shin Hye Ran (Yi Hyun's step mother)
Yun Joon Suk as Song Suk Hyun (Hye Ran's son)
Kim Young Ok as Choi Hoe Jang (Yi Hyun's grandmother)
Im Ji Eun as Jo Myung Hee (Yi Hyun's aunt)