The young Pakistani girl, Malala Yousafzai who was shot in the head by Pakistani Taliban last year for advocating girls' education has brought yet another honor to Pakistan. She was awarded 2013 International Children's Peace Prize by Dutch based Kids Rights Foundation on Friday.
The 16 years old, Malala received the prize from Yemeni Noble Peace Laureate, Tawakkol Karman, who described Malala as her heroine. Tawakkol was co-recipient of the 2011 Noble Peace Prize, becoming the first Arab and second Muslim women to win a Noble prize. Karman 32 is human rights activist, press freedom advocate and founder of a rights group, "Women Journalists without Chains".
Malala while speaking at a ceremony held at the historic Knight's Hall near Dutch Parliament declared to build up her struggle for a world where everyone can go to school without any hindrance or qualm. Referring to her traumatic experience, Malala said she was just one target for their (Taliban) violence.
There are many others for whom we must continue… so that children all over the world can have a right to go to school. Malala, a resident of Mingora town in the Swat district of Pakistan's northwestern Khyber Pakhtunkhwa province got fame after she was shot in the head and neck in an assassination attempt by Taliban gunmen while she was returning home from her school on October 9, 2012.
She was given life-saving medical treatment initially in Pakistan and later in UK where she now lives. Malala's courageous fight for survival and her milestone speech at UN in July this year have made her a leading contender for this year's Nobel Peace Prize. But back in Pakistan, many hail Malala as a national heroine while others belittle her by saying that she promotes "American agenda".
The International Children's Peace Prize that carries value of 100,000 euros was launched in 2005 by Kids Rights Foundation and set off by Former Soviet leader Mikhail Gorbachev when he chaired the Noble Peace Laureates in Rome.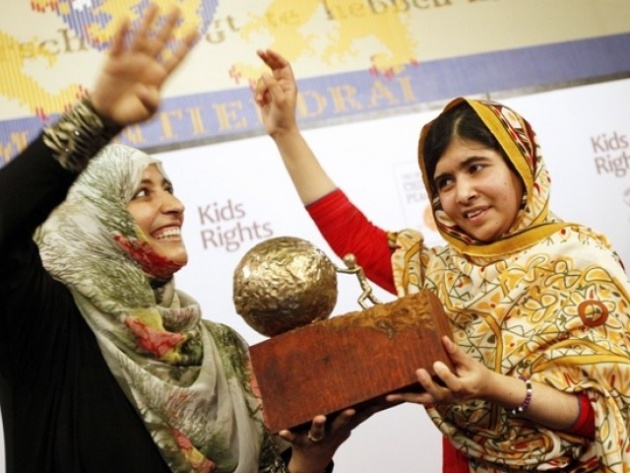 Earlier, Malala Yousafzai on September 3 officially opened a civic library in her adopted home city of Birmingham in United Kingdom where she declared that pens and books are weapons to defeat terrorism. She told a 1,000-strong crowd outside the libraries that even "one book, one pen, one child and one teacher can change the world".