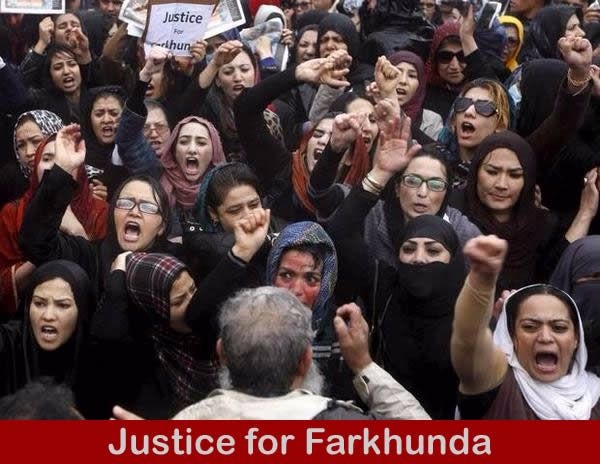 Farkhunda was like an innocent bird when she was burned by a mob on March 19, 2015. The 27-year-old woman was a religious studies student who graduated from Aisha Darul Uloom. Ignorant and cruel people who know nothing about humanity killed her in very brutal way.
Let's imagine for a while that we are Farkhunda. What would you do if more than a hundred people beat you with stones and sticks and in case you were still alive, ran over you with a car and finally burned your body?
We cannot imagine this because it is beyond belief. But she felt all these horrors. I live in a country that is nearly 98 percent Muslim, yet the majority of people do not know about Islam and the Qur'an because about 75 percent of them are illiterate.
Among the hundred people who killed Farkhunda, no one stood up and said, "This is against the law." It shows that all of them were illiterate. It is a shame our corrupt government has failed for fourteen years to take steps forward to correct these outrages and injustices.
Farkhunda's attack is unprecedented, but she is not the first woman to face terrible violence in Afghanistan. Everyday women face forced marriages, a lack of access to justice, and a lack of access to education.
Let's raise our voices and stop such cruel actions from being repeated. It is time to make a decision. Do not let brutal people use our Islamic beliefs in the wrong way.
I offer my condolences to the family of martyr Farkhunda. She is a heroine of the century and history will record her death as a dark day.