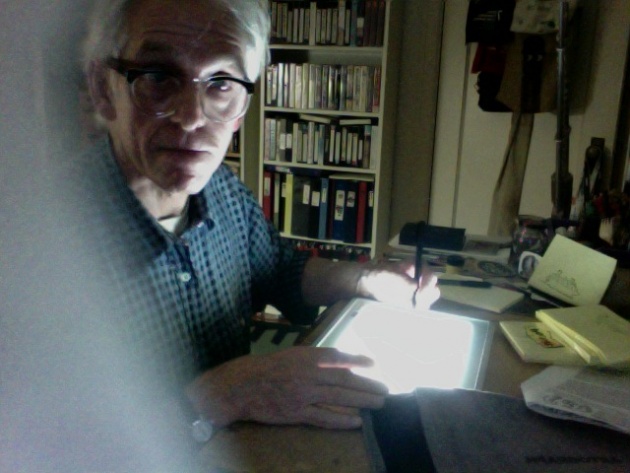 (Legendary animation filmmaker, Marv Newland, animating on sticky notes for Yellow Sticky Notes | Canadian Anjiam,)
With the upcoming internet launch of my 2013 animated film, Yellow Sticky Notes | Canadian Anjiam, I am presenting a blog series with interviews and profiles on some of the animators who animated segments of the anijam.
For the film, 15 of some of the biggest names in Canadian indie animation came together to create a collaborative animated film. An 'Anijam' is a collaborative animation with various animators who do individual short animated segments that link together to make one larger film.
Marv Newland, famous for his 1969 animated film Bambi Meets Godzilla, coined the term with his 1984 collaborative animation, Anijam. For Marv's film, he brought together 22 animators from around the world to collaborate on Anijam. The unifying factor in his animation was a character he created called Foska that each of the animators had to use in their animated sequence.
Marv is one of my animation heroes and a huge inspiration to me. He is also one of the most prolific and respected animation filmmakers in the world. Luckily he also lives in Vancouver, Canada. Therefore, even before I began the project, I invited him out for lunch and I asked for his blessing to use the 'Anijam' title. Well, not only did he give me his blessing, he even agreed to do a segment in the film and act as my anijam mentor. He was instrumental in helping me assemble an amazing crew filled with Oscar nominated and Oscar winning animators from across Canada. Marv is not only a great mentor but also truly a great friend. I can not thank him enough for all his help and support with the film.
(Marv holding up his sticky note drawing with animation buddy and fellow anijammer, Paul Driessen, in Paul's Southern France studio)
MARV NEWLAND BIO:
Marv Newland's animated motion picture career began in Los Angeles with the creation of the short Bambi Meets Godzilla (1969). In 1975, he founded the animated film production company International Rocketship Limited in Vancouver. At Rocketship, Newland directed and produced over twenty animated short films including Sing Beast Sing, Black Hula, Pink Komkommer and Beijing Flipbook. Newland has received international acclaim for his films, which use unusual approaches, such as twenty-two international acclaimed animators on a single film, the orginal Anijam (1984), and a short made entirely of postcards (Postalolio). His films have received festival prizes around the world, including the Grand Prix at the Annecy International Animation Festival.
MARV NEWLAND INTERVIEW:
* For the interview blog series, all the anijam animators were asked the same series of six questions.
1. What inspired you to become an animator?
MN: Constant television exposure during my youth to black and white animated short films from the Ted Eshbaugh Studio, specifically the cartoon, GOOFY GOAT.
2. Which animated film of yours are you most proud of and why?
MN: FUV. It reminds me of GOOFY GOAT.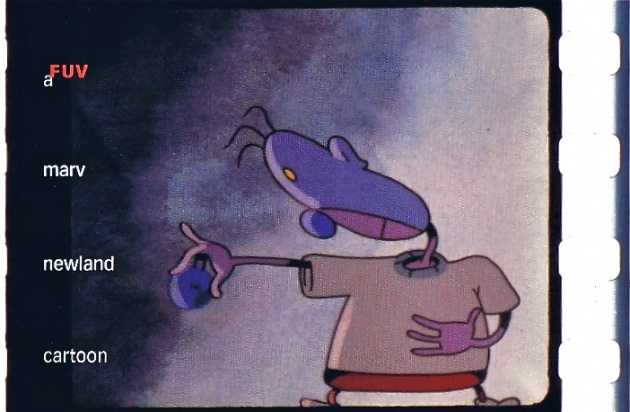 (still from FUV - courtesy of Marv Newland)
3. What do you think makes for a successful short animated film?
MN: Definition of the word SUCCESSFUL has always been a mystery to me.
4. What advice do you have for students wanting to become animators? Any animation tips or wisdom you've learned over the years?
MN: Read books. Learn the history of your artform/occupation. Do not consider drawing/animating to be work. Observe nature. Listen to all types of music.
Conserve your energy for your work. Stay out of bar fights. Avoid long prayers. If you conceive a child be damn sure it is an accident.
5. The Yellow Sticky Notes Project is a foundation created as an extension of our Yellow Sticky Notes | Canadian Anijam to teach kids and youth classical animation using sticky notes and collaboration through anijams. From your experience, how do you feel animation can be used to help foster creativity and self-expression?
MN: Animation is the creation of alternate environments full of alternate forms of life. Your creation of an alternative yet believable world populated by equally believable characters should keep you so busy that the need for self expression and creativity will not bother you.
6. What are you working on now and when can we expect to see it?
MN: SCRATCHY is the animated short I am currently animating. It is an on and off production interrupted by the making of at least three other pictures. SCRATCHY is based on out-takes from an old black and white cartoon titled, GOOFY GOAT.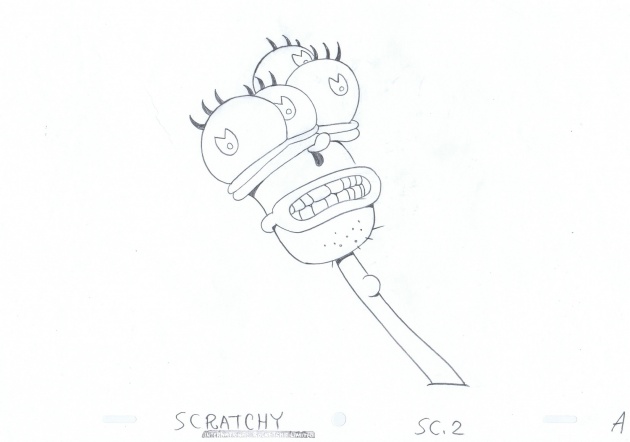 (one of the first drawings from SCRATCHY to ever be released publicly - courtesy and copyright of Marv Newland 2014)
YELLOW STICKY NOTES | CANADIAN ANIJAM ARTIST STATEMENT FOR HIS SEQUENCE:
"Whether at the helm of an ocean liner, or in the bathtub, we should remain alert and try to control ourselves." - Marv Newland
Below is Marv's animated segment from Yellow Sticky Notes | Canadian Anijam and please subscribe for new blog posts in this series (many other great animators to come) and more clips from the film!