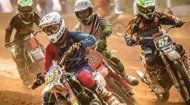 Motocross racing and grasstrack titled 'Powertrack IRC Championship 2014' series opener held at Paramount Circuit Land Gading Serpong in Tangerang, Sunday (31/8) really draw attention. Unfortunately in this series opener, the host driver is not able to talk much.

Circuit ruled Gading Serpong even kroser from Central Java, Akbar Tofan who won two titles in the Senior class Ducks 4T and Senior Mixed. Banten rider can only succeed in the classroom Ducks Modif Senior 2T through F Chimon racer.

Typhoon class Ducks shine in Senior 4T, after only able to occupy the third position in Bebek Modif 2T class Senior with 37 points. He captured first place in the Senior 4T class Ducks with 47 points followed by Oky Savona (Java) of the team AND Andika MX with a value of 38 and the third position was taken Aditya Prasmita (East Java) with 35 points.

In other prestigious class, Senior Mixed, Akbar look perfect in two races so pack 50 points. The runner up was Aditya Pradana (East Java) with a value of 42 and the third Savona Oky (East Java) who scored 40.

For the Duck class Modif Senior 2T, F Chimon (Bantam), which defends the MPS team Bantam KYT Honda IRC Kawahara R9 is packing a total of 47 points from the two races are contested. Stalking behind the rider Cep Sena (Bantam) of the IRC Ogi GM Stump team who collect 40 points.

Product Development Specialist PT Gajah Tunggal Tbk as IRC tire manufacturer which became the main sponsor of this event, Dodiyanto helatan satisfied with this first series. Moreover, in the event it is also providing support to the four teams that Honda MPS Banten, Stump, and Agung Jaya Motor is also a team that gave birth to champion in this event.

"It was nice because the participants of this year more than doubled compared to last year. We are very happy because this event also laid out neatly, especially performance tires IRC as the main sponsor was clearly visible, not least with imported tires," said Dodiyanto.

He also hoped the two later in the series to be held in late September in Serang, Banten will be more festive. Moreover, participants will certainly not less than 200 racers.