Philippine History subject was not my cup of tea way back then when I was in primary and secondary school. A slight regret after realizing I missed the opportunity in discovering the great antiquity of Mayon Volcano or Mount. Mayon. In observance to The Legend of Mount Mayon, the people in Daraga Albay celebrate the Magayon Festival. The word Mayon was derived from a name of a beautiful princess - Daragang Magayon. She was killed with a stray arrow during a love triangle tragedy while being held by her love interest - Panganoron. The dwellers believed that the rising surface or the hill where the princess was buried is said to be Magayon and the clouds sorrounding the top of the hill that drizzles water is Panganoron (cloudy). From then on residents would feel shakening of the ground with the sound of rolling stones and thunders every night.

As per CNN Travel's "10 Most Photogenic Volcanoes, Mt. Mayon hit the ninth spot and was also featured in BBC Travel Stories as one of "The worlds most beautiful volcanoes", aside from being eminent as "the world's perfect cone volcano" due to its symmetrical cone shape.
On the southeast side of Luzon, an active volcano--Mt. Mayon is located in the province of Albay in Region V or Bicol Region that has a rising elevation of 2,462 metres (8,077 ft) from Albay Gulf shores about 10 kilometres (6.2 mi) away. An equal distribution of the geographical viewing of the volcano can be seen by the eight cities (Legaspi, Ligao, Tabaco) and municipalities (Daraga, Camalig, Guinobatan, Malilipot, Santo Domingo).

Source: Google Map Images
Behind every beautiful thing, there's some kind of pain.

Bob Dylan

The Cagsawa ruin church before the February 1, 1814 eruption. (Photo Credit: Wikimedia Commons)
Roughly 11 kilometers away from Mayon volcano is the town of Cagsawa where a 16th century Franciscan church was built and burned by Dutch pirates in 1636 but was then restored in 1724 by Fr. Francisco Blanco stood still before the horrible eruption occured. For the past 400 years, Mayon has been erupted 51 times that it touted to be the most active volcano in the Philippines.
ERUPTIONS OF MAYON
On February 1616 the first major eruption was recorded by a Dutch explorer Joris van Spilberge during his travel around the world.
Came the most dreadful tragedy on early morning of February 1, 1814 when a disastrous eruption knocked down five towns and about 2,200 locals in Albay were vanished after an approximate destruction area with showers of red hot stones, flowing of blazing lava on the sides of the mountain and an ash accumulation of 9m (30 ft) in depth that doomed the sky of the towns of Albay. An estimated list of casualties made by PHIVOLCS (Philippine Institute of Volcanology and Seismology) were about 1,200 bodies of people covering the ground.
They are human beings seen in their agony. This is not art, it is not imitation;
these are their bones, the remains of their flesh and their clothes mixed with plaster,
it is the sadness of death that characterises body and form. I see their wretchedness.
I hear their cries as they call to their mothers, and I see them fall and writhe

Luigi Settembrini (1813-76)
Before the year 1881 ends, a volcanic activity has been observed on Christmas Day of 1881 by Samuel Kneeland, a geologist, professor and a naturalist where a stream of lava poured out continuously on the side of Legaspi City five months from the start of the volcanic activity which was on July 6, 1881.
The longest uninterrupted eruption of Mt. Mayon was on June 23, 1897 where fire rainfalls lasted for for a week. Five villages were affected during this eruption. Bacacay was one of the affected villages that was buried 49 feet underneath the lava. 100 people were reportedly died due to volcanic vapor and hot falling volcanic rocks.
February 2, 1993 16,000 locals evacuated their homes to take refuge in the nearby towns. Seventy seven (77) farmer people were killed during this eruption.
1993 Eruption Survivor
Video Credit: ABS-CBN News / Reported by: Doris Bigornia of "Mutya ng Masa" tv program
During the 1993 eruption, a survivor named Veronica Perez who is known as "Lola (grandmother) Mayon" whose other half died during the tragedy said: "I was on my way home when I met my daughter and for about five minutes the lava carried by the wind came from the crater down to our town." As a result of, Mayon left her a volcano mark on her back and it will ache everytime there's a sign of eruption according to Lola Mayon.
Another ash explosion occured on July 13, 2006 was monitored and followed on August 10, 2008 but no casualties were reported since people were evacuated as per advise from PHIVOLCS to stay away from the danger zone when level 1 alert was raised to the public.
Almost a year after, Alert level 1 was raised in awareness to the public in Albay. On December 28, 2009 PHIVOLCS director Renato Solidum spoke about the status of the volcano and he stated: "You might think it is taking a break but the volcano is still swelling." And the swell burst as the volcanic eruption of debris and rocks was estimated to 20-23 million cubic meter that resulted to civil aviation warning for airspaces nearby.
2013 ERUPTION
When a volcano produces steam, ashes, rocks and magma heats on the ground or into the water, it is called a Phreatic eruption. This happened during the May 7, 2013 eruption of Mt. Mayon that killed 4 foreign tourists (3 German and a Spaniard) climbers, 1 local tourist guide and 7 others reportedly injured. The cause of their death was due to suffocation and body trauma. A Thailander Boonchai Jattupornong with an arm broken, burn on his neck and back, bruises and unable to walk due to over fatigue has been rescued by local authorities.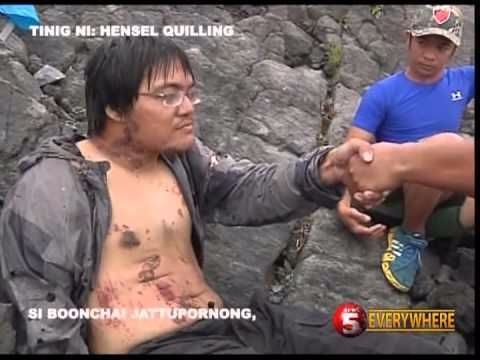 Photo Credit: News 5 Everywhere
The resumed activity of Mayon Volcano was last September 18, 2014 when a volcano tectonic earthquake was reported due to the injection and the withdrawal of magma that gives pressure to the rocks that may cause it to move or break at any point in time.
The Earth is God's pinball machine and each quake, tidal wave, flash flood and volcanic eruption is the result of a TILT that occurs when God, cheating, tries to win free games.

Tom Robbins
After a storm comes a calm.

Matthew Henry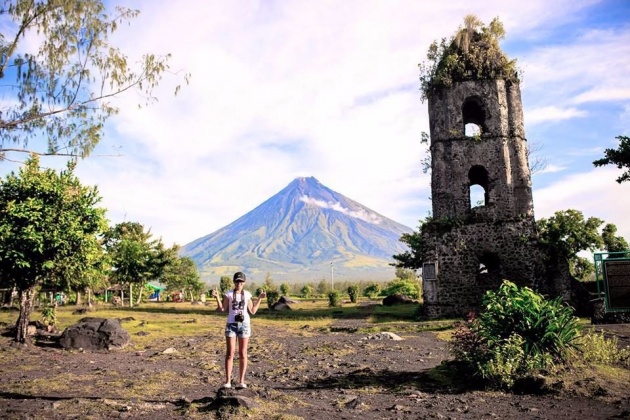 Mt. Mayon and the Cagsawa Ruins -- Post card no more!
The damage has been done but Mount Mayon still holds the title as "one of the world's most perfect cone volcano" after all horrifying tragedies. Nonetheless, because of its historic eruptions it made layers of ash and lava that made its conical layer splendid. Used to see the image of Mayon in postcards, magazines and on television news not expecting though that it would transpire its beauty right before my very eyes.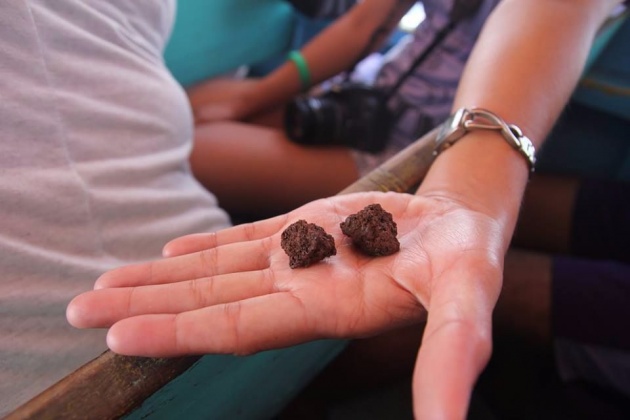 An ignimbite - is a deposit of a pyroclastic flow deposit or in short a hardened magma.
Photo Credit: Erlin Yu (Me)
I was not only in awed to explore one of the best historic tourist spots in the Philippines but I was enjoying it as well. It's a fun ride with an All-Terrain Vehicles (ATV) following the lava trail towards the lava wall. Unfortunately the weather was against us, it's so cloudy and raining the whole trip. The thrill part was the trekking on the lava wall which I expect it to be a wall but was astounded when the tour guide told us to climb it up. While climbing up, you can smell the steam and warmth of the wall. A helipad welcomes you as you reach the top of the lava wall. This serves as the base point for the rescuers or any volcanic rescue mission. It would be nicer if the Mayon was not hiding on the dark clouds. Though it's raining, the top view was breathtaking not feeling the cool breeze but the warmth underneath from where I stood. As seen in the photo above and as a token of this whole trek, I took 2 ignimbite rock - a pyroclastic flow deposit during eruption that is weld into a rock when the temperature is high.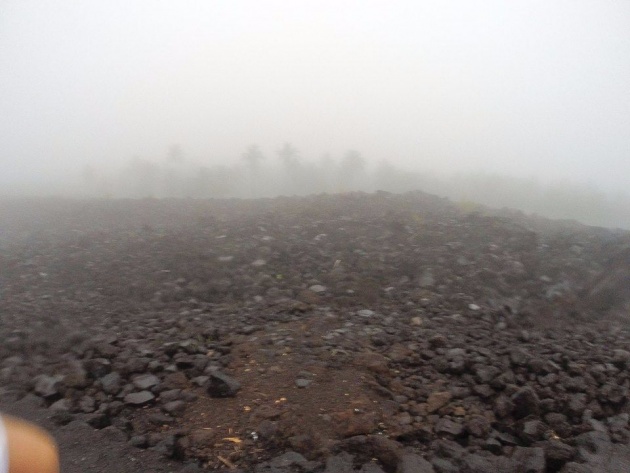 Due to bad weather condition we only saw smog and these black and red rocks from the helipad as far as your eyes can see. Beyond this part is the Mayon volcano on a closer glimpse, but then again the weather was not on us.
I always have this notion regarding historical tours to be tedious but with this trip, I realized that application to what is written in history book is a way much better learning than reading; aside from enjoying and photo shooting.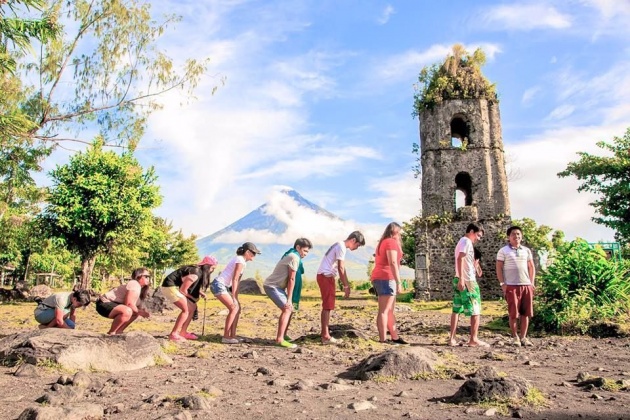 An evolution of man pose.
Such a lovely sight to behold when nature is at its best. Forever it will be "The world's perfect cone volcano" and today I will say, POSTCARD--NO MORE!
Historic eruption information sources: Wikipedia