I came to Film Annex through hearing on the grapevine the success of my graduates, work notably the graduate year of 2010! That graduation year is all over Film Annex.
This makes me really proud to have taught these guys and had an effect on their filmmaking career.
I remember a lot of the challenges that the students had on making their films and it's good to see them getting great feedback on Film Annex. 
 These are some of my graduates on Film Annex. 
One of the top earners on Film Annex. This is Mark Kuczewski's page on Film Annex
http://www.filmannex.com/markkuczewski
Above is one of my favourites of Mark's. This was a graduation film and the performances and cinematography surpass your normal student film.
Another graduate from the same year is Amy Hill. Her profile is here.
http://www.filmannex.com/amy-hill
Amy's filmmaking skills really developed well during our film production course. She made a wide range of work during her studies, which culminated in these two cracking short dramas, which build on the heritage of social realist films in the UK. 
Here is a shot of Amy and her crew making the film.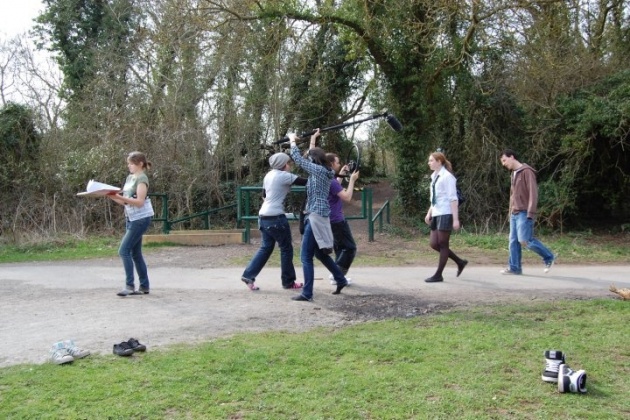 At Staffordshire University, we have have been able to develop filmmakers who are very good at telling stories, during their time with us. This partly down to the continual support and discussion of the films they are making while they are making them. We believe that communication about what you are doing and if works is essential to a successful film. We see all of our students every week to discuss their latest film. 
That's how the films above developed to be as successful as they were. 
The next filmmaker from that year is Dave Humphreys. Dave again like Amy tried his hand at a variety of areas during his degree, and I think the key to success at doing a film production degree is variety. Try as many roles and filmmaking styles as you possible can.  
http://www.filmannex.com/DaveHumphreys
To explain in more detail take a look at two of Dave's films here. 
They are two completely different films that contrast the learning journey of our students. Dave was trying something different out with the Ink Blot Tests, and those films were the culmination of lots and lots of tests over the period of a semester. Dave was also trying his hand at being experimental and something that he readily admitted at the time was not in his comfort zone.  With One Night Stand Dave was collaborating with another filmmaker called Jack Tew. This collaboration worked well as it used the skills of both filmmakers to create something fresh and different at the time. 
At the start of September, we will be creating a Film Annex page for our awards here at Staffordshire University. This will showcase our past successful films and also show you the current graduates. 
For now, please check our website for details on the courses we run and our successes over the years.
http://mediafilmproductionawards.staffs.ac.uk/
FYI: Daniel Hopkins is the Joint Award Leader for the Media/Film Production Awards at Staffordshire University, UK.