The Inner Dimension is the basis of all spiritual work, and the teaching of it is always divided into two parts: meditation and celebration. This also means introspection and sharing, or solitude and companionship. We have to be absolutely meditative: always and only practicing meditation and speaking just of meditation; and next to this, we have always and only be celebrating and practicing celebration. We have to meditate to get to a certain point of dept, which is that of the Inner Dimension, and once we found it we must clearly celebrate it, rejoice, and be happy because we found it. We searched and found the center of our being.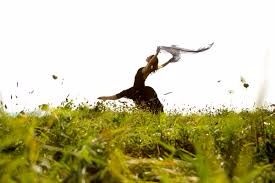 The center of our being, when we are in the presence of meditation, is a powerful magnet, and we experience it riding on its energy. The more we are meditating together, the stronger it is, and each one is more centered, absolutely centered, zeroed and dissolved, as if no one were sitting there. Each one is forced to resonate with all others, to be perfectly stable, falling more and more into their depths, touching their heart, and vibrate from there. When you peek, you see many people but no one sitting there. This is an emotional, mental, and spiritual vacuum cleaner, cleaning up everything, on all levels of existence. It cleans the blackboard of our consciousness, where afterwards we are able to rewrite any possible, imaginable thing. Now we know that whatever we do, the next day we return to the dimension of presence and be cleaned again, and again become as blank as an empty blackboard; as black as nothingness is.
Meditation and celebration is therefore the motto of a balanced and happy life. When we want to meditate, let's say ten hours a day, from six in the morning until late at night, we can start with a dynamic meditation, to open our energy, and practicing the darkness or candle or a mantra meditation before sleeping. In between those two poles, we have then a long series of opportunities to fill up any moment with more practices and endless celebrations. 'Vipassana', 'Nadabrahma', 'Kundalini', 'Gourishankar', 'Chakra Sounds', 'Devavani', 'Gibberish', 'Nataraj', 'Taj Ji Quan', or any other type of transcending meditation, plus Dancing, Painting, Loving, Playing, Cooking, Massaging, Acting, Singing, or any other type of transcending celebration.

The best ways of cleaning-up one's own spiritual being, is doing it at a very high-speed pace. Meditating all day and dancing until morning. There's no need for much sleeping when we're constantly in the presence, because we're in the flow. Fatigue and thoughts disappear, and the energy is really high after ten hours of practice. Take a shower and go on.