The Querlo Chatbot Assistant
I have been fascinated by the idea of owning my Chatbot Assistant from the time I read Mickey's blog on the topic. I just can't believe that it is free, easy to use and quite the handy tool for the every busy professional, media influencer, entrepreneur, creative writer, artists or online writer like me.
The Chatbot Assistant is the virtual you. It provides information about you (just what 'you' would like to tell) to your business associates, employers, colleagues, peers, friends or online community members who interact with your virtual assistant. Your Chatbot Assistant Interacts with those who would like to contact/know about you and it in turn provides you with some information about them and the nature of their visit. Every time someone interacts with your Assistant you get a mail which gives you the whole chat on mail. I believe Querlo is planning to come up with more efficient versions of this chatbot which will also assist you in calling your friends, fix your appointments etc. How cool is that!
Now are you interested in getting yourself a personal Chatbot Assistant? Do not fret, it is right there at the tip of your fingers, follow on this Querlo link and you will have yours ready in a few minutes. All you need to do is answer a few questions and provide your correct Email address and Querlo will do the rest for you. Check your mail and in a few minutes your Virtual Assistant will be ready for you. Doesn't that sound magical? I am not exaggerating, it is as easy as that to get your Chatbot Assistant for free.
Video credit Created by Querlo What is a chatbot
Watch the tutorial below for more details about creating your chatbot.
Video Credits created by Querlo Team via YouTube
Sof's Chatbot Assistant
Would you like to know me better? It is true that I have already provided a small write-up that tells you a little about me at the end of my blogs, but here is more to the Sofs you know. I chose to have the casual Chatbot Assistant which will tell you about what my professional profile, what inspires me, what my hobbies are and a little bit more too. Not just that, this chat will also help me to know you better.
Come on what are you waiting for interact with the virtual me and tell me what you think. I will be happy to receive your feedback.
Chatbot Assistant Created by Querlo for Sofs via Bitlanders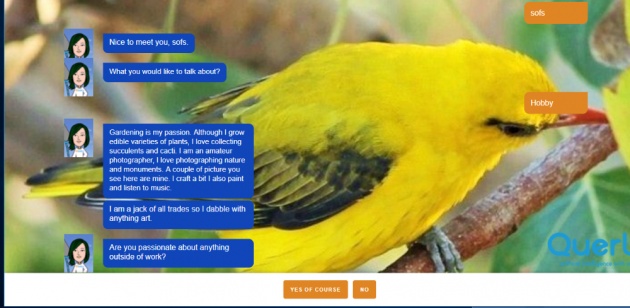 Image Credit Screen shot of Sofs Chatbot Assistant chat via Bitlanders
My views about the Chatbot Assistant
I have written three C_blogs earlier. I enjoyed the learning process, even though it was time consuming.
However, creating the Chatbot Assistant was a totally new experience for me.
I would say it was not only easy but fun too.
The whole process took me less than 20 minutes and the Chatbot Assistant was in my mail in the next 5-7 minutes.
I did a couple of behind the screen edits which took me less than a minute and that was it.
Building the Chatbot Assistant was a fantastic experience for me.
I would probably share it on my social networking sites too when I am ready for it. It is possible that at a later stage I might create my own Professional Chatbot Assistant, but right now I will test this out. I think this could save you a lot of time and energy to let people interact with your 'virtual you' to know more about you. I will surely recommend this to everyone in Bitlanders especially if you have not done C-blogging before. The fact that I can use this innovate Chatbot Assistant for professional and for fun purposes makes this tool even more exciting for me. I love Querlo's Chatbot assistant.
Now before you leave read what Ms Hillary Summers our host on Bitlanders has to say about the Chatbot Assistant
Introducing the Chatbot Assistant

Chatbot Assistant, powered by Querlo, is an AI-powered chatbot that engages your audiences like a virtual you!

Influencers, entrepreneurs or creatives will all find this Assistant a personalized and effective solution to communicate with your audience and network, or even to keep in touch with friends and colleagues.

- Hillary Summers (bitLanders Blogging Bonus reward topics)
Thank You For Reading!
- ♥Sofs♥-
Would you like to become a writer and earn through Bitlanders? Click here and claim your $1 reward on signing up.