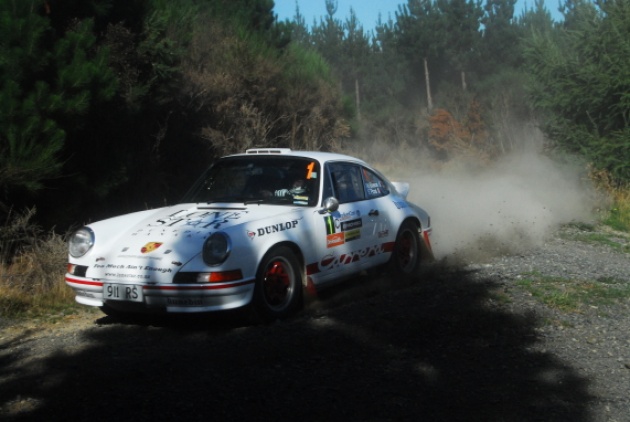 It has been a very busy day, with very competitive opponents, testing beautiful and very fast, we are in fifth place. We tried to get a good rhythm, improving the knowledge of the car test after test.
Neal Bates has dominated the first day. Thanks to Fabrizia, who, having already done this race in recent years, has been useful with tips about how to deal with it.
We're having so much fun, it is a race that takes us back in the right spirit that you must have in competitions.
Tomorrow, we expect eight special stages, we start trying to continue to be the fastest and recover positions.
Miki

The standings after the first stage:
1 Neal Bates / Coral Taylor, Toyota Celica RA40, 1h 25m 00.9s
2 Dean Buist / Andrew Bulman, Ford Escort RS1800, 38,2 s
3 Derek Ayson / Andrew Graves, Ford Escort FJ2000, +1 m 13.9s
4 Jeff Judd / Malcolm Leggi, Ford Escort RS1800, +2 m 35.4s
5 Miki Biasion / Fabrizia Pons, Porsche 911 RS, +3 m 19.7s
6 Stewart Reid / Iain Stewart, Ford Escort RS1800, +3 m 27.5s
7 Jeff David / Grant Geelan, Porsche 911, +3 m 59.8s
8 Roger Townshend / Richard Atkinson, Ford Escort RS1800, 4 m 51.3s
9 Graham Fergusson / Beda O'Connor, Ford Escort RS1800, 5 m 26.3s
10 Cameron Moore / Chris Nicholas, Toyota AE86 Levin, +7 m 17.8s

The stages of the second day:

Stage 9: Ramrock – 28.70kms (7:40am)
Stage 10: Moonlight 1 – 10.75kms (8:25am)
Stage 11: Hartfield – 19.00kms (9:40am)
Stage 12: Longdale – 12.63kms (10.05am)
Stage 13: Moonlight 2 – 10.75kms (10:45am)
Stage 14: Waipori Gorge – 12.66kms (12:50pm)
Stage 15: Kuri Bush – 15.05kms (1:45pm)
Stage 16: Whare Flat – 10.94kms (2:40pm)