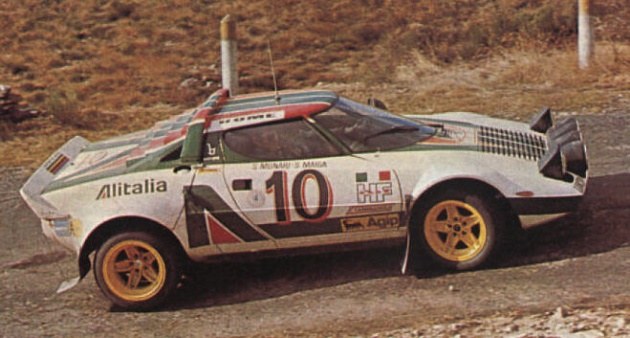 When the Stratos competed and won, I was still running on motorcycles. But I was interested a bit in every motorsport specialties and I was especially attracted to the technique whereby, see the "bete-a-gagner" in action on the streets of the San Martino Rally and it did not leave me indifferent: yes, it is the Stratos that made me fall in love with the rally and even now, thirty or more years away, is a fascinating subject.
And also the only car that I would get in the living room.
Like the Porsche, it was and it is one of those timeless car and in fact is still present: a few tweaks and would turn his head at all at any auto show.
What began as only a "dream car" has become a formidable weapon in the race thanks to the efforts of a handful of men who had the talent, knowledge and experience to transform any object with an engine and four wheels in an half-winner.
They had already demonstrated previously with various models and they have continued to do it for years to come. Especially with the 131 Abarth.
Derived from a quiet family sedan, has represented an important turning point for the rally.
After years of the Alpine and Stratos, sedans born to run, the executives of the major manufacturers began to make the idea that it would have been more useful to run the cars similar, very similar to those of great series that everyone could have: winning is certainly always important, but do not deploy real race cars pay more in terms of return.
And the 131 has won a lot: three Constructors' World Championships and a world championship with Walter Rohrl. He has done his part, in fact.
It has done very well, leaving an indelible mark in the history of the rally.
Although I understand that for the samples at the time, used to handle the Stratos, did not have to be easy to agree to get the controls of the 131: the runner, always and forever, always wants to have the maximum and any step back is traumatic.
I know well for having experienced something like that when you had to pass from Group B to Group A horse that they had both yes and no half ...
Miki Biasion