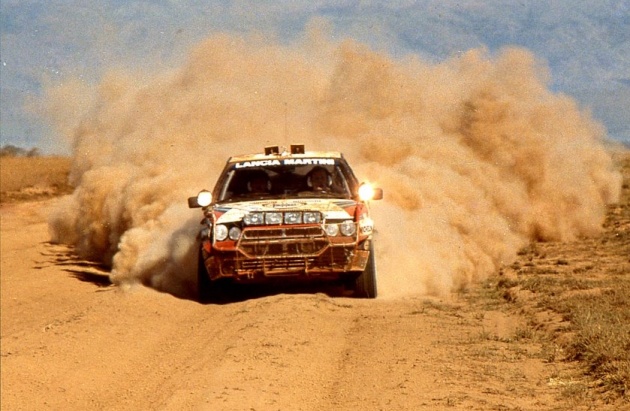 You could write a book about my first victory at the Safari Rally. It's a long story, one that ended in front of the Kenyatta Conference Center in Nairobi on April 4, 1988, which began a couple of years ago when, to our debut in Kenya, when me and Tiziano Siviero had to stop due to a broken belt water pump of our Lancia Rally.
The retreat we had in fact put in a position of reflect on the philosophy that inspired the team to prepare the car aimed at addressing the savannah.
For years, the goal was to have a maximum weight not to overly strain unnecessarily transmission and suspension, and to reach we didn't load on board those parts that even a crew with some technical knowledge could replace.
The results, however, were there to show that this was not the way to go: to win, you had to change, and then we run into Cesare Fiorio and Giorgio Pianta who did not want to learn a different approach.
Only with the support of Claudio Lombardi and Sergio Limone, we got to make a series of tests with a Delta, including spare parts and tools, weighed a ton and a half longer than usual.
The first results were discouraging: axles and shock absorbers broke all the time aa then also the two engineers who Rano on our side were beginning to have doubts.
Then, hardening the structure and strenghtens the body, little by little, the situation improved and the two simulations that we carried out on the racetrack were well enough to get the okay to Fiorio.
Our surveys were not simple: a soft landing for nothing, Tiziano had taken a blow to the back and suffered a lot.
In the race, we chose to adopt a rather cautious pace, without worrying too much about the time of the drivers of Nissan, Toyota and Volkswagen, which, however, were strong parties.
But despite all the turbine broke and only thanks to the helicopter support we were able to continue. After you have still lost three quarters of an hour ...
That stop was providential, however, giving way to Tiziano to get some rest and to the painkillers administered to being effective.
The fog gave us a hand. Thanks to our notes, more accurate than the ones used in other African races, in all two hundred and fifty kilometers we arrived in first place. It was not over, but returning for the first time in Nairobi we felt that we could do it.
The village later served to increase our confidence: the car was that it was a pleasure and even if at some point the organizers were forced to cancel the time control at the end of a field in which we inflicted abysmal gaps to opponents, we knew have the race in hand.
To win, I would just run and that's exactly what we did.
The taboo was finally broken and our joy was even greater because the facts had shown that our intuition was right.
It's also for this reason that, turning back, I do not know if it gave me more pleasure that victory or the conquest of the first World Title...