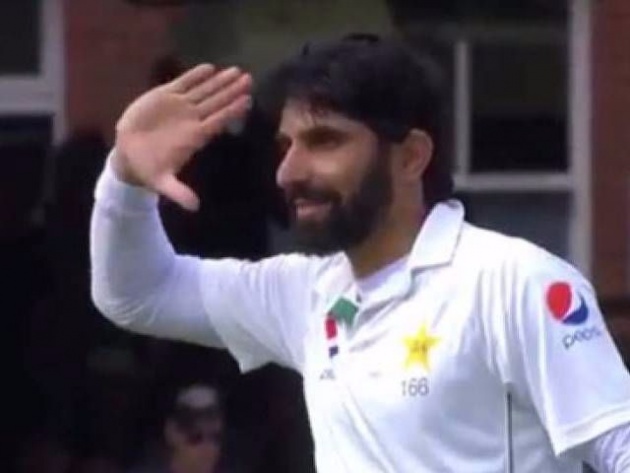 Misbahul Haq salutes after scoring a century. SCREEN GRAB

LONDON: Pakistan captain Misbah-ul-Haq became the oldest player to score a Test century for 82 years when he reached three figures against England at Lord's on Thursday and celebrated by performing an impressive series of press-ups.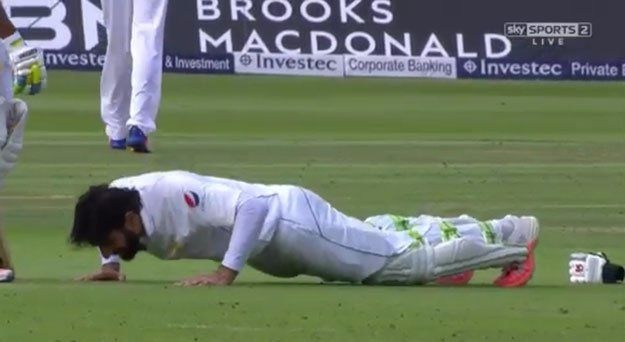 Have you ever seen a celebration like this?! #EngvPakhttps
— England Cricket (@englandcricket) July 14, 2016
The 42-year-old's achievement was all the more impressive as this was also his first Test at the 'home of cricket'.
Congrats to Misbah for his century at Lords. That he couldn't make it to Pak team till age 34 speaks volumes abt state of our cricket system
— Imran Khan (@ImranKhanPTI) July 14, 2016
Not since England's Patsy Hendren made a century against Australia aged 45 at Manchester's Old Trafford ground back in 1934 had an older player scored a Test hundred.
Wahab vows to pressurise England's 'new faces'
Remarkably, this was also Misbah's first Test anywhere in England, with selection decisions having kept him out of previous tours.
It looked as if Misbah was about to celebrate his achievement by prostrating himself on the Lord's turf in prayer.
But instead he performed a series of press-ups in what appeared to be a joke aimed at critics who questioned whether he is now too old for international cricket.
The gesture also looked to be a wry reference to the pre-tour 'army-style' training camp the squad were put through at the Pakistan Military Academy in the northwestern town of Kakul.
Pakistan were in trouble at 77 for three when Misbah came to the crease on Thursday.
He was dropped on 16 by Joe Root, who grassed a tough slip chance off fast bowler Steven Finn.
And he would have been run out for 58 after a mix-up with Asad Shafiq if Gary Ballance had hit the stumps.
Alastair Cook expects good show from England debutant Jake Ball against Pakistan
Misbah was severe on off-spinner Moeen Ali, reverse and conventionally sweeping him for four fours in an over.
Another reverse sweep off Ali took him to 99.
He then nearly fell to England's leg trap when he popped up a chance just in front of forward square off Finn.
But a single off Finn down to third man saw Misbah to his 10th century in 62 Tests off 154 balls with 17 boundaries.
Pakistan 282-6 against England at first day close
Pakistan were 282 for six after winning the toss at stumps on the first day of the first Test against England at Lord's on Thursday.
Misbah was 110 not after Rahat Ali was bowled by Chris Woakes off what became the last ball of the day.
Warwickshire all-rounder Woakes led England's attack with four for 45.
This is the first of a four-Test series.