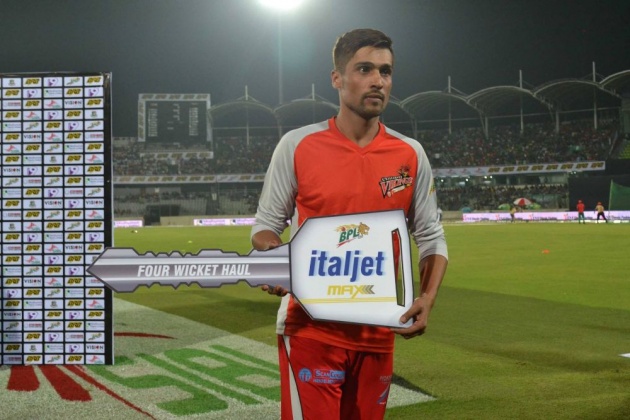 A top official of the Pakistan Cricket Board confirmed on Tuesday that tainted left arm pacer Mohammad Aamer was in line to make his comeback to the Pakistan team for the tour to New Zealand in January.
PCB Chairman Shahryar Khan ruled out any chances of Aamer being fielded in the short series against India if it was confirmed this week. "No he is not under consideration for the planned series against India as they are still things we would like to first discuss with him and sort out before allowing him back into the national side," Khan said.
To a question whether Aamer could play in the limited over series in New Zealand in January, Khan said yes he was under consideration for the series, "Yes, we are looking at him for this series and he could return to the national side on the tour." Khan also made it clear that the PCB was in touch with its senior players like Misbah-ul-Haq, Shahid Afridi, Muhammad Hafeez who were all playing in the Bangladesh Premier League with Aamer, "We are getting feedback from them on his behaviour and attitude and how he is doing. But it wouldn't be right to say we will base our decision on his comeback on this feedback," he said.
The PCB chief said there was a feeling that Aamer had completed his rehabilitation and reintegration process formulated by the board and since he was performing well he could be considered for selection to the Pakistan team. He said as for Salman Butt and Mohammad Asif as concerned, they had been permitted to play in the national one-day tournament early next year but their rehab and reintegration process was continuing.
"I think they will also be considered for a comeback but after they have first played in domestic first class cricket next year," he said. Khan made it clear that the PCB had no doubts over Aamer's ability as a cricketer to represent the country but just wanted to be sure about his behavior and attitude, "We will sit down with him and have a talk with him before the final decision." Aamer has impressed with his bowling in the BPL and after having dismissed Pakistan's Test and T20 captains Misbah-ul-Haq and Shahid Afridi in the tournament on Tuesday he also accounted for the scalp of Muhammad Hafeez