In this blog I would love to write about actress with most charming smile in whole Hollywood. She was Linda in "The Deer Hunter", Karen in "My Africa"... She is Meryl Streep.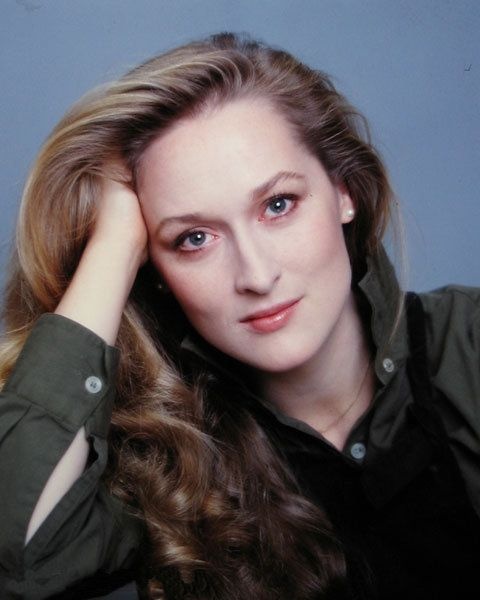 Young Meryl
Credits:Wikipedia
Early life
She was born as Meryl Louis Streep, on June 22, 1949, in New Jersey. Her mother May Wilkinson Streep was American fine-artist and an editor. Meryl's father was a pharmacist. She was attending acting school, and later college. She graduated in 1971, and while she was still on the college, she got her first roles. Meryl was playing Helen in "A Midsummer Night's Dream", and after that a immobile, 80 years old woman in wheelchair.
After she graduated in 1971, she was playing in many theater shows, and she became popular.
In 1976, she become interested in getting some roles in movies. At casting for movie "King Kong", movie director saw Meryl, and he said:"Why have you brought this creature here? She is ugly!", in Italian. He was very stunned when Meryl replied him in Italian.
Her first role in a movie was Anne Marie in movie "Julia". After that she appeared in many very popular movies, like "The Deer Hunter", "Kramer vs. Kramer", she won an Oscar award fro her role in this movie, "My Africa", "Death Becomes Her"...
First comedy
At first, Meryl had only serious roles, in serious movies. Her first comedy was "She-Devil". It is a black comedy, but it is a comedy. Movie was filmed in 1989, and Meryl was nominated for "Golden Globe Award for Best Actress-Motion Picture Musical or Comedy".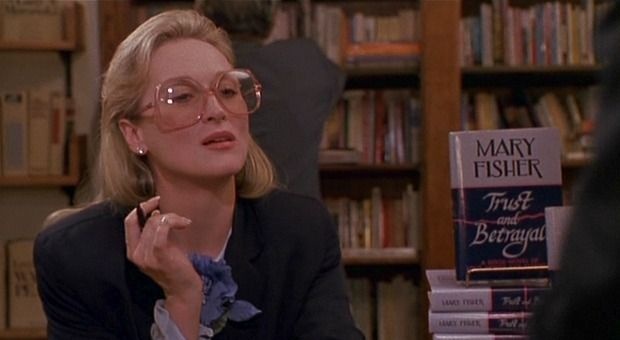 Meryl in her first comedy
Credits: Fanpop
Movie is following life of one man, and two woman who want to be loved by him. In this movie you can see rises and falls, love and hate, life and death... So many opposites in this movie, and it is still great. No matter if you have everything at the moment, you can loose it. And no matter if you are on the bottom, you can get on the top. Life is just a bunch of unexpected things.
So, do not think that you are untouchable, and that you are going to stay on the top forever. When you are on the top, you can only go down, there is not up when you are on the top.
Death Becomes Her
In this comedy you will see two woman that will do everything to stay young. And when they notice they can not stay young, every of them will do her best to make her opponent grow old.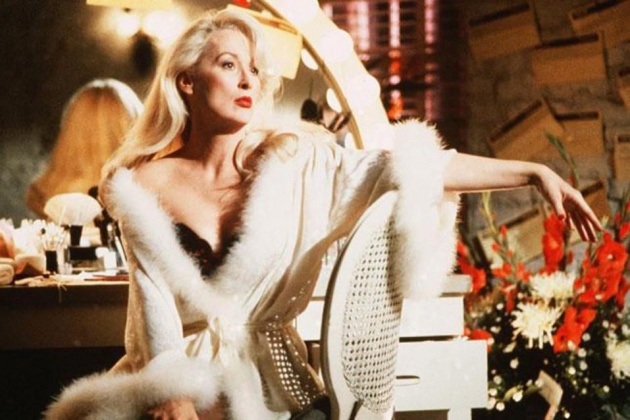 Meryl in "Death Becomes Her"
Credits: Vanity Fair
They have spend their lives in that fight. Main part of the movie is fight between them.
At the end of the movie we can see them 37 year later. They are parodies of them former selves, thy look terrible. Last scene is showing them two, who are falling down the stairs and breaking to pieces.
This movie is really very funny, it has elements of comedy, horror, and science fiction... You are going to like this movie.
Best Maryl's quotations
The gift of human beings is that we have power of empathy
God blessed us with giving us this power, and we should use it only for good things. We have the power to see how someone other is feeling, and because of that we should pay attention to others, and we should never be hurting others.
The minute you start thinking about what other people think, is the minute when you stop being yourself.
This one seems like a opposite of the previous one, but it is not. We should have empathy for people around of us, but we should not let them decide instead of us. People will talk, and people will think very, very bad things about you. It is up to you to decide will you let them destroy your life, or you will just ignore people that are talking and thinking about you. Opinion of others is not going to pay your bills or to cover you at night. They can think about you, do not let their opinions change you. You deserve to be free, and to decide about how you are going to live.
I personally think that second option is much, much better then the first one.
True freedom is understanding that we have a choice in who and what we allow to have power over us.
This one is very similar to previous one, I mean, it has similar message. Be very careful while you are choosing your friends and partners. Things that have power over us, are going to rule our life, and we should be very careful with that. Life is only one, and it is very short. If we let wrong people and wrong things to rule our life, they are going to ruin it. And nobody wants a ruined life.
You do not have to be famous, you just have to make your mother and your father proud of you.
No matter are you an actors, doctor or a maid, you need to be a good person. And when you are a good person, your mother and your father are going to be proud of you. Your parents are not going to be proud of your fame, but they are going to be proud of your personality. Give your best to make good person out of yourself, you owe that to your parents.
All those three quotations are showing us how wonderful this woman actually is. She is very kind with others, but at the same times, she is a strong and independent woman, who is not going to let haters to destroy her life.
Meryl seems like one of those woman who can pass trough everything with a smile on her face. She can face anyone, and she can handle everything. And that is something what all of us should learn.
Why do we love Meryl Streep?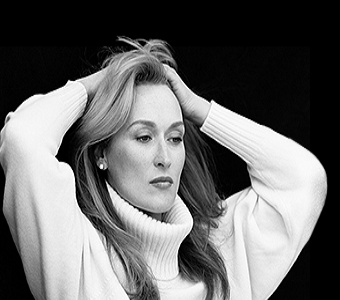 Credits: Simply Streep
Maryl is one of those woman that are not the most beautiful, the most handsome, but you will remember her. Maryl is most charismatic, and most talented, she has most charming smile in the whole Hollywood, and she appeared in so many epic movies.
As I said in the previous text, she is one very strong and very independent woman, but at the same time, this woman is so kind and nice to other people.
She is great example for all girls. She should be idol of young women instead of all those too skinny models and rude singers.
Before all, this woman is a lady. And being a lady is much more than being handsome, popular, pretty or rich. You can loose your money, you can get fat and you will grow old, but if you are a lady, you are going to be a lady whole your life. And people are going to respect you because you are a lady. You need to know that all those supper hot singers and models that are showing their bodies to the whole world are not happy, and they are not happy because they are not respected.
Next time when you become sad because you are not like some of half-naked singers from the TV, remember Maryl.
That was all for this blog. Tell me in the comments what do you think about Maryl Streep.
Thank you very much for reading!
Love you all.