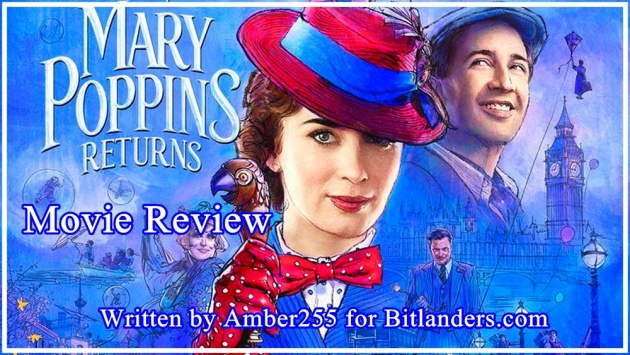 Movie MARY POPPINS RETURNS Review: Th Beautiful And Positive Musical - Photo credit: wallpapercave.com, Edition by Amber255 via Bitlanders.com
Rob Marshall, a guru of American musicals of the 21st century, whose talented hand touched the Oscar winner movie Chicago, the fascinating costume drama Memoirs of a Geisha , the musical melodrama Nine, and the most famous fairytale movies Into the Woods , this time invited us to immerse in the extension of the legendary Bank's family story that began in 1964 - the musical MARY POPPINS RETURNS.
This book I have found between the books of my mom, and have read it in my childhood. I so liked it. I remember how I dreamed of having such a fantastic nanny. This new version of the story of a nanny who arrives at a difficult time on an umbrella is equipped with songs and dancing, and all sorts of miracles. And even the main character behaves quite strictly and elegantly, which even slightly coincides in spirit with our my memories of the book.
Mary Poppins Returns is 50 percent sequel, 50 percent reboot and 100 percent charming. - Jeff Strickler, Minneapolis Star Tribune

Credit: rottentomatoes.com
The main advantages of the film are bright colors, magical atmosphere, and an optimistic message. MARY POPPINS RETURNS, first of all, a film about family values, warm and sincere.
But there is the only misfortune that is present in every musical - the musical itself, and this fact is able to reject the viewer. After all, really - not everyone likes this movie genre. These dances along with singing for someone look very stupid and boring, but those who love it will see a great spectacle flavored with wonderful songs and virtuoso dance numbers.
MARY POPPINS RETURNS, Official Trailer - Video credit: youtube.com
The Short Story Of The Movie
So, this is not an appeal to a classic fairy tale, but a continuation, where Jane and Michael Banks, already grew up and faced with adult problems. Michael was happily married, got three kids, but was widowed. At the beginning of the narration, he was in depression related to that happened to him. His sister is engaged in social activities.
Michael Banks faces serious financial difficulties. Of course, problems happen to everyone, but the new generation of Banks is about to risk being left without a home. Without wanting to be on the street, he decides to find a way out in every possible way and at the same time, to protect his children from poverty.
At this truly difficult moment, a young, slightly strict, but always ready to surprise with the wonders, nanny Mary Poppins appears on the horizon. It passed more than thirty years after Nanny Mary visited Cherry Street last time.
However, the great desire alone is not enough to eliminate all the problems he has. And a miracle happens. Mary Poppins comes to the aid - the least what Michael could expect.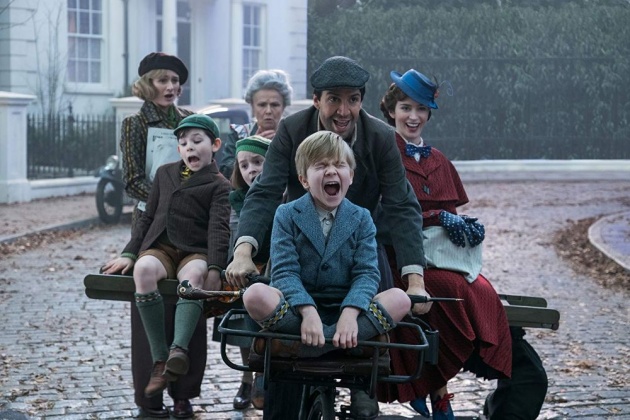 Disney Musical MARY POPPINS RETURNS - Photo credit: wallpaperflare.com
The Content Of The Movie
Millions of children from the world are familiar with the writings of author Pamela Travers about the adventures of Mary Poppins. This character was no less popular than Harry Potter in its own time. It is therefore not surprising that, more than five decades ago, there was a struggle for moving this character to film screens among the various film studios. The most famous attempt to persuade the writer to sell the rights belongs to Walt Disney. Even the perfect 2013 movie Saving Mr. Banks was created on this theme, where Tom Hanks and Emma Thompson fantastically embodied their roles there.
You probably already understood that Walt Disney managed to get all the right rights to the character created by Pamela Travers, which led to the first part of the Mary Poppins in 1964. The movie has become not only financially successful in the creation year but has also brought five awards from the thirteen available at the US Academy of Cinema and Science.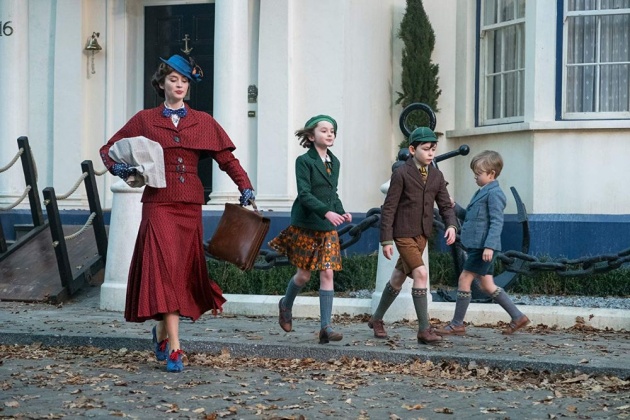 Movie MARY POPPINS RETURNS Review - Photo credit: imdb.com
But no one hurried with the sequel because the writer herself was not interested in continuing to earn money for the Disney studio. Time fled, trends in Hollywood changed, musicals were not as fashionable as in the sixties and seventies of the last century, and many just forgot Mary Poppins.
True, in 1984, the Soviet movie Mary Poppins, Goodbye appeared, which was no worse by its narrative manners than the Hollywood predecessor. But it was more suited to the Soviet region.
And now, 54 years later, we have received a direct extension of the original film of director Robert Stevenson. Banks' family and problems that involve the children become the main focus. Therefore, before reviewing this new movie, I would recommend watching the original, like many places in the sequel may seem difficult to understand. Of course, you can go to the movie without seeing the 1964 film, but if you want to get a full picture, you already know what to do.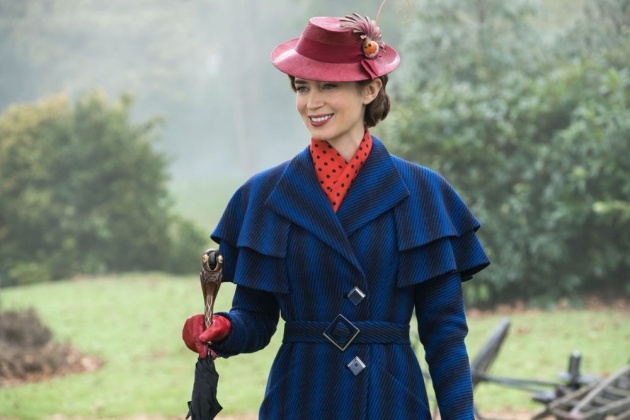 Disney musical MARY POPPINS RETURNS - twitter.com
Director Rob Marshall has presented us with not only the extension of the first part but also the kind of remake. I say so because many places in the film are identical to the original. It is not bad, because those moments in one way or another perfectly complement the common history, but at the same time do not allow the development of new ideas that are full here too.
The overall storyline of the film is great. It is a truly fascinating and warm musical, with a lot of attention being paid to the relationship between children and parents, the gaps in education, and the adventures that everyone, even an adult and a person who has created a family, wants to experience. Each of these themes is developed so well that it is simply impossible to believe what is displayed on the screen.
In addition to an engaging story, an interesting hero and a peaceful sermon, the film also offers an impressive 130 million dollar musical show with dancing and singing. However, it is a musical, so for those who do not like this kind of film, it will be better to choose a different entertainment in cinema. I'm not kidding - maybe 85 percent of the movie is songs. And they are wonderful, colorfully done and able to convey all the basic thoughts of the scenes in which various musical works sound.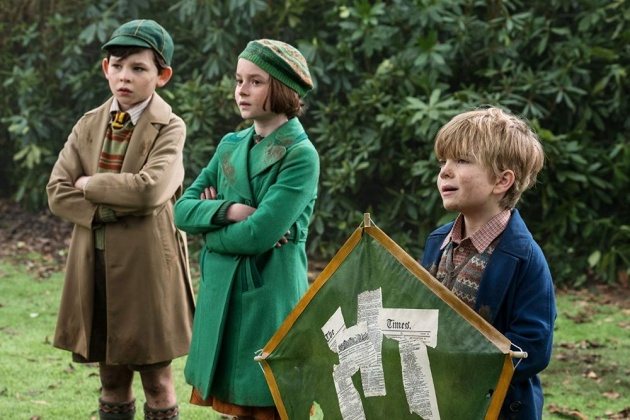 Family film MARY POPPINS RETURNS - Photo credit: twitter.com
It would seem that I so zealously painted the advantages of the film, but at the same time, the review is neutral. Why so? Yes, because the picture has one major drawback. I repeat - choreography, music, scenery, costumes - everything is very good - but the film is monstrously dull in some places. And no, this is not because I am too adult for this. Moreover, I take great pleasure in watching Disney cartoons. The film is just a bit boring. Especially in the middle. Musical numbers are good, but it seems that there are too many of them here. And they are very prolonged. But in general, I liked it.
While reading movie MARY POPPINS RETURNS review, check QUERLO CHAT: What kind of movies do you like?
The Personages Of The Movie
The characters of the film also get a lot of attention. Nanny Mary Poppins (Emily Blunt) is still fascinating, self-confident, and spreading the many different ideas of child-rearing that make it possible to see from the side what many modern parents fail to give to their offspring. The heroine was still strict and kind at the same time, her facial expressions and eyes filled the image of Mary Poppins 100%. It is a strict, fair, sophisticated and the kindest nanny in the world.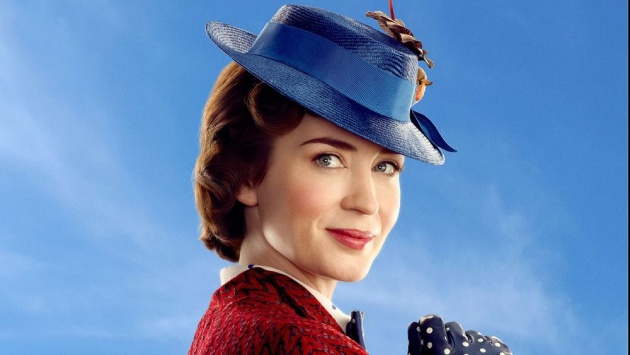 Emily Blunt movies - MARY POPPINS RETURNS - Photo credit: wallpapercave.com
Children - Anabel (Pixie Davies), John (Nathanael Saleh), and George (Joel Dawson) - are real hotheaded children, and we have no less sympathy for them than to the heroes of the first part.
Likewise, attention is drawn to adult Michael (Ben Whishaw)with his sister Jane (Emily Mortimer), and clear charismatic Jack (Lin-Manuel Miranda), who in this case became a substitute for Bert in the first part. Michael's character looks lost and sad after the death of his beloved wife. He tries to deal with all the difficulties, but I think, if not his sister and the decisive temper of the housekeeper, he would become weaker and weaker as a man. In short, the strong women do not let the weak man completely lose face.
The antagonist is also present in the film, but I will not disclose it. It's just a typical bad guy whose most important joy in life is money. In my opinion, this was a great caricature of capitalism that reflects the greatest human flaws. After watching the first film, viewers can also enjoy familiar faces that have become an integral part of the original work.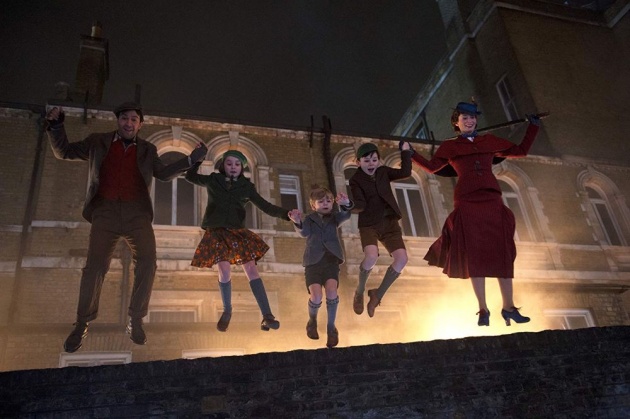 Fairytale movie MARY POPPINS RETURNS - Photo credit: imdb.com
The Technical Side Of The Movie
Of course, the film, without doubts, also makes a great visual impression. Special effects and animation that are embedded in certain movie scenes are staggering. This is a feeling of watching an old movie from Disney's studio, but at the same time presenting it in a sufficiently modern and high-quality manner.
London is shown perfectly, covered with smog, gray, dirty, dark. So I represent London. The palette of colors, both in the music shows and in the whole film, is pleasing to the eye, without creating any kind of contrast - this is what the film needed.
The soundtrack is fantastic. During the movie, you can hear many beautiful and original songs that complement a number of spectacularly looking scenes and make you feel like a real fairytale. Maybe they are not as memorable as in the original film project, but it should certainly not cause problems during the review. Meryl Streep, her musical number, probably the best in this film, also fit perfectly into the narration.
Emily Blunt - The Place Where Lost Things Go (MARY POPPINS RETURNS) - Video credit:
DisneyMusicVEVO via Youtube.com
I was also pleased with the camera work. All scenes from choreography were filmed just perfect. For such a precise job, it is imperative to praise Oscar's filmmaker Dion Beebe, which has brought Cherry Street back on track 54 years ago.
Other technical accents as montage and sound editing have been flawless.
The Collective Work Of The Actors
Last year for the actress Emily Blunt was really successful. In the first half of the year, she managed to show off perfectly in her husband, John Krasinski's Silent Place project, which became a big hit of the 2018 year, and now the musical which is worth Oscars. And all the nominations for a variety of awards, including Golden Globes, are right.
Emily Blunt appeared wonderfully and certainly not worse than Julie Andrews, who in the year 1965 brought the award of the US Academy of Arts and Sciences. In all respects, the talented actress was able not only to sing, dance, but also to restore the already seen picture of Mary Poppins, which we could admire all the duration of the two-hour film show. For my taste, she fits well with this role. She played harmoniously and was well-aware about her value. In the episode of putting the kids to bed, I was amazed. She didn't disappoint my expectations. Style, gestures, details, look ideally fall on her acting game and together create a charming and strict image.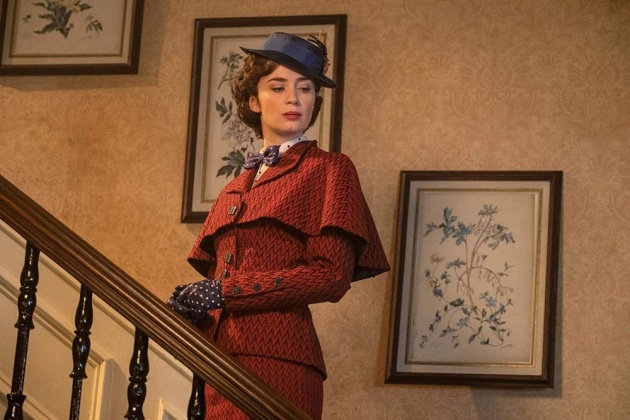 Emily Blunt in MARY POPPINS RETURNS - Photo credit: imdb.com
The talented Ben Wishaw with Lino-Manuel Miranda appeared in the second-rate roles. The men gave images both from the dramatic side and the show. It was a great pleasure to watch their performance near Emily Blunt.
I loved to see such faces like Colin Firth, Meryl Streep, Angela Lansbury, Julie Walters, and Dick Van Dyke. And while these actors appeared in the film briefly, each one of them, thanks to their charismatic characters, brought a lot of emotion into this story.
Together, they create a loud and colorful musical colossus, which is almost impossible to resist: it hits the viewer with a stream of animated petals, balloons, sentimental melodies and British charm (rather artificially grown in Hollywood than real, but it still works perfectly).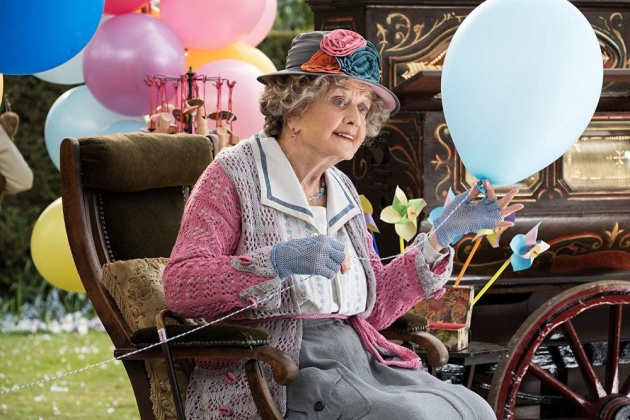 Family film MARY POPPINS RETURNS - imdb.com
On The Final note
Many years later, the famous nanny returns to the Banks family to remind them of the benefits of a childish, bright, optimistic outlook on life. Mary Poppins came back much brighter and more festive than I could expect. A peculiar upgrade of the old film looks quite appropriate. The creators perfectly preserved the atmosphere of the original film, as well as in general terms, its plot outline, while tightening a couple of scenic nuts and making the story of the 1964 film more voluminous and dynamic.
In short, the film is good with almost everything: staging, scenery, choreography of dances, music, costumes and, of course, the amazing play of Emily Blunt. We see how much effort was invested in this picture. Visually, the film looks very cool, London of that time is pleasing to the eye, camera work is good and, in general, the fabulously good atmosphere of the previous film was managed to be almost perfect here. It turned out a very beautiful fairytale movie.
MARY POPPINS RETURNS- a sincere, meaningful and endlessly colorful extension of the classic 1964 film, which is able to enchant by the beautifully executed musical performances, the stunning technical side, and a flawless actress Emily Blunt. So, without a doubt, this film personally to me became one of the most beautiful and positive projects of the last year.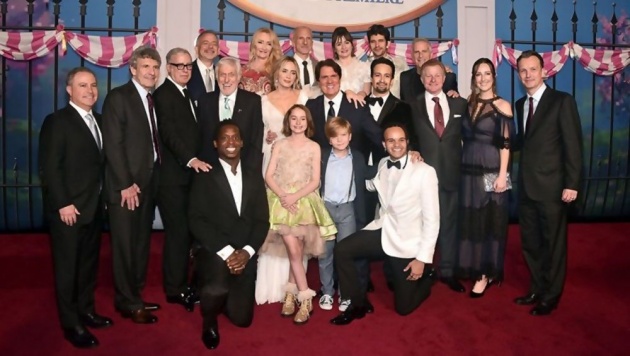 MARY POPPINS RETURNS premiere - Photo credit: twitter.com
This is a family film designed for watching with children, category 6+. There is a certain educational message for young viewers in this movie story. And the good message. In the film, children are shown to help their parents to be friendly, never give up, and so on.
So summary, it is a colorful and kind fairytale movie that reminds us of family values, the need to help each other, do not forget your friends and remember that it is sometimes useful to be a child. The world will sparkle with new colors, and a miracle will happen.
Mary Poppins: Everything is possible. Even the impossible.

Credit: imdb.com
My rating: 8.5/10
Rotten Tomatoes: 78% ( of 100)
Critics average: 70/10
IMDb: 7.3/10
HAVE FUN WATCHING!
**************************************************************************************************
Thank you for stopping by and reading my blog.
2018, All Rights Reserved.
You are very welcome to join Bitlanders and share your valuable knowledge and opinion.
**************************************************************************************************