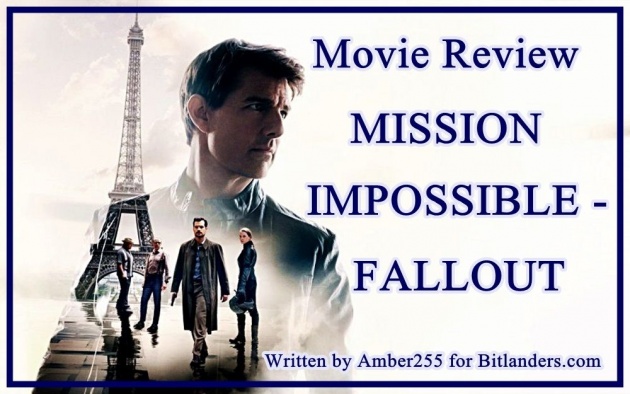 Movie review: MISSION IMPOSSIBLE - FALLOUT - Photo credit: delfi.lt, Edition by Amber255 via Bitlanders.com
There is again one more movie review of one of the 50 best movies of 2018 by IMDb. Some of these films I already watched and added reviews to Bitlander, and some still are waiting for my preview. And so, I present MISSION IMPOSSIBLE - FALLOUT.
The action thriller MISSION IMPOSSIBLE - FALLOUT is the sixth part of a cult action movie series, the first film of which was shown in 1996. This time, to direct this film was entrusted to Christopher McQuarrie, the creator of Jack Reacher and Mission: Impossible - Rogue Nation.
Cinematography says that a lot of things are possible in the cinematography if Tom Cruise touches it. This is how the sixth part of the Mission Impossible franchise has been condemned to become genial, at least as much as the action films' evaluation allows. The new film is like a tasty dessert that all the lovers this franchise movie deserves.
With each new film, the Mission: Impossible franchise keeps finding ways to exhilarate us more and more with insanely amazing action scenes, and in this sixth chapter we are offered a large number of mind-blowing, explosive moments that should be remembered for their audacity.

Credit: rottentomatoes.com
The movie follows the story of the fifth mission, which is also impossible so that you have to blow away dust from Mission Impossible: Rogue Nation to fully understand this part. Of course, you can experience a full-fledged previewing pleasure and not see the previous parts, which in this case would only give some context. However, this non-binding storyline is one of the coolest elements of this last summer's blockbuster.
MISSION IMPOSSIBLE - FALLOUT, Official Trailer - Video credit: Paramount Pictures via Youtube.com
The Short Story Of The Movie
The secret agent Ethan Hunt (Tom Cruise) as always is in the center of movie MISSION IMPOSSIBLE - FALLOUT. Failing to accomplish the mission today threatens the world with a catastrophe - the complete destruction of humanity.
In short, seizing the leader Solomon Lane (Sean Harris) of the secret terrorist organization Sindikat, Ethan Hunt, together with his indivisible team, tries to trace all Lane's subordinates scattered around the world and prevent chaos they can bring. The terrorist organization is seeking to repatriate its imprisoned boss and, at the same time, to grab plutonium suitable for the production of nuclear weapons. Well-known Ethan Hunt decides to prevent them and untangle the diverse intrigue of the spies.
However, when it comes to the goal, Ethan makes one huge mistake that can cost a lot. There is no other way for him as to plan and carry out one more crazy and almost impossible mission that will determine the fate of the world.
Ethan is ready to complete the work that has begun, but the CIA starts to question the loyalty of a secret agent and sees him as a criminal. Now when a man is hunted not only by hired killers but also by former colleagues, Ethan has nothing but to act independently and to fight the world.
But will the agent, who once let himself go wrong, will be able to pre-empt a global catastrophe?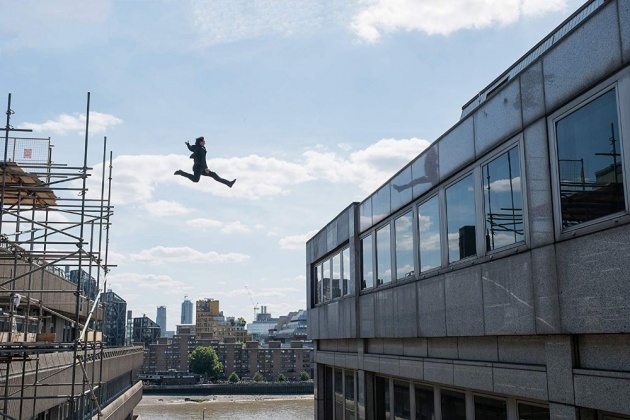 A film about spies - MISSION IMPOSSIBLE - FALLOUT - Photo credit: tomcruisefan.com
The Content Of The Movie
This spy theme franchise, created by Brian De Palma in 1996, lasting for almost a quarter of age, does not stop surprising. And it surprises us with the stability and innovation that the creators of the action genre present to us with every new film. That's why Mission Impossible, by its presentation, outperforms both the James Bond and Jason Bourne franchises, which cannot boast of exceptional looking cascading tricks and quality growth at every new part.
It is, however, a rare occurrence in cinema, where sequels outperform previous parts, and this exceptional case is noticeable.
Of course, to say that all the works in this series of films are good, it would be a lie, because the second part directed by John Woo, which appeared in 2000, would prove it is not. But everything happens even in the most successful projects. It is important to learn from mistakes at the right time and not to do so in the future.
So did the creators of the Mission Impossible, who have not released any bad franchise films since 2006. In addition, every film came out with higher quality, which was quite easily jumped over by new film directors.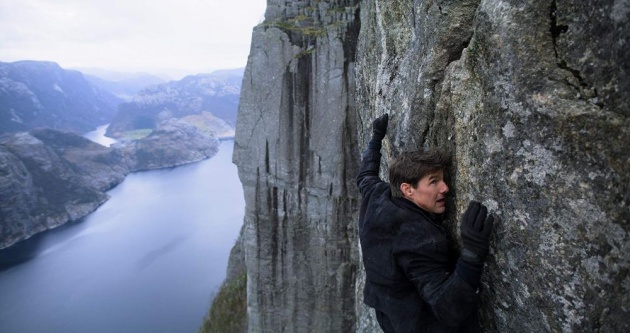 Mission Impossible franchise - Photo credit: imdb.com
My favorite film of this franchise is Brad Bird's Mission: Impossible - Ghost Protocol created in 2011, and I watched it many times and apparently will watch again. However, whatever my love for the film mentioned is, I do not exclude the fifth part, which in my opinion also retained the required franchise dynamics. At the same time, it is visually attracting, an eye-catching action film that captures attention and involves us in an interesting story.
As I mentioned, the story of the sixth part develops the story of the mysterious terrorist organization Syndicate' which began in 2015, and which the spy Ethan Hunt has to face. But this time we see not a pale shadow of this organization scattered around the world but all its entire internal structure starting with a management hierarchy with the main antagonist Solomon and his most loyal people.
The movie's storyline is attractive from start to finish. And while this is not one of those film projects that surprises with the incredible storyline turn that can turn the story upside down, it doesn't interfere because it's not the main purpose of these films.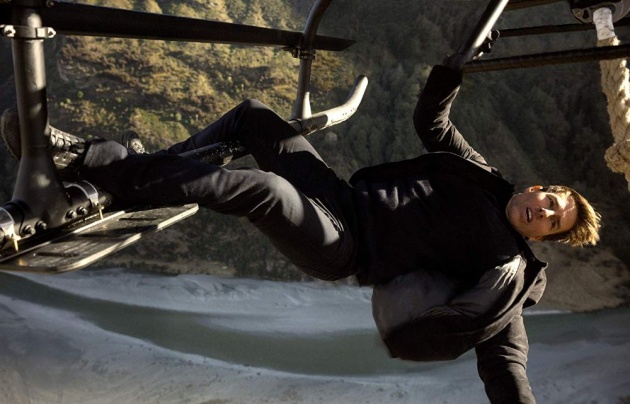 Tom Cruise in Mission: Impossible - Fallout- Photo credit: wallpaperflare.com
I will not spoil you the preview, so I'm focusing on the action that is perfect in this movie. Yes, you have read it well - this is the perfect action film that surprises the variety of action scenes. We have brutal and very realistic fights scenes, we also have cars catches full of tension, and we have great shooting scenes. And when all this is compatible with a well-written script, there is a real bomb.
Of course, this is only part of the benefits of this film. There is no need to forget another important fact - the cascading tricks made by Tom Cruise himself. One of them is a jump of 7.6 kilometers height together with the film operator Rob Hardy. To do this trick flawlessly, the actor and operator jumped from the plane even 106 times. It was breathtaking to watch this life-threatening scene that added a charm to the movie. That's why the Mission Impossible with every film goes beyond its limits, bringing ever newer tricks to attract viewers to the cinema.
I don't think I should write more about the content of the movie. You just need to see it. Seriously.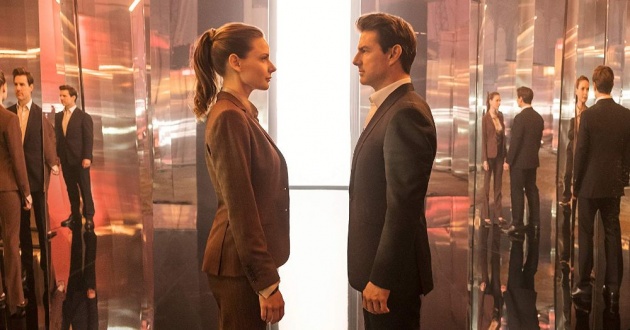 Tom Cruise and Rebecca Ferguson - Photo credit: wallpapersrc.com
The Roles Of The Movie
The main heroes with whom we are known for a long time to become a big plus in the movie. From the previous personages, we still see a genial hacker Luther (Ving Rhames). And Ethan Hunt remains here, that as always fascinates by his light humor, quick decisions in the most difficult situations, and the tireless wish to punish all those who attack him and his closest people.
Other heroes, who helped Ethan for a long time to fight the bad guys, are always witty and humorous Benji and agent Ilsa, whom we've met in the last part.
Of these two characters, the latter most revealed as a personality. Ilsa has become more emotional and more open than she used to be, so during the film, it is possible to take a look at her character and attitude towards the mission that Ethan decided to do.
The main antagonist became Solomon Lane who we saw in the 2015 film, but now he received much more screen time in this film. This creator's decision not only allowed us to identify ourselves with him but also to further understand his view of the world as a human being. I even liked this, not a pleasant, hero's reflection on the new era.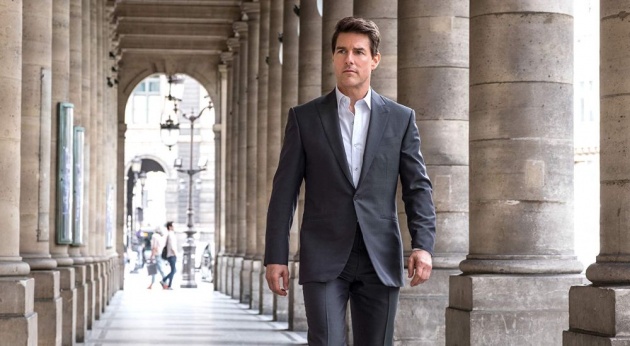 Tom Cruise in Mission Impossible franchise - Photo credit: twitter.com
The CIA leader Erika Sloane, the mysterious White Widow, and Agent Walker became the new but not less important characters. And although these two women were really important here in developing several storylines, it was Walker who became an essential actor who by his actions changed the almost whole second half of the film.
The film also featured Ethan Hunt's chef Alan Hunley and his loved one, Julia from the third franchise part, who wasn't unnecessarily in the film. But you will see how important she was for saving the world.
The Technical Side Of The Movie
This film is different from many modern blockbusters because almost all of the most effective scenes presented here were filmed naturally without any green screens, so the special effects are minimal here. As well as. Even the dynamic scene at the end of the movie with helicopters was shot outside, not in the studio. What to talk about the leap made by Tom Cruise with the operator.
Yes, today's artistic and technical sides of the band may seem incomprehensible to ordinary mortals. Mission Impossible continues to push Cruise into the various absurd adventures that he is determined to carry out. tor.
In a word, Tom worked perfectly, and the director sat down with the operator to get the best possible footage to capture it. Motion-borne, often close-up shots convey the real risks, realism, emotions of running or chasing character. Clean camera movements provide sophistication and professionalism to action scenes that perfectly show the characters.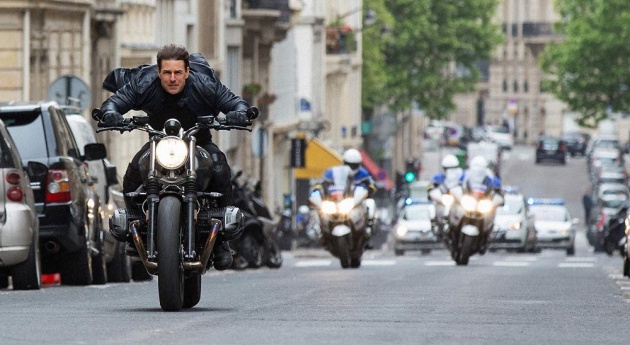 The film about spies: MISSION IMPOSSIBLE - FALLOUT - Photo credit: imdb.com
The biggest plus on this technical side of the film is the camera work done by Rob Hardy, who was no less brave than the main star Tom. Not only did he shoot the jump from 7.6 kilometers in the air, but he also felt the other elements that were able to add the charm to the film.
Most attracted the catches on the motorcycle on the streets of Paris and the beat scene in the toilet. What a scenes it was! When I came back after the movie, I found it on YouTube and watched it for some minutes. I haven't seen for a long time so much of testosterone coming from the screen.
Mission Impossible will also give an opportunity to travel to one of the most impressive capitals of Europe and to the almost untouched by civilization Kashmir mountains. Perfectly selected locations not only create memories of summer holidays but also actively participate in creating a common atmosphere of action.
Mobile streets, squads of people, historic buildings, monuments, and unspeakable beauty of wildlife are another reminder of what the MISSION IMPOSSIBLE - FALLOUT with Ethan Hunt is trying to protect against nuclear destruction.
MISSION IMPOSSIBLE - FALLOUT, behind the scenes - Video credit:flicksandthecity via Youtube.com
I loved the soundtrack too. Of course, the main thematic composition, written by Lolo Schifrin were as always driving, but the new works have also kept pace with the overall style of the film. I loved the soundtrack too. Of course, the main thematic composition, written by Lolo Schifrin were as always driving, but the new works have also kept pace with the overall style of the film.
Sound editing and video editing - perfect. One of those cases when watching a movie and no detail falls into the eyes. Whether it is story development or action scenes that need enhanced sound.
Also, I would like to emphasize the high quality work of the film's make-up team. The heroes' costumes, hairstyles, and environments, thanks to their fascinating decorations, also favored the overall concept of the film to show the dangerous and attractive life of spies.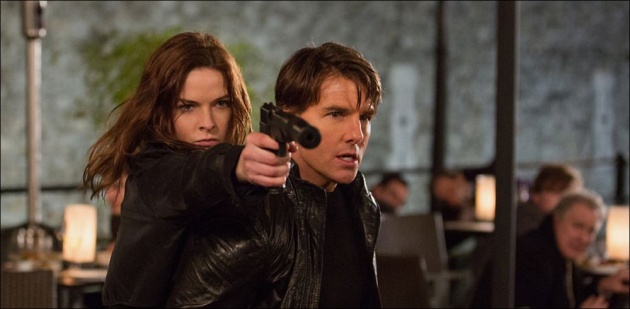 Movie review: MISSION IMPOSSIBLE - FALLOUT - Photo credit: topsimages.com
The Collective Work Of The Actors
In the film, you can see both franchise veterans and new, but steady players. The chemistry between actors is just fine, so a serious action movie can very carelessly insert healthy and moderate humor even on the toughest scenes.
Forever young and always full of energy, Tom Cruise does not stop to amaze us by his enviable physical form and the tricks he performs in every film. It is hard to believe that he is 56 years old, and he demonstrates such physical preparation as a member of a 25-year-old US secret force.
Tom Cruise is a machine. He knows what audiences want and he delivers. Not sure how they can top this one (but I thought the same after watching him cling onto a plane). Keep making these Mr Cruise and thanks for entertaining us!

Credit:imdb.com
The performance is stable and not standing out of other similar films, but let's say the truth - we are going to this movie because of him. The most important thing is cascading tricks. Tom Cruise run around the world's tallest skyscraper, holding his breath for 6 minutes underwater, and hooking up to the plane's door in the air. But these are children's games compared to what he did here. During one jump he even broke his leg, and that stopped filming. But I will not tell you too much because I think you will see how cool this actor is in action.
The second-rate and most intriguing character of the film, at least for me, was Walker, embodied by Henry Cavill. His hero was greatly revealer. This is a really well-expressed, brutal, and very charismatic character, who shone on every stage not less than Tom Cruise's Ethan Hunt.
The film also featured Simon Pegg, Wing Rhames who received more screening time, Michelle Monaghan that came back to the franchise after twelve years. I can mention also Wes Bentley, Alec Baldwin, Angela Bassett, Rebecca Fergusson, and Sean Harris. I don't think I need to write about each of these actors. All of them were matched together perfectly and emitted only a positive aura throughout the movie.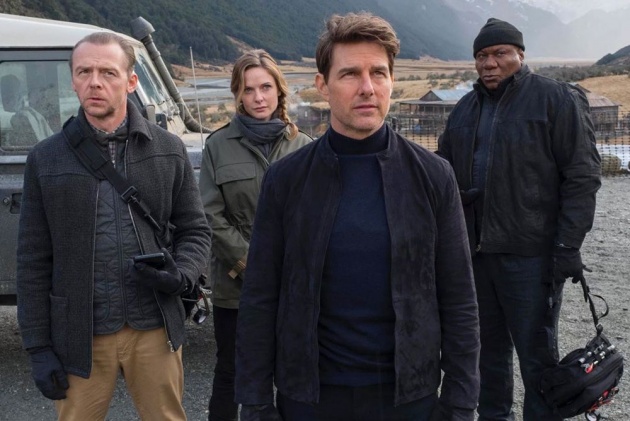 Tom Cruise, Ving Rhames, Rebecca Ferguson, and Simon Pegg in Mission: Impossible - Fallout - Photo credit: imdb.com
On The Final Note
Is there anything better than fabulous ice cream on a hot summer day? Probably not. MISSION IMPOSSIBLE - FALLOUT is the heavenly ice cream - delicious, high quality, slow but pleasantly melting in the mouth, and it seems never boring. This entertaining temptation is sinful, but it is definitely worth the money and time you give it. It's one of the coolest films I've seen in recent years.
In my opinion, this is not only the best and the hardest part by its action scenes Mission Impossible but also a film that perfectly meets the requirements of a perfect blockbuster to attract both the mass spectator and the films snobs.
MISSION IMPOSSIBLE - FALLOUT is without a doubt the best mission of all time by Tom Cruise, for which he fully has given himself.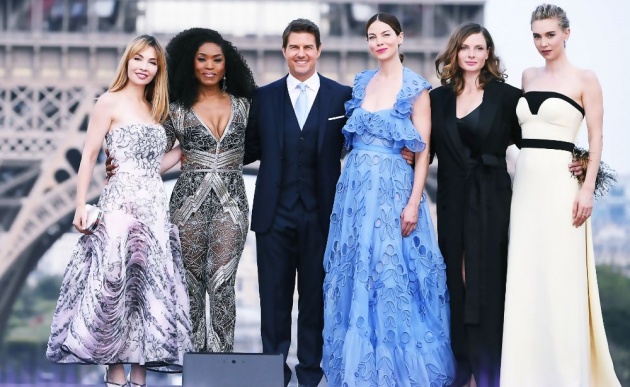 At the event of MISSION IMPOSSIBLE - FALLOUT - Photo credit: twitter.com
This movie is not just a wonderful and mind-boggling cascading tricks, a tireless and very dynamic action, an amazingly natural-looking technical side, a strong team of actors, and an incredibly exciting storyline, but still a real example for all modern blockbuster creators.
August Walker : There cannot be peace without first a great suffering. The greater the suffering, the greater the peace. - MISSION IMPOSSIBLE - FALLOUT

Credit: imdb.com
My rating: 9.5/10
Rotten Tomatoes: 97/ 100
Metacritic: 86/100
Critics average: 8.8/10
IMDb: 7.8/10
HAVE FUN!
***************************************************************************************************
Thank you for stopping by and reading my blog.
2019, All Rights Reserved.
You are very welcome to join Bitlanders and share your valuable knowledge and opinion.
***************************************************************************************************