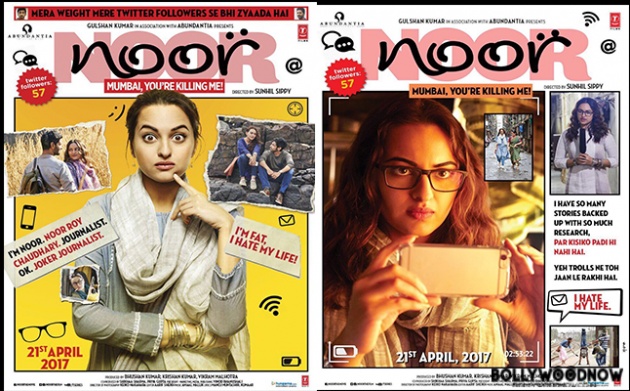 Image source: www.bollywoodnow.co.in
Noor Movie Poster
Synopsis
Noor is a Bollywood movie, released in April 2017. The idea of the movie was actually derived from a novel Karachi, you are killing me!, written by a Pakistani Journalist, Saba Imtiaz. So the echo of this title, will resonate in the last part of the film, when the main character, a struggling journalist Noor, made a video report 'Mumbai, you are killing me'.
Cast
Image credit: exclusivestoke.com
Sonakshi Sinha, as Noor
Sonakshi Sinha as Noor Roy Chaudhary
Purab Kohli as Ayan Banerjee
Manish Chaudhary as Shekhar
Kanan Gill as Saad Sehga
Shibani Dandekar as Zara Patel
Sunny Leone as Herself (Cameo)
Directions
Directed by Sunhil Sippy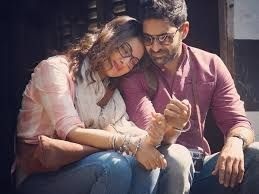 Image source: bollywoodbubble.com
A romantic scene from the movie, when Noor and Ayan Banerji starts getting involved in eachother
Story Line
Story revolves around a struggling journalist Noor Roy Choudhry, who seems not to be very happy with her life as a whole. She has bad experiences in her love life. Her professional life as a journo is not what she wanted. She seems sick of monotony and wanted to an issue based investigative journalism, and then the misadventures starts which influences not only her love life but also her career. She was back-stabbed by her potential love partner and her career and emotional life also seemed to be fall apart. She thought she got the scoop of her journalistic life and left helpless and morally disfigured.
By the end of the story, she gathered her broken pieces up and fought back. She made a piece, Mumbai, you are killing me, that actually was not very powerful, but in the drama film, she posted it on social media and it got viral. Wow. Then her childhood friend Saad, seemed to be in love with her, and at that point, her love life and career both got settled at once.
Video courtesy: Youtube.com
Official trailer of Noor the movie
Music
1. Move Your Lakk Song
Lyricist: Badshah
Singer: Badshah, Diljit Dosanjh, SONAKSHI SINHA
2. Gulabi Redux
Lyricist: Kumaar
Singer: Tulsi Kumar, Yash Narvekar
3. Jise Kehte Pyaar Hai
Lyricist: Kumaar
Singer: Sukriti Kakar
4. Gulabi 2.0
Lyricist: Kumaar
Singer: Amaal Mallik, Tulsi Kumar, Yash Narvekar
5. Hai Zaroori
Lyricist: Manoj Muntashir
Singer: Prakriti Kakar
6. Uff Yeh Noor
Lyricist: Manoj Muntashir
Singer: Armaan Malik
Video credits: Youtube.com
Jise Kehte Pyaar hai, Noor movie song, when she was falling in love with Ayaan Benerji
Movie Review
The idea behind the movie Noor seems quite striking and involving, I must say, a well-imagined movie depicting realities in an imaginary way. There seems to be no connectivity of the movie with the real journalism scene. Depiction of love life of Noor Roy Choudhry, can be appealing, as in real life of a woman, yes, there is no one time story. There are many highs and lows as they showed in the film, Yes, there are betrayals, bright sides, sparks and darkness, as shown in the life of Noor. But the change was so drastic that it sometimes seems so unreal that everything just changed for the good at once. In reality it certainly is not so.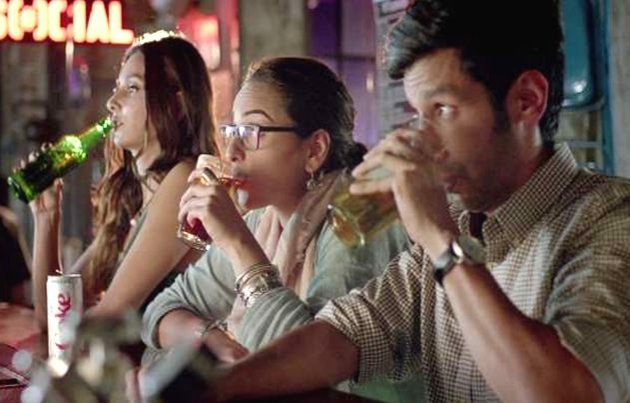 Image Source: movified.com
Noor with her best friends Zara and Saad
The plot of the story has so many loopholes, when Sonakshi as Noor starts to reinvent herself, after such a big failure, it was again too non-professional to be true. Everything is done in so much hurry that you starts thinking while watching this film, how come it can happen this way. Though Sonakshi Sinha did justice to her role, and she looked cute, curious and inquisitive as a journalist, but still the story line doesn't seem to work for her.
Image source: google.com
मुम्बई यूआर किलिंग में … तू भी अंदर से खोखली है … मैं भी
Mumbai you're killing me … you're empty from within … and so am I

Noor
It was one of the best dialogues of the movie, and it was the idea that clicked to help Noor to cast the impression she wanted for so long.
Tum aik basic cheiz bhool gayi ho ke ham journalist hi nahi insan bhi hain.

Shekhar
Now this was a dialogue delivered by a senior journalist and Noor's mentor in the movie, and it was very good. But real journalists would never agree with that, because for them, story is always the first priority.
Is saal ye sab kuch badalne wala hai, Is saal main seedhi sawitri se, tedhi sawitri bano gi.

Noor
Now that was a fun dialogue, but an attractive one, because it is hitting women stereotyping so bad. Then again Noor kept on saying that she hated his life but in the end she started loving it. That is the only best point, I could explore in the movie. And one more thing, it will surely help you learning best ways of being positive.
Cheers.