Movie Review - Peter Rabbit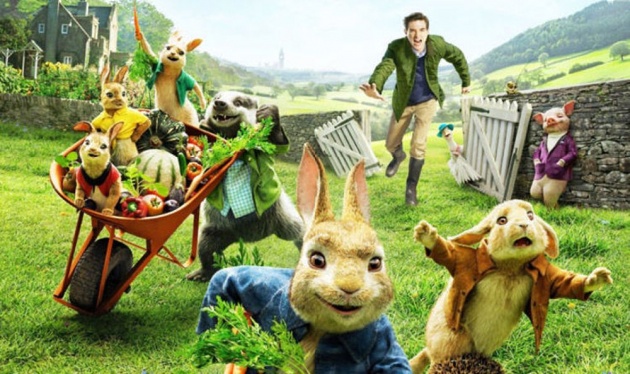 Image Credit: www.express.co.uk
✔ Introduction

Dear Friends, I hope you are doing fine and having a good time on bitlanders. Today, I have come up with my another new blog with the title of "Movie Review - Peter Rabbit" which is a movie review of newly released Hollywood comedy movie mostly based on computer animation and live action. This film was directed and produced by Will Gluck. The film is based on a fictional character Peter Rabbit from children stories written by Beatrix Potter. The film is full of comedy as Peter Rabbit creates comedy situations by doing naughty tricks with his co-actors in the movie. This film also depicts Peter Rabbit's emotions as well as feelings like love, jealousy and empathy. On the whole, the story-line of this movie is very entertaining and refreshing. Therefore, one must watch this movie in order to have a laughter and a good time with family and friends. I liked this movie and I hope you are also going to like it.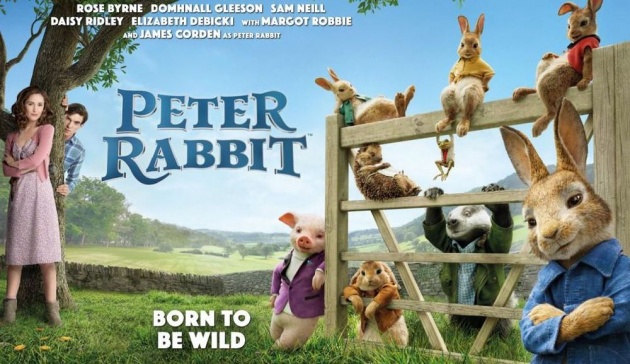 Image Credit: www.forbes.com
This comedy movie has been released this year on February 9, in the United States under the banner of Sony Pictures Motion Picture Group. Some details of cast of this movie is as under:
✤ Domhnall Gleeson as Thomas McGregor
✤ Rose Byrne as Bea
✤ James Corden for Peter Rabbit Voice
✤ Sam Neill as Mr. Joe McGregor
✤ Marianne Jean-Baptiste as General Manager at Harrods Departmental Store
✤ Daisy Ridley for Cottontail Rabbit Voice
✤ Felix Williamson as Derek
✤ Margot Robbie for Flopsy Rabbit Voice
✤ Elizabeth Debicki for Mopsy Rabbit Voice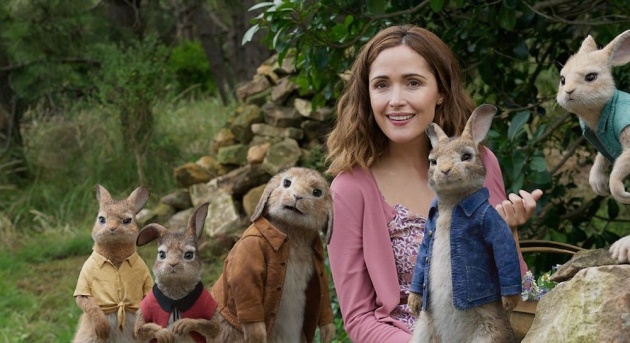 Image Credit: variety.com
Chances are, Beatrix Potter would be flattered to know that one day, more than a century after she published "The Tale of Peter Rabbit," her most beloved character would be reinterpreted on screen not as a traditional cartoon (even though her work paved the way for the likes of Bugs Bunny and Mickey Mouse) but as a photo-real, fully anthropomorphic rabbit, complete with opposable thumbs and a tiny blue jacket. Certainly, that much "Peter Rabbit" gets right, although Sony's new half-digital/live-action hybrid takes entirely too many liberties with everything else
Information Source: variety.com/2018
Video Credit: TRAILER CITY via youtube.com
✔ Plot Of The Movie
The movie begins as Peter Rabbit is in the habit of teasing Mr. Joe McGregor (who always remains in anger) and secretly eating vegetables from his garden along with his friends. On one eventful day, while Peter Rabbit was busy teasing Mr. Joe McGregor with his acts and when Mr. Joe McGregor tries to catch him, he suddenly falls and dies of a heart-attack. After his death, Peter Rabbit sees it as an opportunity and he starts living in Mr. Joe McGregor's house with his counterparts. Besides, these animals are friends with a Painter Bea who loves nature and animals and treat rabbits very well. Rabbits and other animals are always happy with Bea and regard her as their true companion.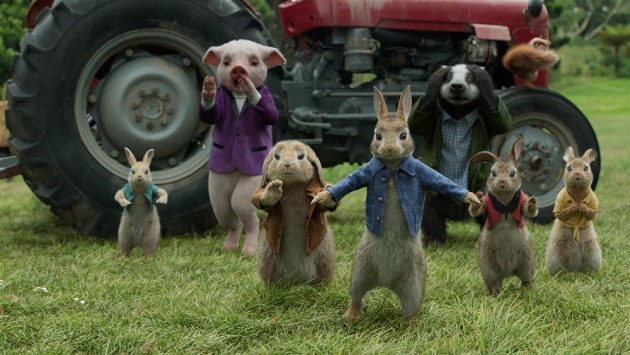 Image Credit: www.wsj.com
Mr. Thomas McGregor is working in Harrods Store and is not happy with his job and his seniors because he thinks he is doing degraded job and deserves better position in the organization. On the other hand, Harrods General Manager feels that Thomas McGregor is very short-tempered and is not suitable for any higher position. Meanwhile, when Thomas McGregor hears that his uncle Mr. Joe McGregor has died and has left behind an expensive house, he makes a plan to sell that house and to build a store in opposition of Harrods Store to show them his real worth. Thomas McGregor leaves the job and go to his uncle's house where he finds that Peter along with his other friends have occupied the house. He gets infuriated and gets rid of all the animals from the house.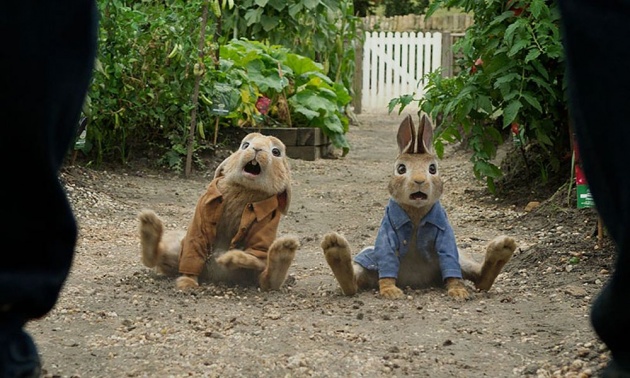 Image Credit: www.hellomagazine.com
Rivalry begins between Thomas McGregor and Peter Rabbit. In the meantime, Thomas McGregor and Bea have started to fall in love with each other. Peter Rabbit feels jealousy at this and he wants to separate them as soon as possible to get closer to Bea again and in order to enter the Thomas McGregor house. Thomas McGregor makes a plan and throws a dynamite near Bea's art studio which Peter Rabbit foolishly detonates and it results in complete demolition of Bea's paintings collection. However, Bea analyses the situation and breaks up with Thomas McGregor when she comes to know that he is behind all this nuisance.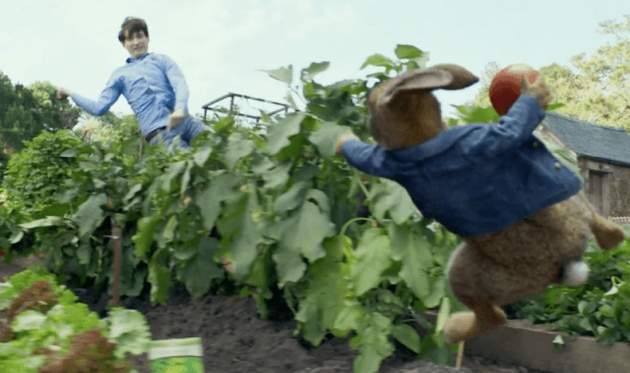 Image Credit: www.cheatsheet.com
Realizing the mistakes, Peter Rabbit reconciles with Thomas McGregor and both go to Bea and apologize for their mistakes and stupid fights. Bea accepts their apology and is happy now as she also agrees to live with Thomas McGregor for the rest of her life. However, some people have bought the house in the meantime with whom Thomas McGregor had a bad history. Thomas McGregor and Peter Rabbit maneuver such ploys that those people leave the house soon. The incidents allow Bea and Thomas McGregor to own the house again and start living together along with Peter Rabbit and his friends. Thomas McGregor decides not to join Harrods again and is more interested to open his own store in nearby area while Bea is interested now to make a story book on Peter Rabbits and his counterparts.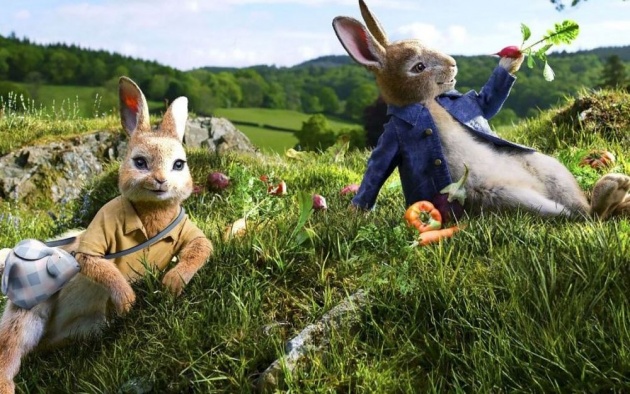 Image Credit: bullardcharger.com
✔ Here is

Querlo Chat

for you. Isn't it fun to chat with a Chatbot ?
✔ My Movie Review - Conclusion
The movie Peter Rabbit is very entertaining movie. The flow of events which make the story is very interesting and comedy incidents make this movie worth-watching. The combination of computer animation and live action is very good. The filming, camera-work and picturization is very awesome. This film shows that animals also have some emotions and they show them and the very same factor attracts the audience. The depiction of Peter Rabbits naughty acts and then showing different emotions was the pick of this movie. Children in particular, like to watch suck kind of movies, however, adults will also find some innocent humor and laughters throughout the movie. The journey of Peter Rabbit from story book to cinema screen has been very good and it revives the great work done by Beatrix Potter. Will Gluck has done a tremendous job by directing, producing and writing the script for this movie. This movie has made a very good business on the box office and has grossed more than USD 325 Million against its budgeted cost of only USD 50 Million. One of the best scenes is appended below for your entertainment.
Video Credit: Movieclips Coming Soon via youtube.com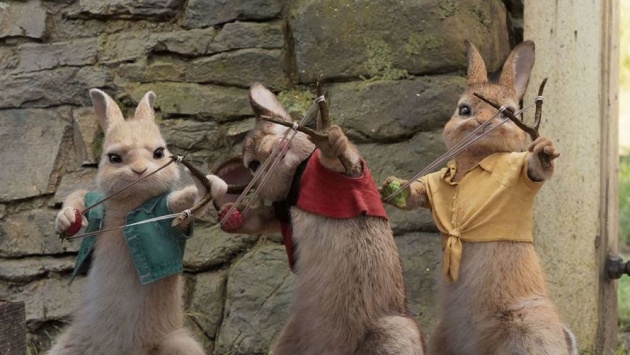 Image Credit: newsela.com
✿✸✔✤✪ - - - - - - - - - - - - - - - ✿✸✔✤✪ - - - - - - - - - - - - - - - ✿✸✔✤✪ - - - - - - - - - - - - - - ✿✸✔✤✪

Thanks for Reading. This Blog was written by Rafaquat Noman (a Resident of Saudi Arabia and a Traveler) for bitlanders.


DISCLAIMER: The contents of Blog above are that of the author and does not represent his company or agency. The sites, videos, and photos used in this Blog are for information purposes only and links are available for direct access. The author does not receive any monetary benefit from those companies or sites.
✿✸✔✤✪ - - - - - - - - - - - - - - - ✿✸✔✤✪ - - - - - - - - - - - - - - - ✿✸✔✤✪ - - - - - - - - - - - - - - ✿✸✔✤✪