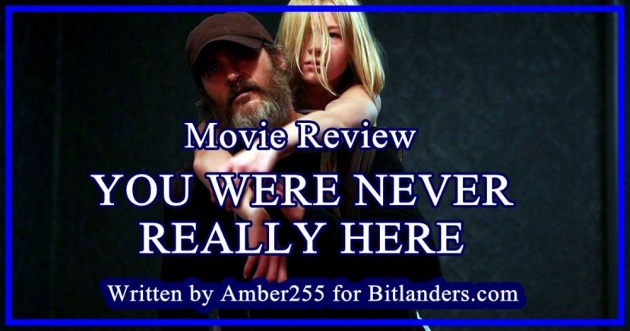 Movie review: YOU WERE NEVER REALLY HERE - Photo credit:intoccabiliblog.com, Edition by Amber255 via Bitlanders.com
I started movie reviews by IMDb list of 50 best movies of 2018. In my profile, you will find many movie reviews from this list, but I still need to add even more of them. So, here is my review on YOU WERE NEVER REALLY HERE.
Directed by amazingly talented Scots director Lynne Ramsay, who we perfectly remember from the great movie We Need to Talk About Kevin, the crime drama YOU WERE NEVER REALLY HERE already won two prestigious Cannes Film Festival's prizes for the Best Actor of the First Plan and Best Scenario. In fact, the film, after a successful debut, was compared with such masterpieces as Martin Scorsese's Taxi Driver. Obviously, the idea has been absolutely successful.
The idea may appear similar to a template and already seen in the big cinema - both the Taxi Driver and Léon: The Professional. At least, I find similarities with those movies. However, Lynne Ramsay found ways (and I am very happy that more than one!) to make this film as attractive as possible to the viewer.
A brutal, disorienting and fascinating thriller that explores how violence can become a way to remove the bruises of the past.

Credit: enfilme.com
In fact, YOU WERE NEVER REALLY HERE script is based on a novel of the same name, written by Jonathan Ames.
Here is a feeling that you start watching this film even before you go to the cinema. I mean seeing a poster on the street. The title of the film is like a bait, a riddle you want to solve out. Who wasn't? Is that a big man with a rough expression on the face or the glowing girl? And what does the word "really" means in this film? Let's solve it out together.
YOU WERE NEVER REALLY HERE, Official Trailer - JoBlo Movie Trailers via Youtube.com
The Short Story Of The Movie
Former war veteran Joe (Joaquin Phoenix) not afraid anything. He is only persecuted by the ghosts of the past and tortured by post-traumatic stress syndrome.
A harsh loner, ready for everything to help weaker people, has a new task to find and release the kidnapped senator's daughter, Nina (Ekaterina Samsonov). Joe is the only hope, and nothing will prevent him from rescuing the girl from hell into which she got. His main weapon is a hammer.
His motive is not money, but a sincere desire for revenge and mercy. It is clear from the very first few minutes of the film that not the story itself and the spectacular Joe fight against evil is important to Lynne Ramsay but the character, his inner world: the hero is allowed to be a human being.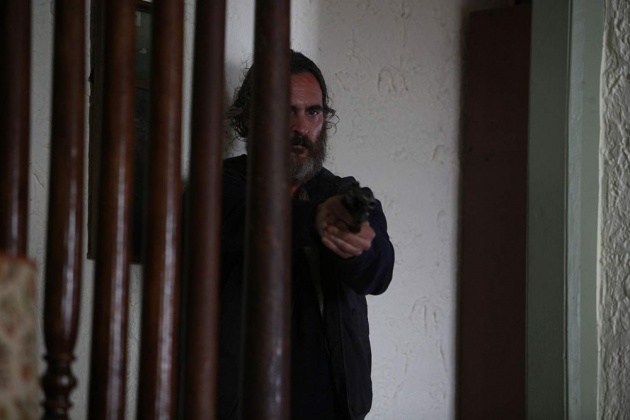 Crime drama YOU WERE NEVER REALLY HERE - Photo credit: twitter.com
The Content Of The Movie
There is no need to present the unique style of Lynne Ramsey's story - just look at her already mentioned We Need to Talk About Kevin, and everything becomes clear. She is trying to get to the hearts of spectators through specific brutality and expressive psychological violence, in order to present the world of her characters as colorful as possible and at the same time, show all the fears inside them. This movie is not the exception, which fascinates and does not leave you from the beginning to the end.
Two of his themes are revenge and the idyllic life of a mentally unstable man. At the same time, these two themes work together very well, letting us, the viewers, enjoy the brutal sight, and of course, deepen into the problems of the main hero who is suffering from the return of war. True, the latter part of the film is presented through images, so the audience has to find out the protagonist's past and understand the drama of his life.
A hired killer, beautiful girl, shootings and blood, night streets in New York, corrupt pedophile politicians, bribed officials, secret villas and brothels. These elements are well-known from crime drama genre films, but Lynne Ramsay originally uses thriller tropics to create expectations and surprise the viewer.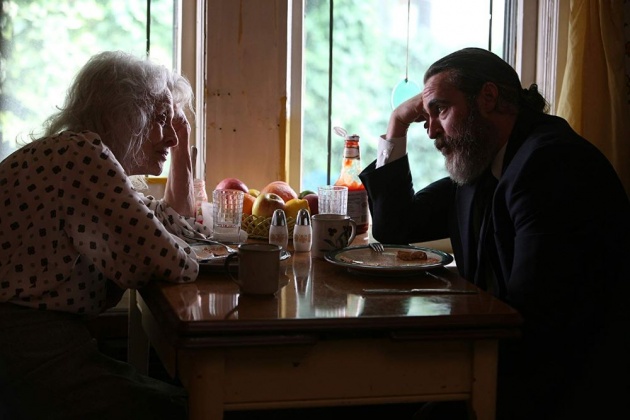 Lynne Ramsay's movie YOU WERE NEVER REALLY HERE - Photo credit: twitter.com
Although it seems vague and difficult to understand in some places, and perhaps not fully complete, the screenplay of the film is capable of capturing the viewer from the beginning of the film until its end. The movie is fast; it has a lot of action, a lot of persecution, a lot of violence, and blood.
The sense of constant tension is undoubtedly the merit of director Lynne Ramsay. It is very difficult to keep the viewer on the edge of the seat for an hour and a half. Especially if the movie is as economical as YOU WERE NEVER REALLY HERE is. Though it is a thriller, there are not much action scenes. All the tension is in the mood and in the details - how the tape is filmed, its soundtrack, the speed of the story, how convincing it looks.
The lack of dialogue perfectly reveals the loneliness of the main character; the daily routine of violence - the chaos of the world in which he lives; the periodic submersion in his memories - the wish to really withdraw from this life.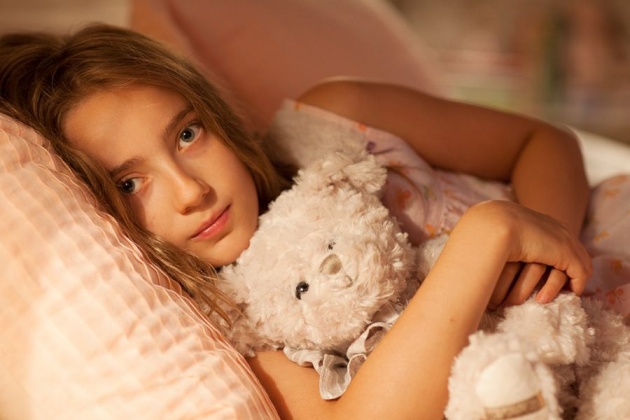 Ekaterina Samsonov - Photo credit: imdb.com
It is very strange and interesting to see how brutal this film is. After all, it has not so much violence, and it is not too detailed. Perhaps such an impression is created by its naturalness. For the personage of Joaquin Phoenix, it is an absolutely self-evident part of existence, a means of survival - violence as if it had become an essential part of identity. This understanding is what most disturbing in this movie. After all, we feel uncomfortable when we see a man on the edge of a break. Especially if that person is so well-played.
If I had to distinguish any minus of this movie, perhaps some sort of unevenness, incompleteness would come to mind. Some storylines simply end up being a little too easy. Some things are not fully justified. On the other hand, we can argue that Joaquin Phoenix does not essentially control the situation that is more carried by the flow of elements.
Anyway, there were no moments when something would disturb me. An hour and a half were quite tense, but at the same time madly fast.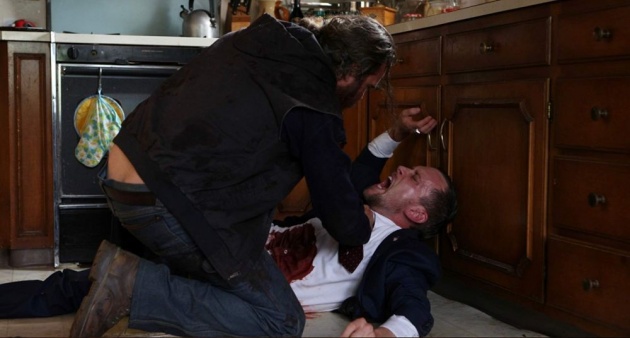 50 best movies of 2018: YOU WERE NEVER REALLY HERE - Photo credit: theworldnews.net
The Movie Protagonist -
Last year, I saw the documentary film Therapy shown in our cinemas in Spring. Such a brutal story about prison-based group therapy involving the men of complex fate. A therapy is full of aggression, pain, emotional breaks, etc. It was not an easy movie. Not everyone should watch it. Not everyone will understand what it really is. I don't know why, but I was thinking about it when watched YOU WERE NEVER REALLY HERE. Perhaps because the themes are very similar here, and the main character seems left one of those therapy groups.
Joaquin Phoenix plays a man that is both a private detective and a professional lynching man. He's brutal, but at the same time sensitive, delicate man, tortured by the horrible demons of the past. In his consciousness, the episodes of childhood, which revolved around the brutal, violent father, and the war in Afghanistan constantly emerge.
Joaquin Phoenix is simply stupendous in You Were Never Really Here. His performance is damn near flammable—dangerous if you get too close.

Credit: rollingstone.com
In other words, the person is suffering from the strong post-traumatic syndrome and the fault of the survivor. You can even say that he is looking for his death. That is why he is so deeply immersed in the underground, dirty world, full of murderers and pedophiles. The task of dealing with a group of the latter is becoming the basis of the film's storyline.
YOU WERE NEVER REALLY HERE is a heavy film. First of all emotionally. It is basically hopeless. From the very first few minutes, you don't expect a happy ending and rather, waiting for things to get worse, tragic. And you don't need to wait long.
Gradually, Joe is losing almost everything he cares about (and those things in his life were not much at all), and at the same time, he is getting close to the limit of madness. Eventually, you start to smell it. Not even believing that he will release the bullet to his forehead, but simply take such a finale as an inevitability, a logical outbreak of events.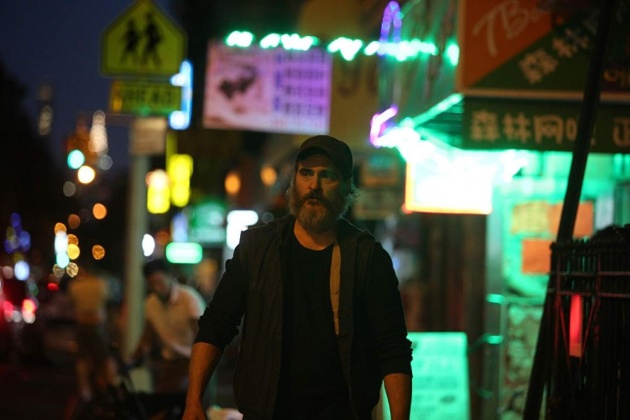 Joaquin Phoenix in YOU WERE NEVER REALLY HERE - Photo credit: imdb.com
Joe is not static - he is alive, with many colors, so the viewer gets confused: this character cannot be put on the shelves of the good or the bad characters, as well it's hard to understand whether he is a reliable narrator, can you rely on the eyes of someone who suffers like this?
Joaquin Phoenix for this role in Cannes received the Best Actor Award, and nothing strange - he magnetizes, fills every frame with the tension and is able to create a character that is both extremely strong and extremely weak at the same time. In other words, very human.
Is It Usual Thriller Genre Film?
What did Lynne Ramsay make with the usual thriller drama scheme?
The first blow to the usual crime drama genre (or stereotypes) accustomed spectator: the hired killer after successful command returns home to his old mother (Judith Roberts) who watches Hitchcock's Psychopath on TV.
The second blow: although he lives with his mother and has serious injuries, Joe is not a pervert or a madman. On the contrary, the killer's relationship with his mom is completely normal - he is gentle and sensual. We see this gentleness by details (such as how Joe touches a dead mother's foot) or a symbolic finale scene when Joe buries a mother in the lake (astonishingly how poetically it is possible to shoot a sinking black polyethylene bag; when her gray hair gets out to the surface, she flows away like a mysterious jellyfish).
Lynne Ramsay on the interview, YOU WERE NEVER REALLY HERE- Film4 via Youtube.com

The third blow: most of the film is not fights, tricks, eroticism or dialogues, but music and feelings. Their scale is wide - from dark double-bass strikes, roaring New York, and hysterical string music parties to love ballads and transparent, lyrical, gentle symphonies.
The fourth blow: evil, like good, is not absolute. While corrupt officials are killing all the people with whom Joe is in contact (including mother), and he is killing them for the revenge, the walls between enemies are melted for a few minutes, and two bloody men start to tumble a sweet ballad on the kitchen floor. This is probably the slimmest and most unexpected movie scene. Interestingly, the song tells about a woman's unfulfilled life and a perception that you have never been yourself.
Fifth blow: the girl kills the dragon herself. Perhaps the most surprising is how invisibly the relationship between the victim and the savior turns upside down. Nina's vision rescues Joe from suicide - he holds to the girl like the last straw, and it begins to seem that by saving her, he saves himself - from his inner hell he tries to return to the world of the living ones. At the end of the film, this overturned relationship is shown even visually - when the girl dresses up by Joe's jacket, she becomes an active character, inviting to travel, to be, to enjoy the beautiful day, while Joe is getting the child's features - drinking milky cocktails and hardly orientates in space.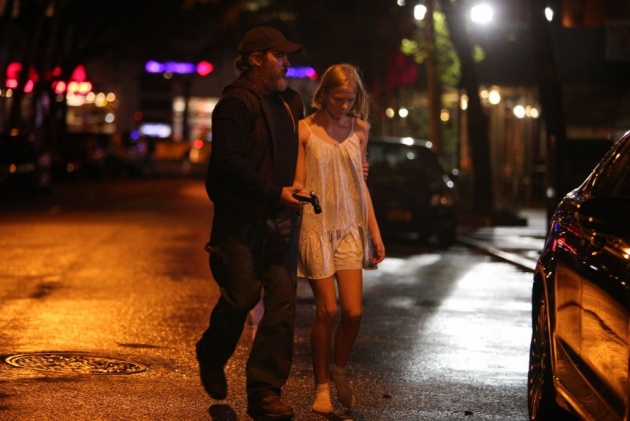 Crime drama genre films: YOU WERE NEVER REALLY HERE - Photo credit: moviepilot.de
The Technical Side Of The Movie
I think it is very important to mention the excellent soundtrack of YOU WERE NEVER REALLY HERE when creating the whole atmosphere of the film. It was created by an English musician and composer who had written a soundtrack for a number of films earlier, Jonny Greenwood, a guitarist at Radiohead band.
Jonny Greenwood has once proved that he is one of the best soundtrack composers in the world. Surprisingly, this time he uses more not string musical instruments but synthesizers that are actually much more suitable for such a minimal film.
Cold, monotonous, and at the same time, with growing tension composition gives the film an extra depth, and because of its slow action, such compositions become vital to keep the viewer engaged. This goal is perfectly achieved. When you listen to this soundtrack, you really feel immersed in the New York Underground, floating in its entrails. It is his music, together with Lynne Ramsay's directing and Joaquin Phoenix's play, that created the holy trinity of this film.
At the same time, it is worth mentioning a very good camera work that brilliantly worked in brutal moments, without revealing the horrors of the main character's actions.
Sound editing on violent scenes is flawless. I can also say the same about video editing, which did not even let the film start to understand what is being done, why it is done, and where it is done. It is the details that reveal the beauty of the entire film.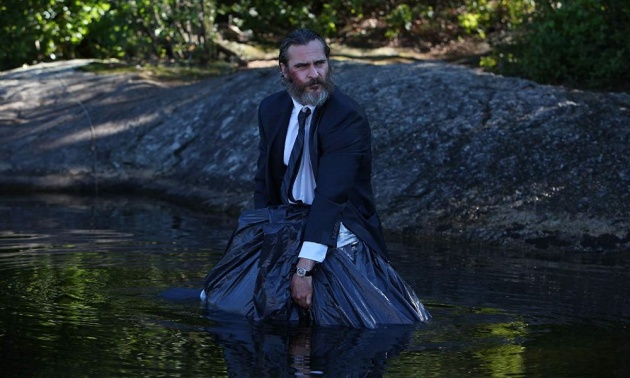 Psychological thriller YOU WERE NEVER REALLY HERE - Photo credit: elexciss.wordpress.com
The Collective Work Of The Actors
Just after watching the movie, the first thought was that it belongs to one person. That person, of course, is Joaquin Phoenix. Maybe it wasn't so surprising - the movie viewer already accustomed to just the amazingly embodied roles of this actor.
It is obvious that Joaquin Phoenix has changed his forms radically, preparing for his role, gaining, seemingly, a lot of weight. Recalling actors from movies like Her, YOU WERE NEVER REALLY HERE is a pleasant surprise that allows you to appreciate Joaquin Phoenix's acting talent even more.
Here Joaquin Phoenix once again proves to be one of the best actors working today. His role is so memorable for a couple of reasons. First and foremost, because there are only a few dialogues, interactions with other actors in the film, so he has to carry the biggest load himself. On the other hand, when there are almost no words, the actor loses any cover. All emotions need to be revealed in other ways. A poor performer with such a burden would not really cope with it. But Joaquin Phoenix with just a few tears is able to show much more than just another actor could show with a few minutes of emotional monologue.
In a word, talent. No matter what a great job a film director would have done, it would not work so well if the main role had come to someone else.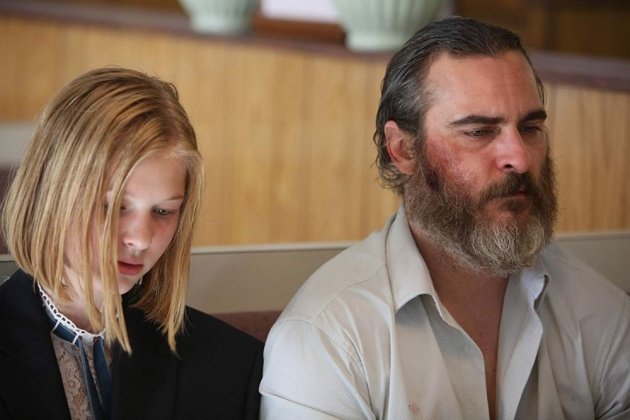 Joaquin Phoenix and Ekaterina Samsonov in a psychological thriller YOU WERE NEVER REALLY HERE - Photo credit: wall.alphacoders.com
The other actors playing in this movie: Dante Pereira-Olson, Judith Roberts, John Doman, Alex Manette, and Claire Hsu.
On The Final Note
It is a film that is both a bit horrible but also sad and beautiful? Yes, it is such: beautiful, sad, forcing to think, but most importantly, it does not leave your head after previewing.
YOU WERE NEVER REALLY HERE is without a doubt one of the most pleasant surprises in the last few months. I admit I went to it practically without any prior expectation. And I was straight involved and no longer released from it. Man sometimes even forgets what a great feeling it is. Because of this feeling, we go to the cinema.
Phenomenal. Absolutely phenomenal. Phenomenally directed, acted and written. This phenomenal indie thriller will leave you breathless.

Credit: imdb.com
Basically, Lynne Ramsay built a multilayered film that looks like a thriller but deconstructs cultural stereotypes and genre cliches that traumatized gender roles. Here the hero gets the right to be weak and sensual, and the victim is strong and cold.
This is an incredibly psychological crime drama whose vengeance theme reveals many emotions during the review - starting with pain and hatred and ending with joy that expresses through the rather brutal prism of one unhappy person. And yes, yes, yes, I recommend watching YOU WERE NEVER REALLY HERE.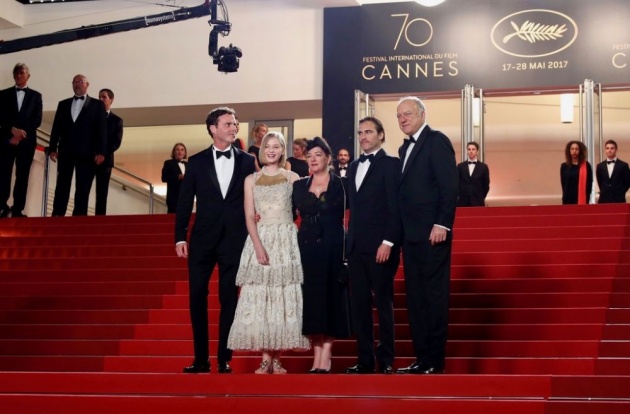 YOU WERE NEVER REALLY HERE cast in Cannes Film festival - Photo credit: imdb.com
My rating: 9.0/10
Rotten Tomatoes: 89/ 100
Metacritic: 84/100
Critics average: 6.4/10
IMDb: 6.8/10
HAVE FUN!
***************************************************************************************************
Thank you for stopping by and reading my blog.
2019, All Rights Reserved.
You are very welcome to join Bitlanders and share your valuable knowledge and opinion.
***************************************************************************************************