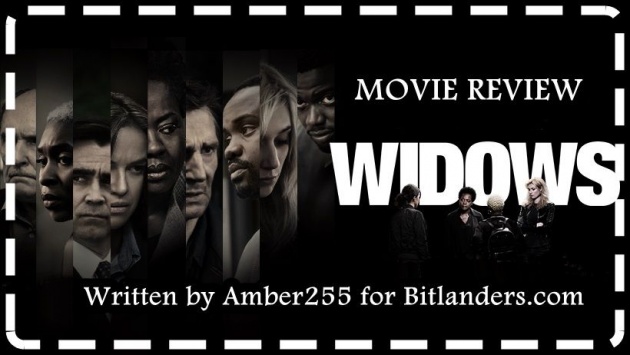 Movie WIDOWS Review: Meaningful and Very Real Crime Drama - Photo credit: twitter.com, Edition by Amber255 via Bitlanders.com
US Film Academy Award winner, the director, and screenwriter Steve McQueen together with co-author, author of bestsellers, Gillian Flynn, presented an intense and modern thriller and crime drama WIDOWS combining crime, passion, and corruption.
Steve McQueen is the creator of two perfect and strong social message spreading films Hunger and Shame, and and the main Oscar-winning drama 12 Years a Slave. The WIDOWS is created on the theme of the robbery. Steve McQueen has been preparing for creating this movie for two decades.
Looking at the history of films, it's easy to find good examples of robbery films. Each movie, led by its period and director, was able to replenish the robbery films in various directions. Still, the director Steve McQueen has decided to try the uncovered line of robbery. He has chosen the four women for his scenario who carry out robbery against their will.




Steve McQueen has made a movie for multiplexes without sacrificing any of his individuality or greatness as a filmmaker. This is one of the best films of the year. - Samuel R. Murrian, Parade Magazine




Credit: rottentomatoes.com



The WIDOWS is a story of four women. These women are connected by one thread: the debt left by the crimes committed by their deceased men.
Let's watch!
The Short Story Of The Movie
The film begins when a group of perpetrators is killed in one of their planned robberies. In such a drastic way, they leave their women as widows, and if that's not enough, also a million-dollar debt. If women will not return the debt, they will be at risk of death.
In the modern Chicago, torn apart by turmoil and confusion, Veronica (Viola Davis), Alicia (Elizabeth Debicki), Linda (Michelle Rodriguez), and Belle (Cynthia Erivo) are bound to take fate in their hands and working together to withstand heavy and pointless burden left by their men.
WIDOWS, Official Trailer - Video credit: FoxMovies via Youtube.com
In such circumstances, the wives of thieves who never knew each other, do not have the time for grief, and they are forced to follow the steps of the deceased's career if they want to stay alive. There is the only problem for them - they are not professionals in this criminal profession.
The Content Of The Movie
And again, the subject of the robbery came to the cinema. This year this is not the first film of this kind, which appears in Lithuania. Before we watched The Hurricane Heist, Ocean's Eight, King of Thieves, and others. I most liked the brutal thriller Den of Thieves with Gerard Butler, shown in the spring on cinema screens.
I really awaited the new Steve McQueen project, which he presented to viewers after five years of silence from his Oscars drama12 Years a Slaves. Although personally for me, the best Steve McQueen movie was not the award-winning film, but the 2011 Shame drama. A strong film, which I sincerely recommend to all fans of meaningful films.
I had big expectations for this new work. And you know, Steve McQueen did not disappoint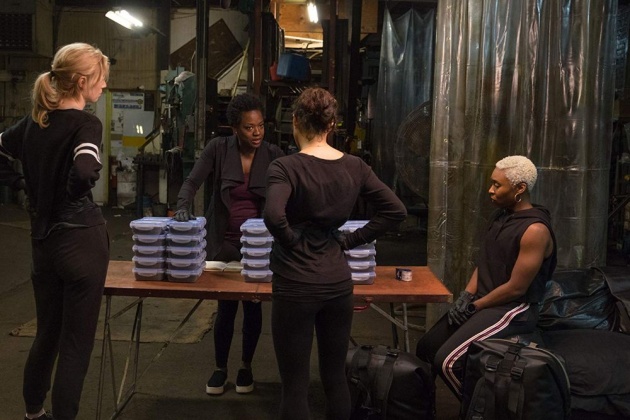 Viola Davis, Michelle Rodriguez, Elizabeth Debicki, and Cynthia Erivo in WIDOWS - Photo credit: imdb.com
Probably, many of you know the Tarantino pace's movies, when it seems that from the action shown in the first five minutes, can be created a separate story and movie. The film WIDOWS also creates a pretty similar impression on its fast pace from the first shots. Already its first minutes will involve you to an intense thriller, in the center of which is a big robbery. However, the actual action begins when the end of the intro creates the essential foundation of the film.
First of all, the movie WIDOWS is not an action thriller, but a long and carefully implemented crime drama, so the action here is minimal. I would even say that it is not here at all because it is not enough the 15 minutes full of tense moments to name a project belonging to the genre of action.
Secondly, it's a film having a huge amount of social issues and actual issues for the US relevant to this day. Therefore, talk about racism, politics, emigration is quite frequent here. And while Steve McQueen is not Quentin Tarantino, whose films are based on rich dialogues, he does play well with it, allowing the viewer to dig deeper into the problems that appear.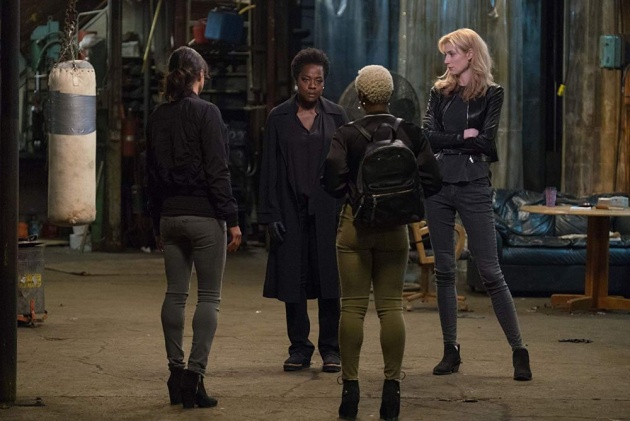 Action thriller WIDOWS - Photo credit: vicenewphoto.blogspot.com
Every word said in WIDOWS is important, every phrase carries some meaning, and every step taken by the heroes reveals a number of truths related to contemporary society. The small details here will be very important, and emotional experiences sometimes overshadowed the robbery.
Of course, ask me now why I do not talk about robbery if the film's advertising campaign highlights all its attention exactly to that. I will answer briefly - this is not a film about robbery because it was here only to develop a much more important problem. Therefore, if you come to see how a safe box is robbed, you will have to wait one and a half hours for things to move and start planning.
In such films, the curiosity begins with getting acquainted with the characters involved in the robbery, their different skills needed for theft, the presentation of the plan, and then the final result is already observed. But when theft is planned by women who have never done it, and the plan itself is not just breaking into the gold storage, it becomes obvious that the epicenter of the movie will be concentrated elsewhere.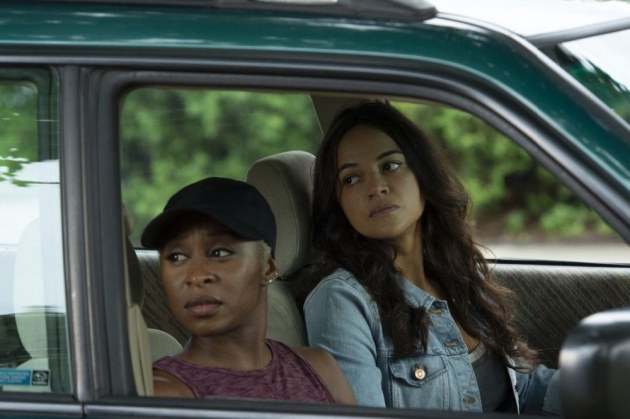 Movie WIDOWS - Photo credit: twitter.com
I will not say how they succeeded, but not everything was in line with the plan. Some of the movie scenes related to the robbery were very related to the cult Heat, so I can safely say that WIDOWS is not less interesting movie than the movie I mentioned. The only pace of storytelling here was less dynamic.
I want to warn - this movie is not intended for a mass spectator who needs popcorn. Therefore, if you are expecting to see unpredictable in its storyline Ocean's Eight style bar or action level of Fast & Furious, you will be disappointed, as conversations and seriously worsening social problems dominate here, which are also relevant to the people of any country.
Although I will not hide, some places were really surprising, because we could not expect a turn of the story, which in the middle of the film we were offered by filmmakers.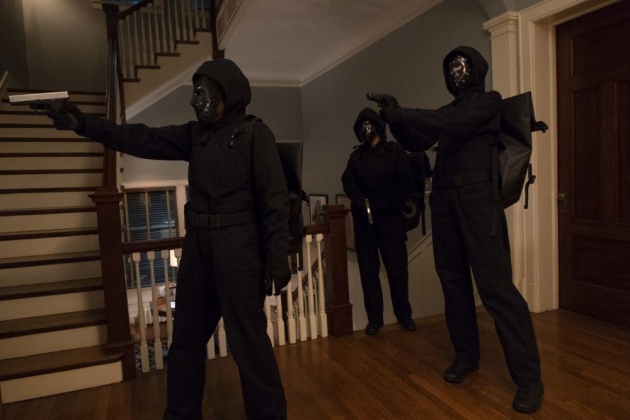 The Hollywood film Crime Drama WIDOWS - Photo credit: cineday.orange.fr
The Heroes Of The Movie
However, all the themes and conversations would not be so perfectly presented, if not a very serious director's approach to the heroes. Such fantastic and well-crafted characters I have not to see a long time. Each of the actors in the band has made it possible to perceive not only their visible world but also deepen in the people around them who were able to influence their lives.
WIDOWS - Interview with Viola Davis, Michelle Rodriguez, Daniel Kaluuya & More - Video credit: HBO via Youtube.com
Having lost their husbands, the widows became fragile and vulnerable, which made it possible to create a very thorough psychological portrait of them. And you know, this image did not rejoice, but on the contrary, it even frightened. And there really was something to be scared about.
The main character of the film, Veronica, is not only the leader of the whole women's team of this film but also the person most interested in completing what her husband started.



Veronica : [to her gang] Now the best thing we have going for us, is being who we are.




Alice : Why ?




Veronica : Because no-one thinks we have the balls to pull this off.




Credit: mdb.com



Intelligent, cold, but fragile inside, and at the same time, the proud woman was able to show herself not only as an excellent strategist but as a person who was worried about something more than just money or a desire to get rid of her husband's debt. There is no shortage of emotion on her side, which further enlivens the general sensation of this character.
Two other widows - Linda and Alicia, although received much less screen time, they were no less important in this film. They also, like Veronica, allowed the viewer to become acquainted with themselves and their personal life, which, in comparison with Veronica's daily routine, did not remind the fairy tales. They lived with violent, drinking, and not wisely spending money men who could not provide them a bright tomorrow. Therefore, it is not surprising that both of them agreed to commit crime proposed by Veronica.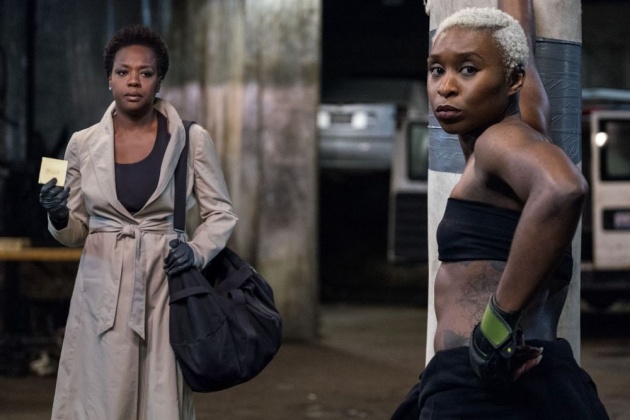 Movie WIDOWS review - Photo credit: manila-life.blogspot.com
Interestingly, here is the fact that each of the widows belongs to hard-living minorities - emigrants, Latin Americans, and black people - in the United States. It's just a coincident? Of course not.
In addition to the bright main characters of the film, we have here rather charismatic second-rate heroes. Of the more interesting, I would mention the Mulligan family drowned in politics for many decades, Bella, who was unexpectedly taken to the robbery plan and, of course, the main antagonists of the film, the brothers Manning. More precisely, Jatemm, who managed the work entrusted by his brother.
Jatemm Manning has become not only adornment for this film but also, in my opinion, the most charismatic personage. Sometimes, looking at what he did, the shudder just went through the body. It's worth to see the scene in the bowling with knives, after which I was sitting numbly for a few more minutes.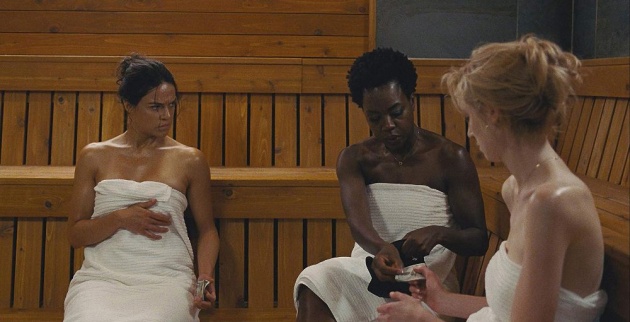 Viola Davis, Michelle Rodriguez, and Elizabeth Debicki in WIDOWS - Photo credit:imdb.com
The Technical Side Of The Movie
A very good impression on the film was made by the camera work, which made it enjoy the story from various angles but it also allowed the viewer to get acquainted with 4 or 5 different filming styles. A wonderful work that will undoubtedly be appreciated noticed by the US Academy of Motion Picture Arts and Sciences. I hope.
Thanks to the soundtrack, was created a particularly gloomy atmosphere. But there's nothing surprising here since Hans Zimmer himself has become a composer of the film, whose works speak for themselves. All his written compositions for this film during the review cause a lot of emotion. And that's what we need watching such a serious drama.
I liked the film visually also because of heroes costumes and hairstyles, makeup and, of course, the decorations, which made it possible to penetrate into the world where the fundamental action of the movie takes place. In this case, it was Chicago districts.
The montage works are worthy of additional applause. The film is appealing by the presentation of strong characters from the very first moments. It affects not only emotionally, but also makes it easy to watch every single scene from the first seconds of the movie. And even a game with memories does not damage the overall picture.
Sound editing is strong. But why to feel surprised by anything here when such a talented team worked on the film.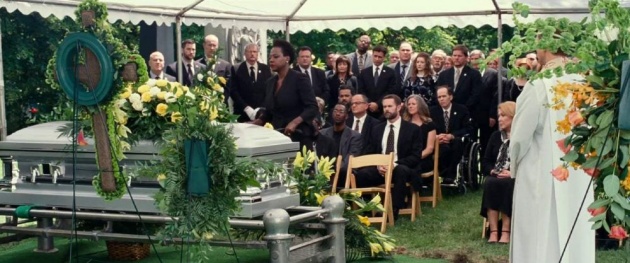 Hollywood film WIDOWS - Photo credit: dailymotion.com
The Collective Work Of The Actors
Actors! I will not be surprised if at least two actors from this movie get Oscar nominations because it was work worthy of applause.
One of the most talented actresses in the world, Viola Davis, once again proves that she is a real boss and virtuoso of the performance. She succeeded in creating an exceptional and very interesting character from the foundations, who through her cold emotions only could express more than saying a hundred words.
Another particularly interesting hero was Jatemme's role embodied by Daniel Kaluuya. The actor had already been amazed by his performance in the psychological thriller Get Out and the film Black Panther but in this film, it's the top of the actor's performance. A perfectly played antagonist who caused very unpleasant emotions by his appearances.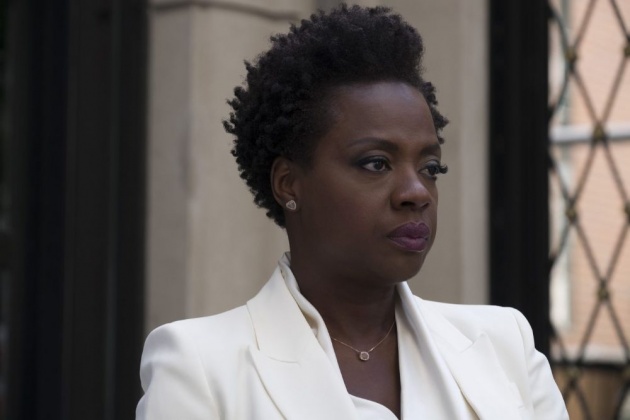 Viola Davis in WIDOWS - Photo credit: twitter.com
On the second-rate roles with great and equally compelling performance appeared Brian Tyree Henry, Colin Farrell, legendary Robert Duvall, Elizabeth Debicki, Cynthia Erivo, and even Michelle Rodriguez. Yes, yes, Michelle not only played here but in my opinion, played the best role in her career.
As for Liam Neeson, Jon Bernthal, Manuel Garcia-Rulfo, and Coburn Goss, they may have appeared in the film for a few minutes. But you do not have to worry about that, because not men, but women were here essential.
On The Final Note
To sum up, I will say only that this is definitely one of the best cinema projects this year, just because of its extremely well-written script and a very good director, which in every scene allows you to understand what talent is Steve McQueen.
WIDOWS is a crime drama that discusses very serious social issues. Its engine is a non-dynamic action or a robbery but very precisely thought-out the life-changing situations of the main characters.
The film, in addition to the performance of strong Viola Davis and Daniel Kaluuya, the emotional Hanzas Zimmer's soundtrack, the presentation of a technically perfect visual part, and an interesting script, also present what we are missing in contemporary cinema - the feeling of naturalness and reality that makes us believe everything that the creators have trying to say us.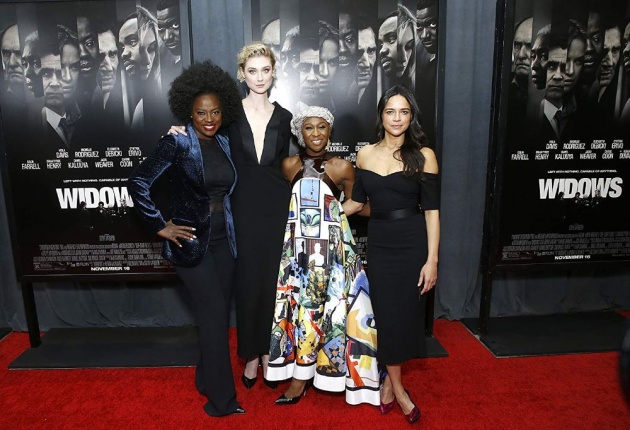 Creme drama WIDOWS premiere - Photo credit: imdb.com
It's a realistic crime drama, flavored with intelligent storyline waves and overcrowded with quality actors. Even those who appeared on the screen just for few minutes will capture the attention of the audience and will intrigue them.
It's great that without classic high-speed racing, shooting or exploding cars, the film offers a morally deeper dimension. Racism, social inequality, American weapon politics, political corruption, and nepotism - all this touches at one point or another in the new Steve McQueen film, that should not be boring to fans both of crime thrillers or emotional drama.
It turns WIDOWS into more than just action movie with hard characters that must always defeat. Instead, we get a kind of epic criminal drama, which gives us even a few emotional and sociopolitical questions and comments that give the film extra enduring value.
I recommend the film to anyone who, at least for a moment think that they do not like movies where women kick the butt of the men. With the help of McQueen, women show the highest class here.



I want to reflect the world that I live in. I open the door and what I see. I want the audience to be reflected onto the screen. The cinema where you go and pay to go; the cinema ought to be reflected on the screen. Simple. - Steve McQueen




Credit: uproxx.com



My rating: 9.0/10
Rotten Tomatoes: 91% ( of 100)
Critics average: 6.3/10
IMDb: 7.4/10
HAVE FUN WATCHING!
**************************************************************************************************
Thank you for stopping by and reading my blog.
2018, All Rights Reserved.
You are very welcome to join Bitlanders and share your valuable knowledge and opinion.
**************************************************************************************************