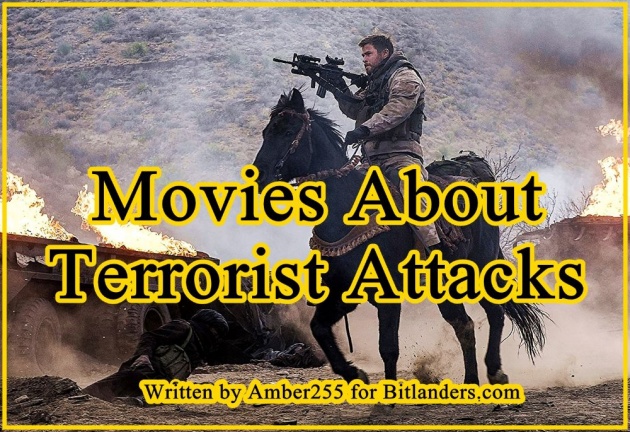 Movies About Terrorist Attacks - Photo credit: imdb.com, Edition by Amber255 via Bitlanders.com
After the tragic events of September 11, 2001, a global fight against terrorism began. In response, the film studios began to create films highlighting the terrorist attacks and fights against them. Today I offer to look at some of the most prominent films dedicated to this theme, which have reached the screen after the collapse of the World Trade Center towers in New York.
As for the essence, such movies, in my opinion, often touch concerns on a very delicate subject - the conflict of nations. And then two questions: is it worth it to make films on this complex topic, and if you film, then how? In my opinion, of course, it's worth making movies, because it's not a solution to avoid a problem; it can only be found through open discussion. And, of course, in this sense, the films about terrorism are very important, because it stirs people's interest in a complex topic and an ambiguous historical event.
The question of how is more burning. I think the storyline of such movies should be based only on 100% verified facts, without changing historical events for the sake of entertainment. Otherwise, the film announced as historical or biographical can convince people of some facts that were not there, which can lead to big misunderstandings.
Terrorism has become a festering wound. It is an enemy of humanity. Atal Bihari Vajpayee


Credit: brainyquote.com
Cinematographers are starting to make more and more films telling about terrorists and terrorist attacks. The films clearly show what kind of disasters the terrorism can cause, and heroic struggle against these gangsters, carrying in themselves only to them understandable, universal values, which imply the death of other people. Heroes of films sometimes are forced to face not a simple choice - after all, the lives of people and the safety of the whole society are at risk.
In real life, you and I, most often, do not see this dangerous, painstaking work of state security officers. We may hear the TV news about the terrorists and their terrorist attacks. The films reveal the details of this merciless war with the enemies of mankind.
While reading my blog, check The QUERLO CHAT: What kind of movies do you like?
ARGO, 2012 - The Most Difficult Task In Life
The 1979 revolution in Iran reaches the apogee, with troops invading the US embassy in Tehran and taking hostages 52 Americans. In case of turmoil, several workers are able to escape by finding shelter at the Canadian consular home. The government is starting to make plans how secretly and without causing the disruption to help the refugees leave the country. CIA agent Tony (Ben Affleck), specializing in secreting people out of the country, is invited to rescue six men from a desperate situation. Having invented a risky and unrealistic plan, a man takes the toughest operation in his life.
Ben Affleck provides spectators with a carefully thought-out drama built on real events, and at the same time reveals the whole truth about an operation that has been abandoned by the secret American service. A tape that forces you to open the history textbook and dive into the life o spies full of gangers, and at the same time get to know people who sacrifice their lives for the good of others.
The ARGO image is capable of perfectly conveying the gray atmosphere of that year, bringing the film closer to the beginning of the 1980s. The environment becomes an integral part. All the places, surroundings were restored very realistically, all fights were presented very naturally with every movement, word, gaze, authenticity, and that determines that you start believing everything to the last detail that is displayed on the screen.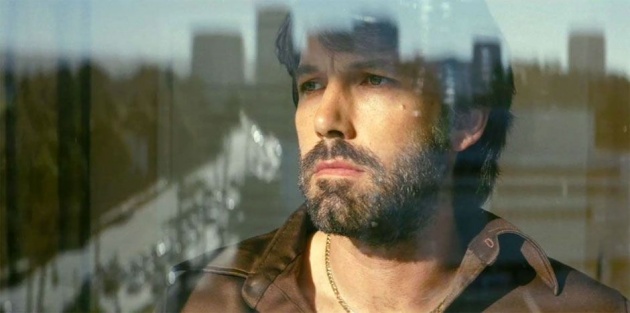 Ben Affleck in ARGO - Photo credit: m.blog.naver.com
The story grabs you by hand from the beginning and does not leave it, and each time gives more adrenaline and excitement. The scenario is flawlessly matched with the storyline process, which keeps the tension so intense that sometimes it is difficult to breathe, and the heart crashes more and more towards the final culmination.
It's a movie about people's destiny and responsibility. Dramatic and unexpected factor contributes to the atmosphere of a fully enveloped and strong political context. Thanks to the script, it is possible to show the real face of Iran, the mentality of people, and their customs, principles, and worldview.
Biography thriller ARGO, which won even 3 Oscars and 2 Golden Globes, enlighted the events that have been hidden from the public for many years. The film just confirmed the talent of director Affleck, and the tension he created could compete with the most well-known thrillers.
In all aspects, a strong film is a true hero of the year, a film that generates so much emotion, joy, excitement, and optimism that it is worth to be named the best project on film screens in 2012, as well as consolidating Ben Affleck as a new and promising filmmaker.
ARGO Trailer - Video credit: FilmsActuTrailers via Youtube.com
MUNICH, 2005 - Olympic Games Marked By Blood
1972. The world is shaken by bloody fever. The US is still engaging in a war in Vietnam. In the Middle East, the Israeli-Palestinian conflict is booming. The Olympic Games in Munich could have become a small source of optimism and positive emotions in the undercurrent of unrest and political conflict. But it brought new blood and new horror.

MUNICH, directed by Steven Spielberg, is a historical drama based on real events, nominated for Oscars. The base of the screen story was George Jonas' book published in 1984, describing the bloody events of the 1972 Munich Olympics Games.
In the games, eleven Israeli athletes are taken a hostage and subsequently murdered by the Palestinian criminal group called Black September. For the sake of justice, the Israeli Government sends a group of secret agents to hunt for criminals, with the aim of finding and destroying people who have committed a crime.
This isn't a Middle Eastern tale that offers much hope. It's just bloodstained history. And if we don't remember that history, Spielberg says, we learn nothing. - Roger Moore, Orlando Sentinel

Credit: rottentomatoes.com
When the negotiations came to a dead end, the German authorities decided to attack terrorists and force the liberation of hostages. The deceitful operation ended with a bloody tragedy, killing all nine athletes.
Soon, Israel answers back. A group of specialists gets a task to find and liquidate any remaining members of the Black September at any cost. Terrorist hunting begins and is now known as the codename Wrath of God. It will permanently change the fate of all those who have accomplished this particular task. For this revenge mission, they will all pay their personal price.
The convincing, dramatic, and shocking film where performed such actors as Daniel Craig and Eric Bana has been condemned for success - every story turns into a million when Steven Spielberg, a master of epic dramas, direct the film.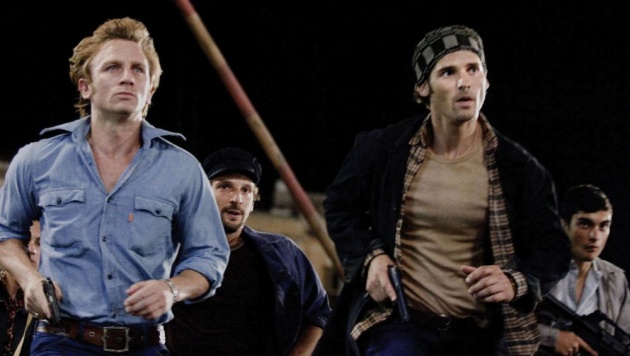 Eric Bana and Daniel Craig in MUNICH - Photo credit:imdb.com
MUNICH is one more great film projects of Steven Spielberg, mainly because the director chose a very complex subject. Not only because the language is about complicated cross-border relationships, but also because this topic is not very interesting to the main audience for the western world.
But the politically difficult topics are handed over through a daily, human approach, abandoning the traditional reporting format for historical films. In addition to drama, there is humor and surprisingly many action scenes.
The film has a good pace, which is supported by one of the most convincing action scenes ever seen, and the Spielberg-specific deviations from the standards. This is a very visual movie, and some shots will definitely stay with you even after the film.
The conflict between Palestine and Israel was never resolved after the Munich tragedy. The feud continues. And until these countries change their view, bloody fights will always be there.
Steven Spielberg shot a high-quality, exciting movie. For him, it was important to show that the situations in the world, both in the 70s and in our time, are approximately the same. Governments of all countries must go on a truce; otherwise, it will continue indefinitely.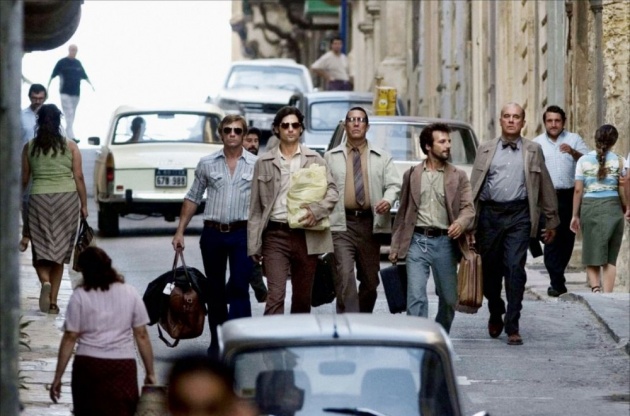 The movie MUNICH - Photo credit: twitter.com
12 STRONG, 2018 - The Hell In Harsh Afghanistan
It is a real-life military film about the first armed American response to the September 11 terrorists. In the epicenter of The 12 STRONG is an elite squad of troops sent to Afghanistan after September 11th.
The 12 strong men' squad led by US Army Special Forces Captain Mitch Nelson (Chris Hemsworth) are secretly disembarked in a remote area of northern Afghanistan. Their task is to get in touch with National Afghan Frontier fighters, to persuade them to join forces with Americans against the common enemy - the Taliban and Al Qaeda fighters and to make it possible for the main American forces to attack.
After contacting the General of the Front, Americans go on a dangerous journey through an unfamiliar country. Separated from families in a strange country, worn out by big heat, 12 young men must fight against an unfamiliar enemy to protect the lives of their citizens. They must adapt to local customs, accept limited Afghan resources and military capabilities, and eventually overcome the many terrorist forces - merciless fanatic fighters - after overcoming internal doubts and big fear.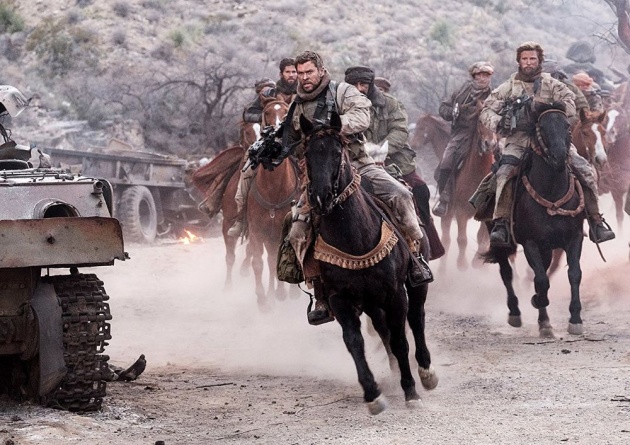 Chris Hemsworth in 12 STRONG - Photo credit: imdb.com
The patriotic and heroic film presents not only intriguing history and charismatic characters to spectators but also delights the spectacular scenes of action and battles. Based on real events, a military action film, supported by the Pentagon, was equipped with all the military equipment needed for filming. Some of the movie scenes showing Afghanistan were filmed in a Texas training base used to train troops who are going to missions in war areas. The roles in the film were performed not only by men of US Army, but also by Chris Hemsworth, Michael Pena, and Michael Shannon.
It is very difficult to judge the reliability of the events reflected on the screen. However, it is very interesting to watch what is happening there. Since starting the picture with the terrifying terrorist act of September 11, the creators of the tape left behind thinking about politics and excessive enthusiasm for the patriotism of American soldiers. All accents are put on the drama, in which considerable attention is paid precisely to the Afghan side of resistance to world terrorism. Of course, not all aspects of the culture, worldview, mentality, and life of the Afghan people were shown on the screen, but some of them were revealed.
In general, this is a common American patriotic fighter with a ton of pathos, but it is made quite beautiful and interesting. Although the plot is primitive, and there are no turns, it is interesting to watch. Perhaps this is due to the magnificent fighting scenes, which in such an action movie are one of the main components.
12 STRONG - Official Trailer - Video credit: WarnerBrosPictures via Youtube.com
15:17 TO PARIS - Death Goes To Paris By Train
The epicenter of 15:17 TO PARIS is a true story of three Americans that took place in 2015.
Three long-time friends from Sacramento, after many years of separation, decided to spend their holidays in Europe together. After strolling through the capitals of Italy, Germany and the Netherlands, Spencer, Anthony and Alec decided to go to Paris by high-speed train, but the trip turned out to be a difficult test for a trio of Americans. Together with a dozen other passengers, the guys almost became hostages of a terrorist armed to the teeth.
An armed terrorist with a weapon and grenades intend to kill and take over 500 train passengers. Fortunately, the desperate actions of travelers, the life lessons learned in childhood, and the skills acquired by Spencer in the army, helped prevent tragedy. In Paris, and then in their native California, the guys came in the rank of real heroes. They described their memories in a book that now inspired to create a movie by these events.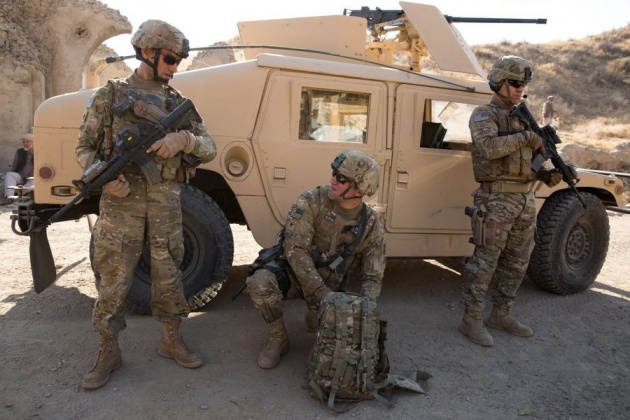 Alek Skarlatos in 15:17 TO PARIS - Photo credit: imdb.com
The American cinematographer and the hard-core patriot Clint Eastwood decided to direct this inspirational story. First of all, the picture is curious as a kind of experiment: for the main roles in his new film Clint Eastwood did not take professional actors, but the same guys who defeated terrorist: Spencer Stone, Alek Scarlatos, and Anthony Sadler. Only two years had passed since the events, so actors did not have time to change much.
The main characters in various situations go against the rules, learn to put someone else's life above their own, receive military and medical knowledge only in order to neutralize the enemy at a crucial moment in their lives and save the life of the wounded.
This is a very strange film that seems even stronger after the realization that the brilliant Clint Eastwood made this film. On the one hand, the picture looks absolutely boring, and monotonous.
On the other hand, Eastwood almost documentarily honored on the screen the real heroes, whose history is capable of teaching much more than all the superhero tapes that have flooded into cinema in our time.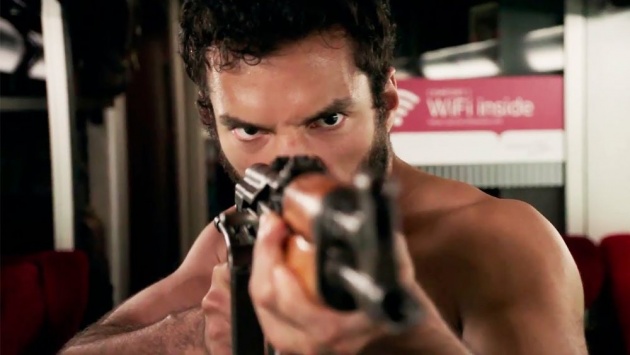 15:17 TO PARIS - Photo credit: imdb.com
BODY OF LIES, 2008 - The Trap Of Deception And Lie
The terrorist threat and the increasingly unpopular war in Iraq leave its footprint in the film industry.
The film deals with topics such as international terrorism, the secret activities of the CIA services, the scandalous US foreign policy, the war in Iraq, the terrorist provocations and the unpublished works of President George W. Bush. Ridley Scott has created another daring film about the dark side of America's face.
The spy thriller BODY OF LIES was created by the novel of David Ignatius. The film of Ridley Scot introduces the CIA star Rodger Feris embodied by Leonardo di Caprio, after a successful operation in Iraq. After receiving a new assignment, the guy travels to Jordan, where he must track down Al-Saleem (Alon Aboutboul). Guided by senior CIA agent Ed Hofman (Russell Crowe), Roger starts working with Jordan's Chief of Security Officer, Hani (Mark Strong) but soon realizes he is in the trap of deception and lie. After all, Feris risks not only the outcome of the operation but also his life. The closer to the target, the clearer perceives himself to be in the mirrors room when it comes to finding out what the enemy is and who is an ally.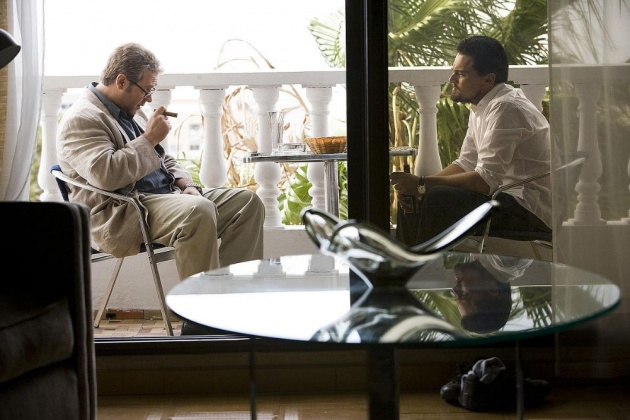 Russell Crowe and Leonardo DiCaprio in BODY OF LIES - Photo credit: imdb.com
It is very fun to watch a movie that, at first glance, seems to be happening in Iraq or Jordan. Mountains, deserts, so much dust, and local huts created by clay and stones are really something like the Middle East. It is a high-quality spy thriller, which can be described as a smart film. He is not saturated with an incredible amount of action but rather shot in the style of Jason Bourne. With a small amount of shooting and a superior number of scenes focused on the demonstration of the investigation and mind games of intelligence agents and terrorist Middle Eastern.
Together with a group of great actors, the action story thriller BODY OF LIES was well met by critics and spectators, including this movie in the top of the best movies about terrorist attacks.
The film very well and realistically shows the atmosphere of the Middle Eastern countries, overcome by terrorist organizations. Poverty, angry people, constant fear for their lives, and ignorance of where a blow might come from, garbage dumps on city streets, flocks of homeless dogs - unfortunately, there is no way of leaving such realities, and they have become commonplace for local residents.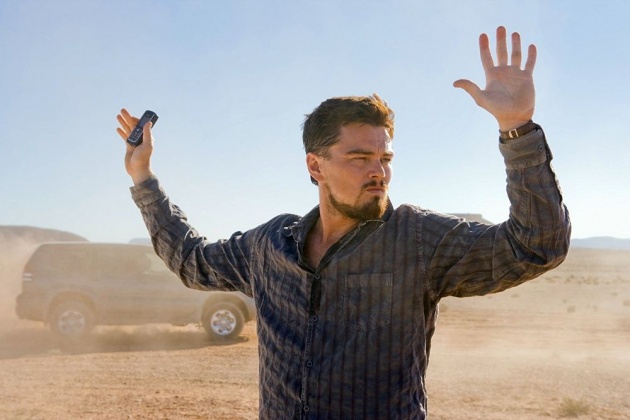 Leonardo DiCaprio in BODY OF LIES - Photo credit: wallpapersdsc.net
On The Final Note
The terrorism theme touched upon in films, today is becoming increasingly popular against the background of current events around the world. Once, there were very few such films, and it is not surprising, because terrorism, as a phenomenon, did not have such a scale and was not widespread.
Now, this inhuman phenomenon, with each new year, is becoming more extensive and more large-scale, and bloody. Therefore, the films of the relevant subject become more, as well as people who want to watch them. After all, no one can give an absolute guarantee that the explosions will not be heard in your city. It can happen even on your street or in your house. And no one guarantees that you cannot become a hostage to these who value neither their own nor others life - the beasts in human guise.
More recently, in order to scare people, gangsters, who call themselves members of all terrorist groups, were enough to seize a bus with innocent people or to undermine a residential building. Now, their appetites are becoming bigger and more bloodthirsty, and this is scary.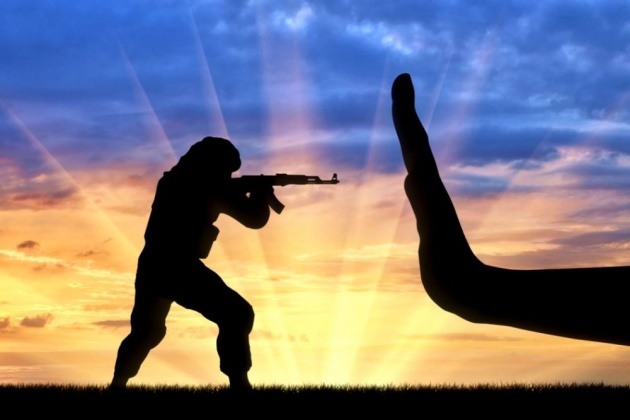 Movies About Terrorist Attacks - Photo credit: youtube.com
Who needs war? Why do people take up arms, forget about moral rules and human feelings, and rush headlong to kill each other? Who needs it? Take, for example, the First World War, the Second World War, numerous terrorist attacks, wars, gangster raids. All this happened, and always will be, if people do not change their approach. But behind every war, behind every terrorist attack, someone is surely standing, a person to whom these atrocities are beneficial for one reason or another.
There are a lot of nations in our world, and if conflicts flare up between them, then, in the end, there will be no one left. It is unbearable to realize that the war will never end. Why can't all people live only in peace and harmony?
Everybody's worried about stopping terrorism. Well, there's a really easy way: stop participating in it. - Noam Chomsky


Credit: brainyquote.com
Enjoy watching!
**************************************************************************************************
Thank you for stopping by and reading my blog.
2018, All Rights Reserved.
You are very welcome to join Bitlanders and share your valuable knowledge and opinion.
**************************************************************************************************