Hafiz Sohan Halwa.
This is a traditional sweet Specially prepared by Hafiz family since 1930. Multani Sohan Halwa is prepared by the best dairy products.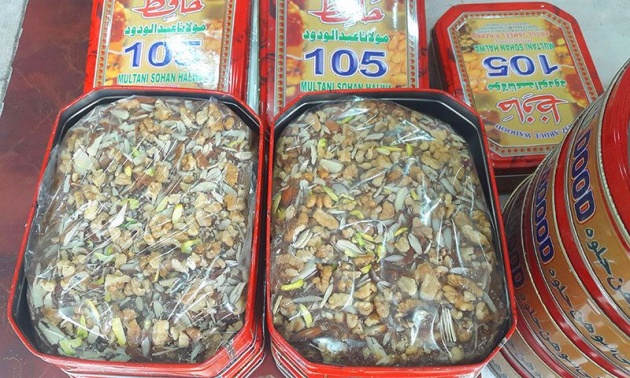 (Picture Credit: myself)
History:
Basically Multani Sohan Halwa was founded in 1930 and started by Hafiz Ahmed Din. He was perfect in his passion and producing the healthiest and finest Halwa from the last 82 year in Multan and all over the pakistan. Hafiz Halwa is the only sweet that received American quality award due to the quality of Halwa and standard maintenance.
In 1930 Hafiz Ahmed Din, a teacher of Quran (Holy book of Muslim) began preparing a daily serving of halwa as his students learnt the day's lesson. In the beginning it was for a limited circle of people which includes his close friends and a small community where he used to live. By his talent Hafiz Ahmed Din became very famous in no time and by this he started earning for living as well.

Official Site: Hafiz Multani Sohan Halwa.
Products and Flavour :
Badami (Almond) Halwa.
Akhrooti (Walnut) Halwa.
Pistachio Halwa.
Zafarani (Saffron) Halwa.
They have a good packing and it's packing change with time to time. They try to make there quality more better and the there sales are too much. When i visit there shop i saw that the shop is small but there sales is good in there and the customer are in a large amount to buy the sohan halwa.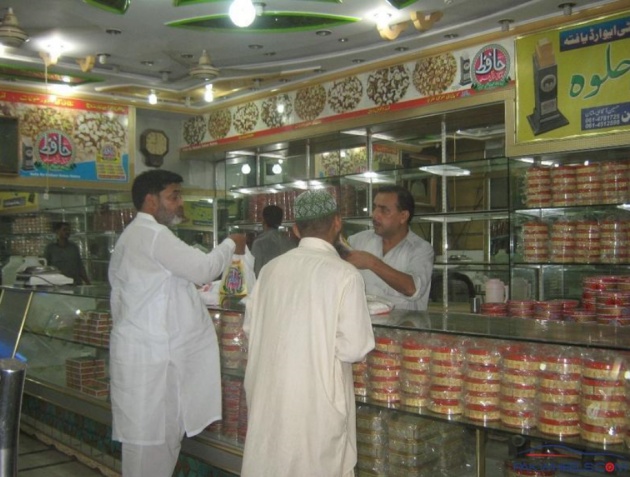 Most of the people buy sohan halwa and send the boxes to there relatives and friends that are in other cities as a gift.
If you are from Pakistan you can order this online by visiting there official site. Most of our friends are from abroad and they want to try to buy this. If someone of there relatives is from pakistan they can contact them or they can look near to the pakistani sweets shop around them. If there is not shop then don't worry friends i have shared the recipe of Multani sohan halwa at the end of the article. You can try it to our own at home. It takes time but it is awesome if you like sweet dish then you'll definitely try this. :)
Pictures of Sohan Halwa: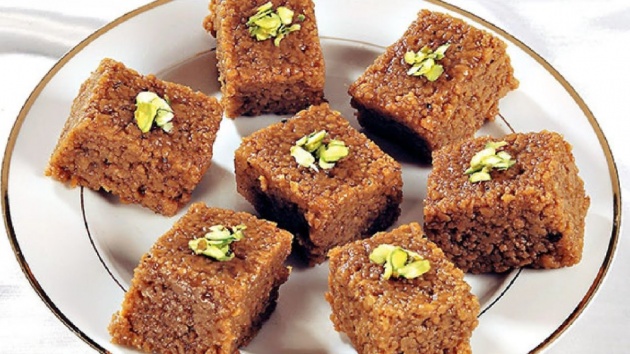 (Picture Credit: My friend)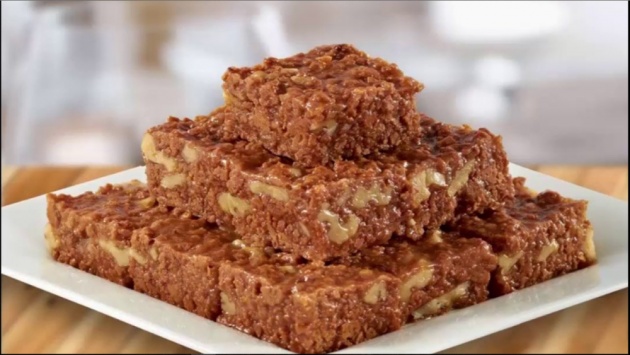 (Picture Credit: Myself)
Some Clips of Sohan Halwa Prepared by Me.
Recipe of Sohan Halwa:
Many people demand for the recipe of Sohan Halwa. As many of the people try to make this at home but this is not the hand of everyone to make it perfect. Only the best people in cooking can make good Halwa.
Ingredients:
Milk 1 liter.
White flour/ Maida 6 tbsp.
Samak(grain) / Wheat grains 2 tbsp.
Sugar 1 cup.
Green cardamom with skin 10,12 ground.
Clarified butter 2 tbsp.
Almond (At the end).
Pistachio (At the end).
Way of Cooking:
Soak whole grain of wheat and samak for 24 hours and dry it and grind it into powder.
Mix ground samak and white flour along in dry form.
Boil milk and add flour in it and stir it by hand whisk, donot cook too much otherwise it could be lumpy.
Afterward immediately add 1/2 tbsp of lemon salt and curdle milk then the water and milk will get separated.
Don't mix much so that the grain remain solid.
Cook on medium, when the color is changed add 1 cup sugar and green cardamon powder.
Stir it slowly.
Add 2 tbsp pure clarified butter and cook until oil come out on the surface and sohan halwa form hard texture into brown color.
Remove and set like 1 inche thick sheet and cool it at room temperature.
Spread the Almonds and pistachio on it so that the Sweet looks amazing.
Then serve it to others and enjoy with tea or coffee.
Thanks.
Must Try this tip and do not forget to share it with others.
Regards,
Hamza Rajput (hRajput).