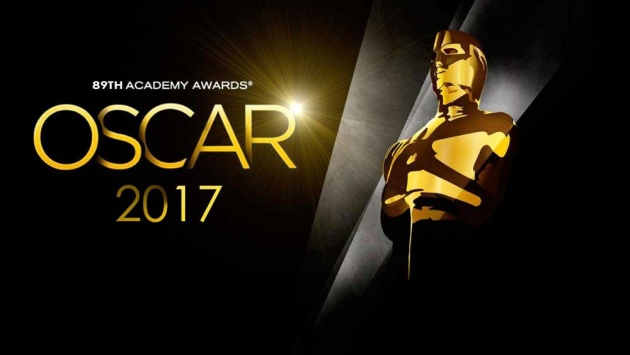 Now that the ballots are en route to the 89th Academy Awards, it is time for us to predict who will be the big winners! Damien Chazelle's "La La Land" dominated the nominations with 14 nods but will it shine on Oscar night at the city of stars? I'm predicting that the romance musical will take home 11 awards including Best Picture! The musical will only lose in the actor (sorry Ryan Gosling), original screenplay, and to its own "Audition" in the original song categories.
And you know why "La La Land" will win big? Because when the country is in turmoil, popular culture swings to the opposite way. And the film, with its sweet rose-colored palette and fancy production numbers made us all happy. And Hollywood wants us all happy.
We'll find out all the happy Oscar winners on Sunday at 5 p.m. pacific when the Academy Awards will be broadcast live from the Dolby Theatre in Hollywood.
Here's my complete and final Oscar 2017 predictions:
Best Picture
Arrival
Fences
Hacksaw Ridge
Hidden Figures
*** La La Land WILL WIN Expect Damien Chazelle's ode to Hollywood get the night's biggest prize! I love the film, it was my favorite movie of the year but truth be told, Academy voters love movies about them!
Lion
Manchester By The Sea
Moonlight

Best Actor
*** Casey Affleck, Manchester By The Sea WILL WIN He gave the year's most nuanced performance but let me just warn you, Denzel Washington could still pull a big surprise!
Andrew Garfield, Hacksaw Ridge
Ryan Gosling, La La Land
Viggo Mortensen, Captain Fantastic
Denzel Washington, Fences

Best Actress
Isabelle Huppert, Elle
Ruth Negga, Loving
Natalie Portman, Jackie
*** Emma Stone, La La Land WILL WIN Once upon a time, this award belonged to "Jackie's" Natalie Portman but the film failed to find an audience and now, Isabelle Huppert is Stone's biggest competition. But I still feel that the night will belong to her and "La La Land" just witness her "Audition" performance!
Meryl Streep, Florence Foster Jenkins

Best Supporting Actor
*** Mahershala Ali, Moonlight WILL WIN Mahershala Ali's screen time in "Moonlight" may be brief, but his performance can be felt all the way to the end. That's a testament of great acting!
Jeff Bridges, Hell Or High Water
Lucas Hedges, Manchester By The Sea
Dev Patel, Lion
Michael Shannon, Nocturnal Animals

Best Supporting Actress
*** Viola Davis, Fences WILL WIN She didn't win an Oscar for either "Doubt" or "The Help," but third time's a charm for Viola! And she gives great acceptance speeches! I can't wait!
Naomie Harris, Moonlight
Nicole Kidman, Lion
Octavia Spencer, Hidden Figures
Michelle Williams, Manchester By The Sea

Directing
Denis Villeneuve, Arrival
Mel Gibson, Hacksaw Ridge
*** Damien Chazelle, La La Land WILL WIN Damien Chazelle not only made one of the most memorable films of 2016, he also is the recipient of the Directors Guild Award! That's a great sign!
Kenneth Lonergan, Manchester By The Sea
Barry Jenkins, Moonlight

Film Editing
Arrival
Hacksaw Ridge
Hell Or High Water
*** La La Land WILL WIN Besides wowing us with the complicated-to-edit he said/she said points of view, the film already won the American Cinema Editors (ACE) EDDIE Award for Best Edited Feature Film (Comedy). That "comedy" may throw the voters off and give the award to "Arrival" instead which also won an EDDIE Award this time for "drama."
Moonlight

Foreign Language Film
Land Of Mine
A Man Called Ove
*** The Salesman WILL WIN While I admire the offbeat humor of Germany's "Toni Erdmann," I'm thinking Iran's "The Salesman" will win! Writer/director Asghar Farhadi won an Oscar before for 2011's "A Separation" plus "The Salesman" took home the Best Actor and Screenplay awards at Cannes, and with Donald Trump's Muslim ban? The film is now enjoying frontrunner status. Farhadi refuses to cross the border for the Oscars
Tanna
Toni Erdmannn

Original Score
Jackie
*** La La Land WILL WIN If a musical film does not win this category, the city of stars will cry!
Lion
Moonlight
Passenger

Production Design
Arrival
Fantastic Beasts
Hail, Caesar
*** La La Land WILL WIN That candy-colored palette still haunts me in my dreams! And, it was the big winner at the Art Directors Guild Award! So there!
Passengers

Visual Effects
Deepwater Horizon
Doctor Strange
Rogue One: A Star Wars Story
*** The Jungle Book WILL WIN Close your eyes and imagine Jon Favreau's "The Jungle Book." If you're like me, you'll remember the dazzling visuals of the movie! The seamless transition between CGI and live action! And that's why this film will win! But, I'm very happy that Laika's "Kubo and the Two Strings" is nominated in this category and not just in the animated section. Bravo!
Kubo And The Two Strings

Adapted Screenplay
Arrival
Fences
Hidden Figures
Lion
*** Moonlight WILL WIN First of all, if you haven't seen this film yet, shame on you! Please watch it and you will be touched by an affecting urban story that will simultaneously pierce and tickle your heart! It is that good! It already won a Writers Guild Award for Original Screenplay (Barry Jenkins based the script on an unproduced 2003 play, different rules for WGA and the Academy). Watch out for fellow WGA winner "Arrival" to possibly take the crown. But don't underestimate "Hidden Figures" as well. Audiences love it!

Original Screenplay
Hell Or High Water
La La Land
The Lobster
*** Manchester By The Sea WILL WIN Kenneth Lonergan wrote a screenplay that is rich in dialogue and characters. With both WGA winners duking it out in the adapted screenplay category, this is all for "Manchester By the Sea." Yes, I love "La La Land" but its screenplay is not one of its strongest tunes!
20th Century Women

Animated Feature Film
Kubo And The Two Strings
Moana
My Life As A Zuccini
The Red Turtle
*** Zootopia WILL WIN Honestly, I'd rather have "Kubo and the Two Strings" win this category but then, look at Disney's "Zootopia" and see how politically smart it is! Plus, who can forget the DMV sloths?

Cinematography
Arrival
*** La La Land WILL WIN Just look at the opening scene of the film! That alone took a lot of work and coordination. And then picture the movie's "look" and perhaps, you'll agree that it's this year's best-shot film?
Moonlight
Lion
Silence

Costume Design
Allied
Fantastic Beasts
Florence Foster Jenkins
Jackie
*** La La Land WILL WIN I would have loved "Jackie" or "Fantastic Beasts" to win but neither showed up at the Costume Designers Guild Awards – "Doctor Strange" beat "Fantastic Beasts" in the Fantasy Film category while "Hidden Figures" won Period Film – so I'm putting my money on the Best Picture contender!

Documentary Feature
Fire At Sea
I Am Not Your Negro
Life Animated
*** OJ: Made In America WILL WIN and should win! It's a shame that "Weiner" did not make the cut!
13th

Documentary Short Subject
Extremis
4.1 Miles
Joe's Violin
Watani: My Homeland
*** The White Helmets WILL WIN Orlando von Einsiedel's timely "The White Helmets" is the frontrunner in this category and it's about the Syrian Civil Defense – a group of people who help rescue bombing survivors!

Makeup and Hairstyling
A Man Called Ove
*** Star Trek Beyond WILL WIN The sci-fi flick already won at the Make-Up and Hair Stylists Guild Awards so did "Suicide Squad." But then again, "Star Trek Beyond" is a little better than "Squad" so it will live long and prosper with great makeup and hairstyle!
Suicide Squad

Original Song
Audition, La La Land
Can't Stop The Feeling, Trolls
*** City Of Stars, La La Land WILL WIN There's a strong chance that "La La Land" may split the vote and give Lin-Manuel Miranda's "Moana" anthem the big win BUT, like I said earlier, Hollywood loves movies about them especially songs about them!
The Empty Chair, Jim: The James Foley Story
How Far I'll Go, Moana

Animated Short Film
Blind Vaysha
Borrowed Time
Pear Cider and Cigarettes
Pearl
*** Piper WILL WIN I loved "Piper" better than the full-feature film that followed it, "Finding Dory." From its pristine animation to its heartfelt story about a sanderling trying to survive the big waves while searching for food, "Piper" is a smart film that looks and feels like a Disney Earth segment!

Live Action Short Film
Ennemis Intérieurs
La Femme et le TGV
*** Silent Nights WILL WIN This short from director Aske Bang and producer Kim Magnusson is considered the frontrunner. It's a drama about a Danish girl and her Ghanaian immigrant boyfriend. Magnusson has been nominated six times and won twice for 1999's "Brothers" and 2013's "Helium." That's a good sign!
Sing
Timecode

Sound Editing
Arrival
Deepwater Horizon
Hacksaw Ridge
*** La La Land WILL WIN Hey, I'm going for Rah Rah La La but there's a strong chance that Mel Gibson's "Hacksaw Ridge" may win this category. But here's the rule of thumb, this category belongs to either the action genre or musicals. And with "La La Land's" strong 14 nods, this may just be little icing on the cake. Oh and yeah, the Cinema Audio Society chose "La La Land" over "Hacksaw Ridge."
Sully

Sound Mixing
Arrival
Hacksaw
*** La La Land WILL WIN If we're going to go with the shared notion that "La La Land" will win majority of the awards, then it should also win this category. Previous winners with many nominations and wins before ("Ben Hur," "Titanic," "Lord of the Rings: The Return of the King") all won this category. But then again, they're mostly action films except from "Titanic" which was part drama and part giant ship sinking action!
Rogue One: A Star Wars Story
13 Hours: The Secret Soldiers of Benghazi