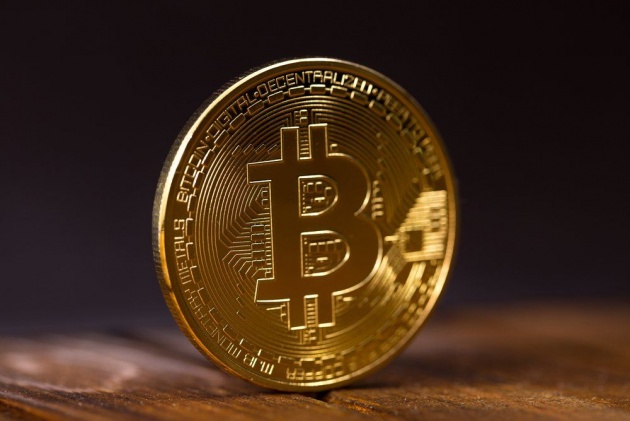 Foreword: This post assumes a basic knowledge of cryptocurrency. Some online searching will reveal information on this subject, so I won't go into depth on it here. Additionally, I cannot guarantee that none of the services mentioned here are scams, and cannot take responsibility for lost or stolen funds. All activity based on this article is done at your own risk.
First, Why Am I Blogging This?
Good question. I have two main reasons for blogging this:
To educate other people on cryptocurrencies and allow them to follow in my footsteps on this. Please leave a comment if you decide to try something like this, and I would greatly appreciate your feedback.
To get referrals. Many of the sites I use confer a referral bonus for telling other people about the site (more about this later). For this reason, I will request one thing: if you decide to try any of the services I mention here, please use the links I provide so I can take credit for that referral.
How It Started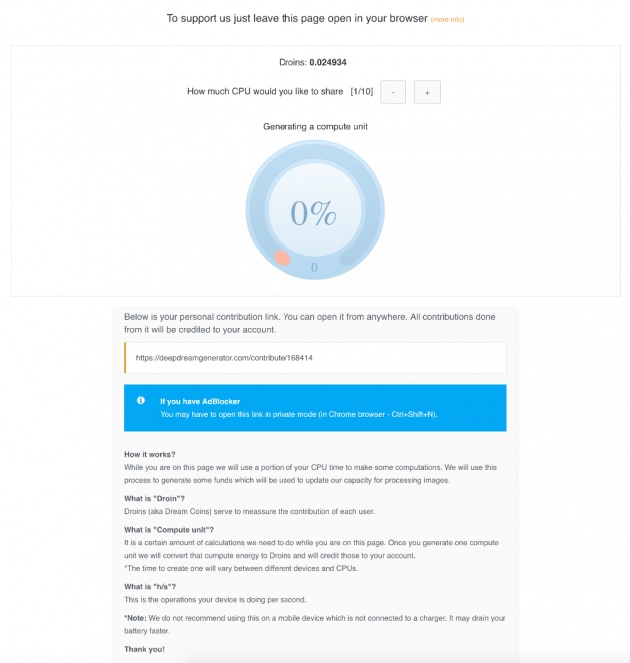 The DeepDreamGenerator support page
Early this year I was using a site called deepdreamgenerator.com. As I browsed the site, I noticed a link at the bottom that said "Support Us", and I clicked it out of curiosity. I was expecting the typical "Thanks for using our website, and here's a 'donate' button" page, but that's not what I saw. Instead, the page said "To support us, please leave this page open in your browser"
Side note: Since I mentioned deepdreamgenerator.com here, I feel like I should leave something of a review. It's a great, free service and I can totally recommend it to anyone who wants to try something fun.
This intrigued me. I clicked on the "more info" link, which pointed me to some info at the bottom of the page. It stated that the page would utilize some of my computer's CPU power to generate funds for the website. I recognized this as a cryptocurrency mining scheme, but I had never heard of using cryptocurrency to generate revenue for a website. With this new idea in mind, I began to research cryptocurrency and how I might get involved in it.
Bitcoin is not Alone
The first thing I learned is that Bitcoin, while it is the first and most widely known of the cryptocurrencies, is not alone. Hundreds of other "altcoins", or alternate coins, are also prominent around the web (Click here for a list of altcoins). Some of the most popular include Ethereum, Monero, Dash, Dogecoin, Litecoin, Bitcoin Gold, and many others. Monero was the first one that caught my eye, since it was optimized to be mined on a consumer CPU. I do not own any ASIC hardware or even a good GPU, so this was very appealing to me. It was then I decided to begin my experiment.
The Experiment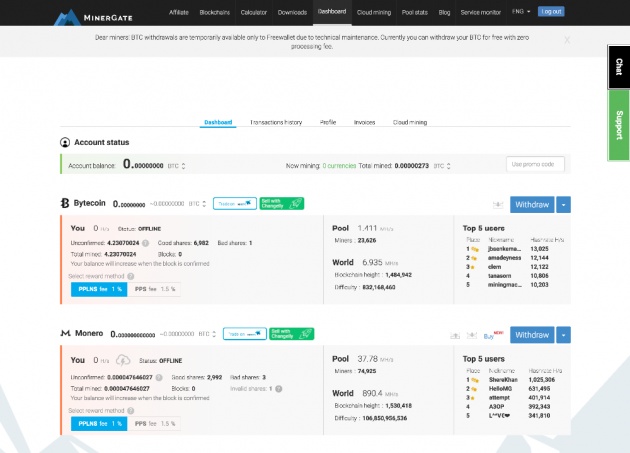 The Minergate dashboard
My experiment began as simply a way to discover how profitable cryptocurrency mining could actually be. I wanted to isolate my mining to prevent any risk of accidentally getting a trojan virus in a miner, so I started up a virtual machine and downloaded MinerGate from minergate.com. I began mining, watching to see how profitable it would be.
Another side note: I know that using a virtual machine will significantly reduce processing power, but this experiment is designed to be as low-risk as possible. The risk of getting a virus seemed high to me at the time, so I decided it was worth the reduction in power to use a VM.
Revising the Experiment
A few days later, I felt rather discouraged. I was only making about a penny a day, which would never add up to much, and I did not want to invest lots of money into expensive mining hardware. I also started looking around online and realized that the cost of electricity very likely outweighed the profit I was making through mining.
So I started looking for a new way to get involved. I had noticed a tab titled "Cloud Mining" in the Minergate dashboard and decided to investigate that.
What I found was quite interesting. Some companies, including Minergate, sell cloud mining contracts, allowing you to mine cryptocurrency without running your own hardware or paying for the electricity. I also discovered, after a bit of Googling, that many of these companies would give you a free start: sometimes 20 GH/s, sometimes 30, sometimes even more. Sure, many of them are scams, but as long as you are careful there is little risk here.
It was then that I revised my experiment.
New Terms
My new experiment is outlined as follows: the goal is to make as much money through cryptocurrency as possible, all while remaining totally anonymous and without exhausting my own computer or putting in crazy hours. "Anonymous" means no submitting personal details such as where I live, photos, or really anything more personal than my name. "Without exhausting my own computer" means no web or local mining, and "crazy hours" constitutes things like getting up in the middle of the night to run faucets or spending more than about 30 minutes on them each day (more on faucets later). Additionally, I did not put down any initial investment, so I have very little to lose, and did not download any software.
How I Started
To start, I began researching cloud mining sites that provided free trials. I found a fair list: Bits2U (fairly reputable online), Bitmining24 (this one is Russian, Google translate is helpful here), and Bitzfree (did not include a link because more research eventually showed this one to be an apparent scam). I researched these sites, Googling "(name of site) review" for each site, and reading a few of the reviews that came up.
For security, I decided to use a randomly generated password for each new site. I created a spreasheet in Google Drive to store them and generated them using this site. I completed the free registration for each site and found that they each provided about $0.02 every day. I was quite happy with this, and decided to look for a few more later.
Getting a Wallet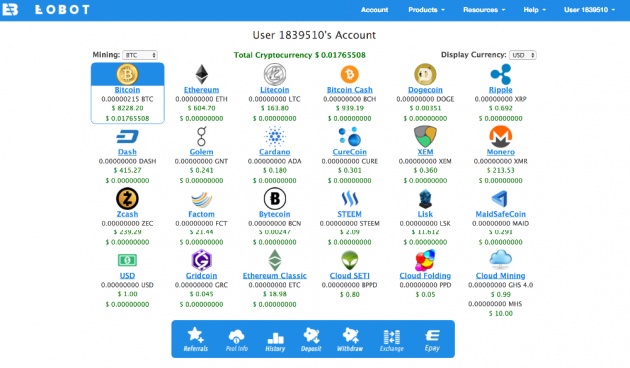 The Eobot dashboard
I researched some online wallets (remember, I did not want to download any software, including wallets) and found that eobot.com seemed to be fairly reputable and supported many altcoins. I registered for a free wallet, and began exploring the site.
I was dissappointed to find that Eobot has stopped selling cloud mining to US-based users, and breifly considered attempting to use Tor or a VPN to circumvent it, but decided against it. One feature that caught my eye was called "faucet". At this point, I had no idea what a faucet was, so I clicked on it to see what would happen.
Faucets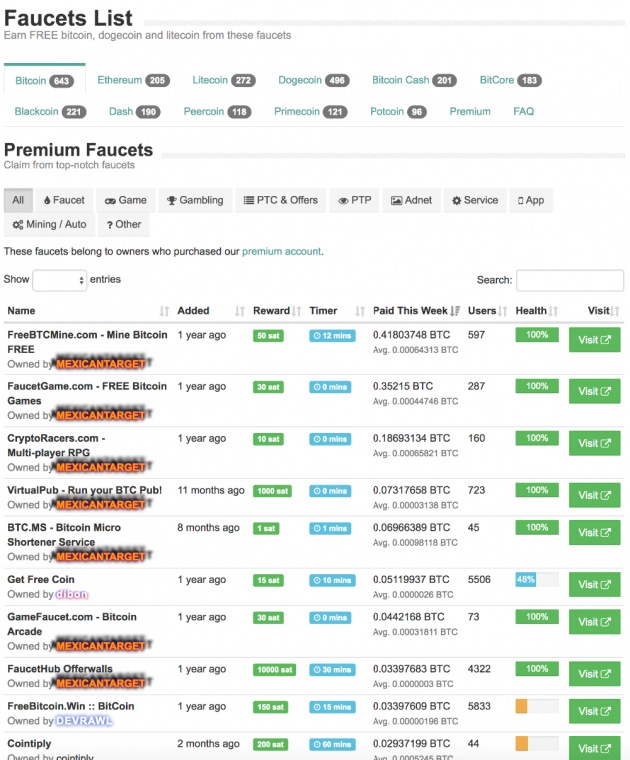 The Faucethub.io faucet list
I was presented with a captcha, which I completed. I was surprised to discover that I received free bitcoin for it! At first, I thought it must be a scam, but some searching enlightened me as to how faucets work. I learned that faucets make money by showing ads to their visitors, and reward these visitors with bitcoin. I also learned that there were many, many more faucets online, waiting to be claimed. I planned to make some money using faucets so I could get started with Hashflare, a cloud mining company that seems legit by every review I have read so far.
So I registered for an account on Faucethub.io. Many faucets withdraw to this service in order to avoid paying miner fees for the very small transactions that faucets require. This done, I began to browse the faucet list and the web in general and selected some of the best looking ones. The main ones I found are Cointiply, Freebitco.in (I do not recommend the multiply game, I have never done well with that), Satoshi Wars (Maybe doesn't pay so well, but increases as you spend time there) and freebtcmine (no link on this one, more on why later). I began visiting the faucets regularly and continuing to look for more.
A Dissappointment
Freebtcmine was my favorite faucet. It paid 50 satoshi every 12 minutes, and I was planning to withdraw to my wallet soon. One day, on attempting to log in, I was greeted by a simple, one-word page that said "Banned". Frustrated at this, I contacted faucethub support, who responded by quoting the freebtcmine terms of service which said that people would be banned for malicious activity. I was certainly not malicious, simply claiming from the faucet as intended. While this dissappointed me, it was not too harmful as I still have many other faucets.
More Cloud Mining
My continued search for more cloud mining sites was rewarded with two: World Mining and Ryse. These both seem quite profitable, but there seems to be little confirmation of their legitimacy online (Note: be sure to comtinue using unique passwords for each site, otherwise one malicious website could steal all of your funds from the others). Again, I did not invest in these, but activated the free bonus mining and plan to simply wait and let it multiply.
Yet Another Faucet(ish)
One of the last things I have done up to the time of writing is to sign up for btcclicks, an advertising site that pays bitcoin to view their advertisements. I have been visiting about 20 ads per day, and making a fair amount (for a faucet). I looked around the site and discovered they had a feature called "rented referrals". I looked into this, and was about to purchase some when I realized that I would have to obtain at least 0.1 mBTC before I could purchase any. This was dissappointing, as they have a good referral payout.
Referrals (And the Birth of This Blog)
After this, I began wondering if there was any way for me to get some direct referrals. Most people online said that the best way to get them was to promote your link on the forums, but I am not a major user of any forums. So I decided to try a less conventional approach. I realized that a blog of this type would have been helpful to me as I was starting out, and would also be a good way for me to promote my referral links. I searched for a site that would offer some free blogging and found one that not only would host my article but might even pay for it!
So this is how I came to bitlanders. I wrote this article for anyone who wants to try something similar to me and needs pointers getting started. I may also continue to post updates on my status depending on the reaction this post receives.
Afterword
Thank you for reading my article. If you enjoyed it or found it informative, please buzz the post. If you attempt to do this yourself, please leave a comment to let me know how you are doing. Additionally, post your referral links in the comments so you can hopefully get some referrals (if the service looks good, I will definitely use your referral link).
Additionally, I know the bitcoin price is low right now, but in many ways this makes now a good time to start. Many faucets pay out in a fixed USD amount, which means more bitcoins when the price is low. I don't believe the end of bitcoin is anywhere near, as it has fallen lower than this before and recovered quite well.
Hope to hear from you soon!