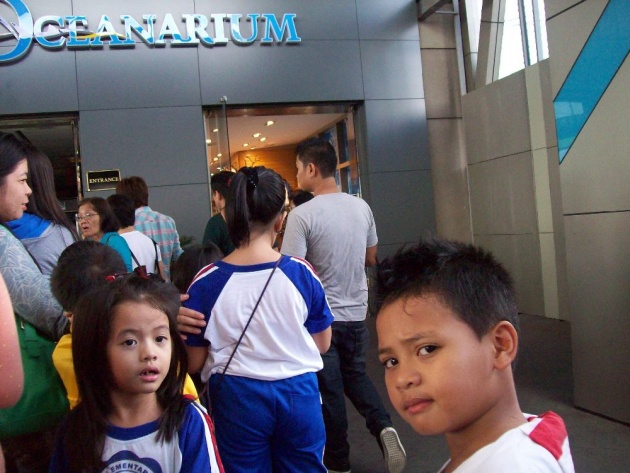 Hurray people!
How are you friends?
I still can remember my eldest son's first field trip. See below.
I woke up very early as 3AM on Saturday, Feb. 2, 2013 to prepare foods that we going to bring for the trip. I just cooked pork adobo. Then we went to Batangas Sports Complex where we going meet up and its 4:30AM only. Sadly, the bus that we're going to use was got a problem on its way to Batangas City. So we have waited for the replacement. I'll make it short, we left to go trip is exactly 6:30AM, that's too late.

First, it's stated that we're going to Rizal Park but when we already there, there's no parking lot that we can park the bus, also it's really late already coz it said that we're there for 2 hours as 8 to 10AM but it's 10:30 AM already, so we straight forward to the Manila Ocean Park. Our tour guide has waited us there. That's it, we went inside and watched the shows; sea lion show, the birds show and the musical fountain show. Son and I enjoyed the shows we watched. After the shows, we went to fish corner where big aquariums are there, we saw lots of fishes, different kinds of fishes. Whew! That's really tiring tour. We been there from 11:30 AM to 3:30 PM. After we seen around we decided to go back in the bus and gosh it's just us who the others are waiting for (lol).

Second, we went to Mall of Asia or MOA for short. We waited shortly to get our tickets to ride the different rides in story land. After Story land we went to NIDO Science Discovery Center. Of course it's all about science :P

Then, everyone is tired. Everybody wants to go home. It's 9:30 in the evening already. Bus is not there yet due to bit far parking lot and traffic. However, bus comes in few minutes of waiting. Just a couple of minute we're running and everyone fell asleep, must been very tired. After an hour we reached our hometown. It's been so fast maybe because it's kinda late at night already and no such traffics.
author: marichuy28
link: www.bubblews.com/news/191960-educational-field-trip-of-my-son