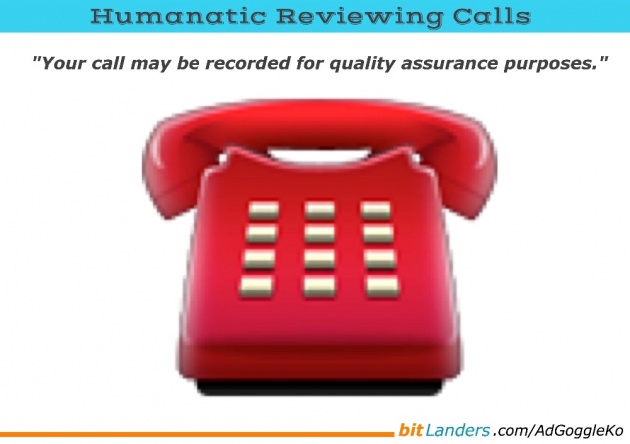 I believe some of you are already familiar with Humanatic (HUMFUN) where you get paid for reviewing recorded phone calls. Reviewers who can maintain 95-100% accuracy in Inbound, Outbound and other categories have more chances of earning $50 OR MORE PER DAY.
You could earn more if you can speak or understand Spanish too and if you could unlock more categories and reach higher level.
I applied March 15, 2016 and glad my application was approved the following day. I heard that some applicants were rejected due to conflict of interest. If you haven't joined and wanted to apply, I suggest you write your WORK EXPERIENCE (s) on employment history box at least 150 characters long (NOT your freelance jobs) and make sure your PayPal account is verified because that's what I did. Use your PayPal e-mail when signing up.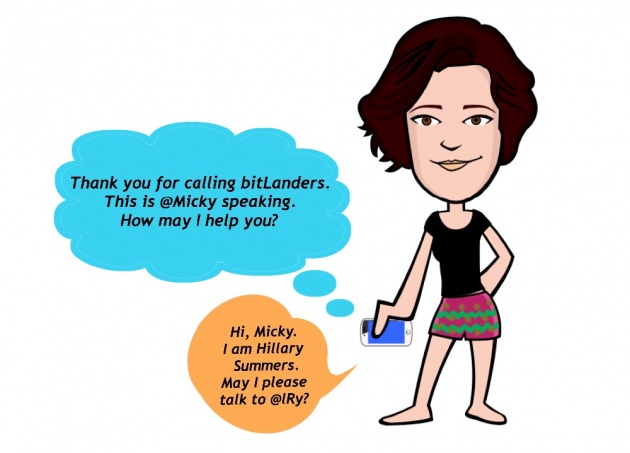 I finished Levels 1-3 quickly (1 Level a day).
Level 1 -- 30 calls
Level 2 -- 50 calls
Level 3 -- 80 calls
Level 4 -- 120 calls
Level 5 -- 170 calls
I reached Level 5 in seven (7) days but lost three categories (Live conversation -- inbound, Reasons for Outbound Call and Outbound Service Call Purpose).
Live conversation -- Outbound is easier but there are only few available calls for review and it requires a lot of patience. I check back every few minutes to earn more gems. We can use gems to purchase power ups.
If you are new to Humanatic and wish to reach $10 faster, I guess it is better to stick with one easy category "Live conversation -- outbound" to avoid penalties (earning deductions). For my fellow Filipinos, the best time to review calls is early morning and/or 10:00 p.m. onwards.
After reaching Level 5 we can purchase and activate "Mini Multiplier" power up using our earned gems (not $$) to finish Levels 5-9 faster.
Level 6 -- 230 calls
Level 7 -- 300 calls
Level 8 -- 380calls
Level 9 -- 470 calls
Level 10 -- 570 calls
I reached LEVEL 7 in two (2) weeks and earned $4 plus.
It took twenty six (26) days for me to reach LEVEL 8 (all-time earning: $5.90).
I reached LEVEL 9 after a month (all-time earning: $8 plus) and disputed penalized calls for the first time. Glad my "Live conversation -- outbound" accuracy rate went up to 100%. Whew!
I earned $10 (minimum pay out) in two months. Slow because I lost three categories as mentioned earlier in this post and I only review calls in English and spend few hours a day using my iPhone.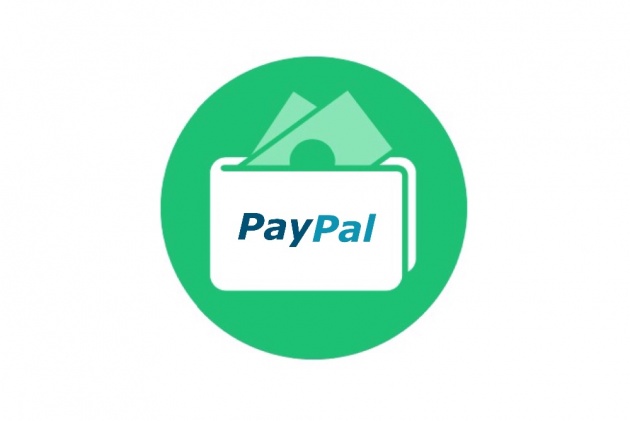 CASH OUT
Payments are processed Mondays and Tuesdays.
• Requested FIRST PAYOUT $10.39, 16-May-2016, 4:00 pm (Philippine time), Monday and received $10.18 (less $0.21 PayPal Fee) in less than twenty four (24) hours.
• Requested SECOND PAYOUT $2.00, 23-May-2016, 3:00 pm, Monday and received $1.96.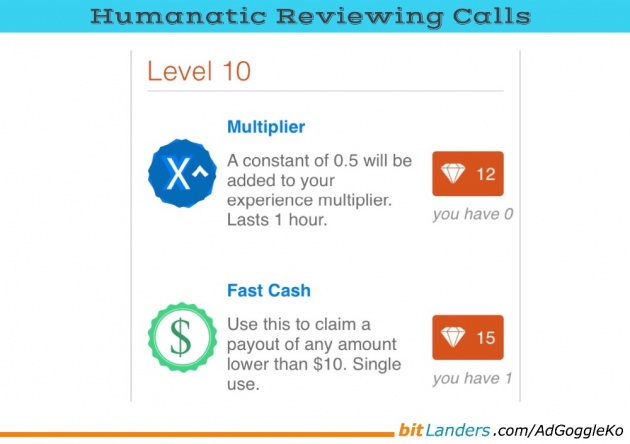 I reached LEVEL 10 after two (2) months. Purchased "Fast Cash" Power Up (using my earned gems) to request payout lower than $10. I also purchased "Multiplier" Power Up to finish levels 10-14 faster.
Level 11 -- 680 calls
Level 12 -- 800 calls
Level 13 -- 930 calls
Level 14 -- 1,070 calls
Level 15 -- 1,220 calls
When we reach LEVEL 15, we can purchase "Skip" power up for 10 gems and use it to SKIP current call we are listening to without penalty. But, I prefer to use my earned gems for purchasing "Multiplier" power up to reach higher level faster.
Humanatic updated its Terms of Service (TOS) May 27, 2016. I wasn't able to review calls for a few days because the updated TOS wont display on my iPhone 5S. I had to log on to desktop to view and agree with.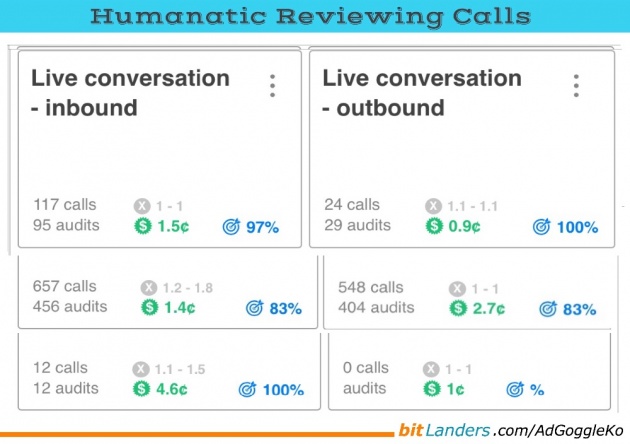 "Live conversation-- inbound" category was unlocked for me again June 03, 2016. My overall accuracy rate dropped to 96%. Gosh! "The purpose of this category is to determine if the caller is connected to QUALIFIED EMPLOYEE". I don't think I cannot identify who the qualified employees are. But I must admit that sometimes I am lazy listening especially if call length is more than five (5) minutes so it is possible that the connection is LOST while they are still talking and the correct selection for that is NOT CONNECTED. I'd be penalized if I mark it as CONNECTED and that's fine as it is my mistake (being lazy).
I reached LEVEL 11 June 07, 2016 but my overall accuracy rate continue to drop. I compared "Call Details" versus "Review History" and found that I was penalized for CORRECT selections and those who have INCORRECT selections earned. I can't believe it! So, I left a comment (dispute penalized calls). There were mediators who replied to my comments NICELY. I learned that every call per category is being reviewed by three (3) reviewers and we are penalized when opposing selections are made in the same category.
I continued disputing penalized calls and my accuracy rate went up. New categories were unlocked for me June 12, 2016.
• Requested THIRD PAYOUT $6.40, 13-June-2016, 7:45 pm, Monday and received $6.28.
I reached LEVEL 12 after three months (June 18, 2016). More categories were unlocked for me.
• Requested FOURTH PAYOUT $5.75, 20-June-2016, 2:50 pm, Monday and received $5.64.
• Requested FIFTH PAYOUT $8.26, 27-June-2016, 4:30 pm, Monday and received $8.10, 28-June-2016, 6:35 am.
I reached LEVEL 13 June 28, 2016.
• Requested SIXTH PAYOUT $17.45, 04-July-2016, 6:51 pm, Monday and received $17.10 in less than 48 hours (July 04 is holiday in the US).
I reached LEVEL 14 July 05, 2016.
• Requested SEVENTH PAYOUT $12.71, 11-July-2016, 3:22 pm, Monday and received $12.45.
I reached LEVEL 15 in less than four months (July 12, 2016) but lost two (2) categories. They were not my favorite categories anyway. I can't relate to conversations related to medical issues, etc.
I worked as a Secretary in an AVIATION company for more than ten (10) years so I thought I could do better in appointment related categories but I was wrong! There is one Humanatic mediator who ruined my day everyday. I don't think that mediator knows what APPOINTMENT, FIRM DATE and SOFT DATE are. I wonder how he/she became a mediator (sorry).

Appointment Booked
Example #1:
Agent: "Thank you for calling bitLanders. This is @Jennifer. How may I help you?"
Caller: "Hi, Jennifer. @lRy here. I'd like to set an appointment with @Francesco regarding bitMiles.com."
Agent: "Ok, would you like to come on Monday, July 25th?"
Caller: "Perfect. I will call when I'm on my way. Thanks a lot, Jennifer. Bye."
I marked/pressed #1 but I was penalized so I left a comment (dispute) "Appointment was set Monday". Mediator replied "it is a SOFT date because there is a follow up call. Penalty remains". (WHAT?!)
Yes, there is no exact TIME mentioned (morning or afternoon or 12:00 noon or whatever) but
a FIRM DATE was set! If selection #1 is wrong, selection #2 is very wrong because MONDAY July 25th is a FIRM DATE, not a soft date!
Example #2:
Caller: "Hi, this is @kRs. I'd like to know prices and availability of bitLanders clothing and accessories for men."
Agent: "Ok, I will e-mail it to you."
Caller: "Thank you so much! Will call back as soon as I receive it."
I marked it #3 but I was penalized also. I commented that "caller only asked for price and availability (RFQ) and did not request for appointment". The same mediator replied "there is a follow up because the agent will email the quotes to the caller. Penalty remains."
Scenarios like these ruin my day. LOL!
I DIDN'T know that "a Caller/Client calling to Request for Quotations (RFQ) and the Agent promising to E-mail the Requested Quotations" is called APPOINTMENT.
What I did as a secretary was -- prepare a quotation and have my boss sign it. Then fax or scan it and email to our client/customer. After sending the quotation, I call our client's secretary to confirm if quotation is received. An appointment was not booked because there is NO AGREEMENT TO MEET UP.
Some clients/customers call back after receipt of quotation to meet my boss in a particular time (set an APPOINTMENT) to discuss the Terms and Conditions, etc. If both parties AGREED to meet TOMORROW at 10:00 a.m. or TOMORROW between 1pm and 3pm, it is a FIRM DATE and TIME. If both parties said they are available ANYTIME NEXT WEEK AND WILL CALL WHEN ON THEIR WAY, it is a SOFT DATE and a follow up call was promised.
When callers inquire about Garmin VIRB® XE (Action Camera) for example, it is not a business opportunity for me because the company is only authorized to sell, install/uninstall and repair Garmin Aviation products. But for the same mediator I mentioned, "when caller is asking about products/services it is a business opportunity even if the company cannot provide what he/she wanted". Hmmm... How can I do business with you when I have NO AUTHORIZATION to do so?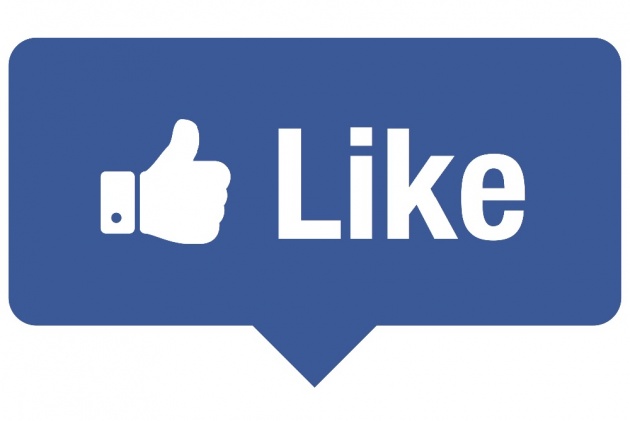 What I Like About Humanatic
(1) It works on mobile. I joined using my iPhone.
(2) Payments are processed in less than 24 hours and is made weekly. Minimum payment is $10 but we can request payout lower than $10 when we reached LEVEL 10.
(3) Bonus and Reward -- CASH bonuses are given when we mark audited calls CORRECTLY. REWARDS (cash or gems) are also given when we leveled up.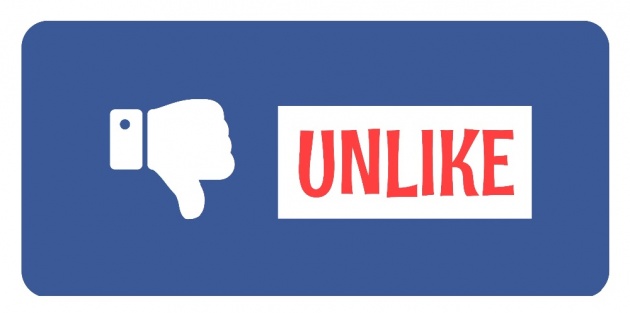 What I
Do Not

Like About Humanatic

(1) Number of Calls: You can see the number of available calls even they are not for you (Spanish).

(2) Earnings and Penalties: If majority of reviewers and mediators are dumb, sharp reviewers earn less. Sorry to say this, but that's HOW IT WORKS.
The more mistakes you make the more you lose your earnings because every mistake is deducted 2x from your earnings.
EXAMPLE:
My Current Earning is $0.00.
I reviewed and marked one (1) outbound call correctly. Yes, CORRECTLY!
Payout is $0.007 per call.
But, the other two (2) reviewers have opposing selections and none of us left comments.
My earning becomes NEGATIVE ($-0.014).
You can leave a comment EXPLAINING WHY you believe your selection is correct when the "Action required for call ID number" pop up. If the mediator (you can see mediators at Humanatic leaderboard) accept your explanation, he/she will restore your $0.007 earning. If not, your earning remains NEGATIVE ($-0.014).
Read the forum: http://humanatic.answerbase.com/1673695/I-am-new-to-Humanatic-today-is-my-first-day-I-have-reviewed-about-60-calls-and-i-only-made-62-cents-why-so-low
RELATED ARTICLES:
• How to Make Money Sorting Phone Calls
• Humanatic: Review Calls and Get Paid
[UPDATED: 15-July-2016]
***Images are my iPhone screenshots edited with Phonto app***