My iPad and Its Diderot Effects
My husband purchased an iPad 9.7 and gave it to me as a present. It was something that I asked from him as I was really interested in the iPad Pro but it was overkill because that is a very expensive electronics. Over the 30 day period of having the item, I realized that I had also spent more money in purchasing its accessories, this is when I realized that I have been a victim again of the Diderot Effect.
Video credits: Nerdwriter1 via YouTube
The Diderot Effect states that obtaining a new possession often creates a spiral of consumption which leads you to acquire more new things. As a result, we end up buying things that our previous selves never needed to feel happy or fulfilled. - James Clear
iPad 9.7 Accessories Review
Image credits: 9to5mac
I reckoned, as I am typing today with my portable Logitech Bluetooth Keyboard, that I have fallen into this aspect. See, this effect is truly something which I can surely avoid but for some reasons, it was also so hard to resist. That is why I decided I should instead make a blog review on these items.
Note though that even if I have fallen into the Diderot Effect, I knew in my heart that these items had served their ultimate purposes. I, of course, purchased them with the right intention and this is not considered as compulsive buying, although there are also times that I feel like they are not really a need but more of a want.
Apple Pencil
Image credits: lauckgroup
The first ever accessory bought was the Apple Pencil. The iPad 9.7 supports it and it executes writing and drawing in the iPad possible so it was a necessary accessory as I want to also do digital Calligraphy writings.
The Apple Pencil is heavier compared to normal pens, it has a very durable build but it felt slippery in my hand although I never really had slipped or dropped it. And my niece who also loves drawing on my tablet have not dropped it, reasonably it was just how it is designed.
What I love about this Apple Pencil is that it can be charged in just a few minutes and its battery gets full right away, it won't take long, around 5-10 minutes is enough and it would go for days of usage. The tip looks like rubber but it isn't, it is very sensitive and I had been using it since then in writing on Procreate.
Logitech Wireless Bluetooth Keyboard K380
Image credits: cnet
My husband thought the iPad is helpful for my blogging activities, that I can be out of a computer while I write blog drafts so instead of buying a new laptop, we both decided it should be worth purchasing an iPad instead which will cost us less than a new fast computer.
However, the dilemma was that typing on my iPad is actually lowering my typing speed to more than 50%. It was not effective and I had to still prefer using a computer instead which has an actual keyboard.
Then I looked for the Apple Keyboard but the Apple stores here don't have any keyboard for the iPad 9.7. It is worth noting as well that their keyboards are really expensive! It's around 1/3 of the actual iPad price! That discouraged me a lot and thought I am just going to be okay without a keyboard.
But when James and I watched the Aquaman movie in Robinsons Galleria, we walked into Digital Walker and found several items which are compatible with the iPad 9.7. I also brought the iPad with me at that time, that made me feel that we were destined to absolutely purchase the items. James and I ended up obtaining three accessories in that store.
Video credits: Atul Khare via YouTube
As for the Logitech Wireless Bluetooth Keyboard K380, it was a very nice addition to my iPad accessories because I have been using it in writing my drafts anywhere we are. While en route on a boat, I can put it in my lap and start writing, its portability is just amazing as I can just slip both the iPad and the keyboard in my backpack and pick it up from the easy access zipper on the side.
I had no issues pairing the two devices too! I turned it on and the iPad picked it up immediately, I, however, had to change the iPad language to English US so that the keys would reflect the right characters.
The size as well is just a little bigger in height of the iPad 9.7 so when I place it next to it, it felt like I am working on a small laptop. So far, I have no issues with it, typing is much easier and faster and I can bring it with me anywhere.
Image credits: gamecrate
Perhaps the only disadvantage that I can see here is the fact that it didn't come with a case so when bringing it along, there's a tendency of having the keys pressed down all the time by all the other items inside my bag. As you can see, there's another Diderot Effect coming soon!
SanDisk iXpand Flash Drive 3.0 32GB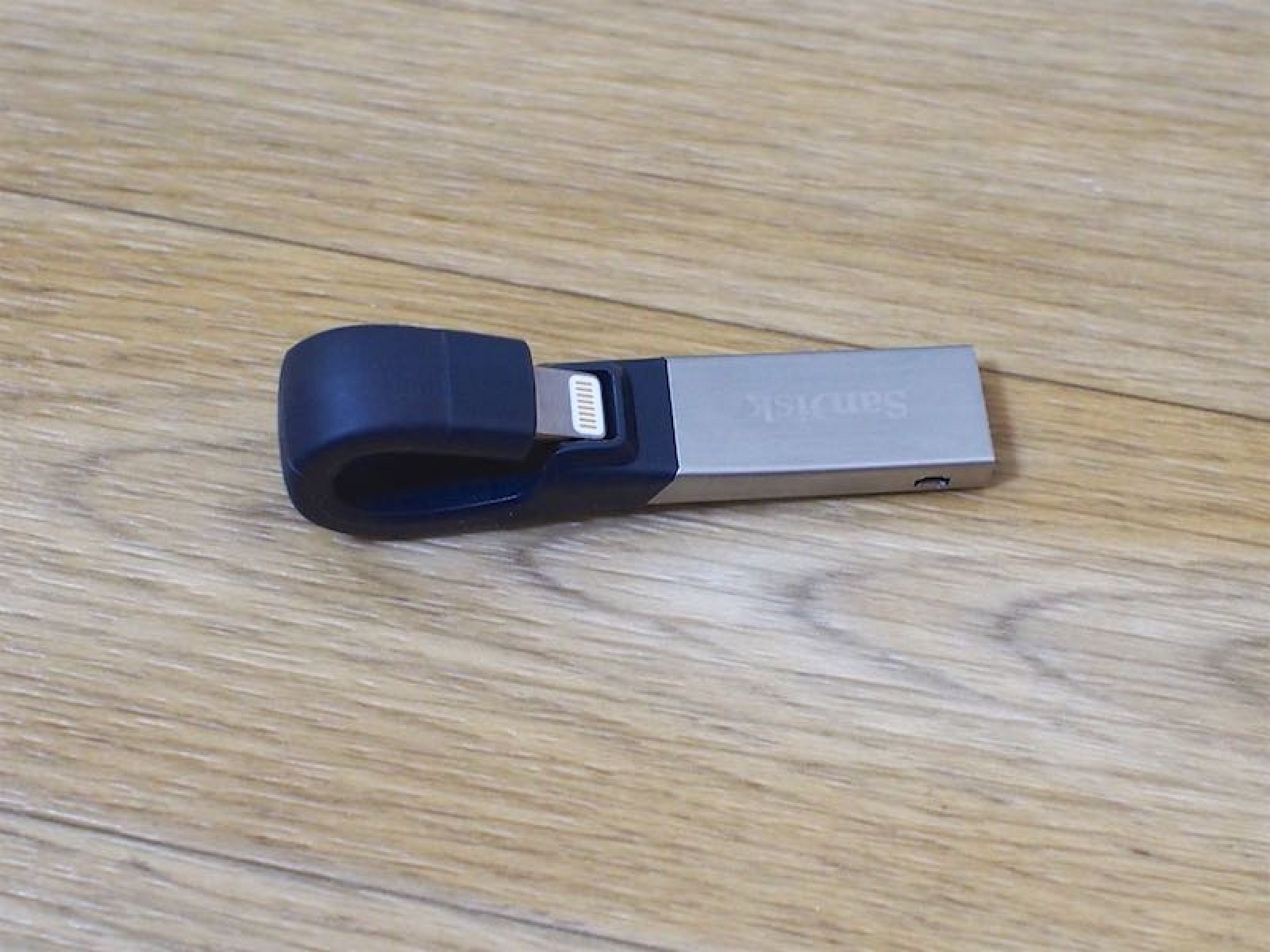 Image credits: macrumors
Transferring from and to the iPad 9.7 is a bit of a hassle for us because we are using a Windows computer. Airdrop makes this process seamless but since we don't have an iMac or any other Apple computers, we have to go through the various steps in moving files from the computer to the iPad mainly for editing photos purposes because we want to be able to edit images while on the go.
So, when we were in Digital Walker, James found the best companion for me to transport the photos easier. SanDisk iXpand Flash Drive 3.0 was what we found most affordable from the choices. This is a flash drive which has a USB and lightning connector in its other edges. The tiny item makes it possible to copy images from the computer and move it to the iPad with the lightning connector without the use of the internet.
Image credits: gizmomaniacs
It was very helpful and I guess it is serving us with the right purpose instead of going through the hassle of uploading files to an online drive then downloading it again on the iPad 9.7.
The only downside though is the design of the flash drive, its lightning connector seemed to have been curled into a weird position that I have to pull it back so it can stick into the iPad, I have a case on it and it adds thickness to the iPad that I have to really force it to pop open. This concerns me as this might cause the device to break in the future.
Urban Armor Gear Case
Image credits: the-gadgeteer
Prior to acquiring the keyboard and flash drive, my only wish actually was to get it dressed in a sturdy case, I have a tendency of buying a case and stays with it until almost forever. The iPad has this structure in which I am afraid it may obtain scratches and so forth. Holding it also seemed critical as the body has a great tendency of sliding off my hand so a case is an answer to this.
I had sought a variety of stores for the perfect case but didn't find any. In Digital Walker, I found an Urban Armor Gear case which looked ultimately strong but also, it has a rubber-like texture which keeps the unit secured and ensure that it won't slip away.
Image credits: urbanarmorgear
It has been tested shock proof too and there was a drop test done too so with the marketing strategy, I was immediately sold and bought the case at more or less Php 2000.
The only downside is that it doesn't have a pencil holder which made me think twice if I should get this or just order it online. But in the end, I decided to just buy it from there so I could use it right away. I definitely love this case although it does not have an option to turn it on the side and switch to portrait mode.
Conclusion
Image credits: imore
The Diderot Effect is very strong when we have a major purchase. We as humans have this tendency - to buy more and accumulate as we purchase a new item.
As of this writing, I am also in the lookout of an Apple Pencil cover to make it thicker and easier to write and the keyboard case as well.
With the Diderot Effect explained, do you also consider going through the same? Let me know in the comment section below.
Image credits: toastmade
Thank you for reading!
---------------------------
About the author:
Jean Beltran-Figues is a photography enthusiast.
A traveler who wants to promote her beloved country, the Philippines.