With the latest interesting changes, the latest English Premier League season 2013-2014 is considered to be the most anticipated season in years; with the competition getting fiercer than other leagues, the top teams are battling it out for the glory.
Manchester United's new manager David Moyes is in to fill Sir Alex Ferguson's shoes, Jose Mourinho's return to Chelsea has instilled a new spirit within Chelsea, Manuel Pelligrini trying to bring consistency to the squad, Tottenham signing new talent to fill in for Gareth Bale, finally on the other side, its Arsene Wenger's Arsenal, winning almost all the games without any loss this season, it seems the gunners old days are coming back once again.
During late 1990s and early 2000s Arsenal was at its peak, it probably was the golden era for Arsenal with great combination it was a dream team for Arsenal. The key players were Thierry Henry, Patrick Viera and Robert Pires, Thierry Henry, who became the highest goal scorer of all-time for Arsenal is one of the most respected players in football history. This team won all the competitions except the Champions League and was leading the tables till 2003-2004. Later teams such as Chelsea, Liverpool, Manchester City and Manchester United rose to the top and have been very successful across the Europe winning both Premier League and Champions League. During the years, Arsenal has produced many world class players but once they have formed the combination the players such as Samir Nasri, Ashley Cole, Cesc Fabregas and Robin Van Persie would leave for other teams.
But this season is different for Arsenal, unlike other times as Arsene Wenger is known to produce quality players, then selling them afterwards. This year the "Fly Emirates" sponsored team has bought the Turkish-German, Real Madrid game maker "Mesut Ozil" for an enormous 42.5 million pounds. Keeping up to his reputation, Ozil has been a tremendous newcomer for the gunners. With assists after assists the debutant scored in his very first match against Napoli. He has also linked up with Aaron Ramsey and Olivier Giroud.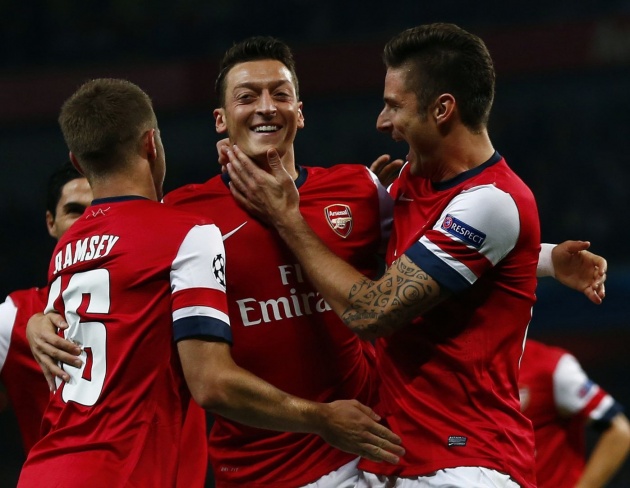 Mesut Ozil's contribution to Arsenal's success has been extraordinary and he has been an unstoppable force till now, I believe Wenger's deserves credit for coming up with quality combination. It really is a great moment for the loyal Arsenal fans who stood behind Wenger and kept their belief in his decisions, chanting,
In Wenger, We trust
It really is heart-warming watching a struggling team gaining its confidence and leading the charts with competition tougher than before, I hope Arsenal continues their winning streak while continuing its form and recreate memories of its glory days.