Image credits: StillsandMotion via Facebook
The long weekend just ended. Currently, I am onboard the Oceanjet vessel to Cebu from Tagbilaran City Bohol and I was thinking of the next blog to talk about, however, I thought I should instead talk about what commenced during the recently concluded long weekend.
A long weekend means one or more days in addition to the normal Saturday and Sunday. This long weekend was due to the All Saints' and Soul's Day which fell on a Thursday and Friday respectively.
Let me share with you below how busy I was that weekend. Sharing here a weekend full of photography and photo manipulation.
Sunrise View at Cadapdapan Rice Terraces
Image credits: Jean Beltran Figues via Facebook
My original plan was to stay at home and have a rest, a full eight to ten hours of sleep could have been a good amount of sleep to regain my energy but then, when we arrived at the Ubay Port at two in the morning, we decided we want to take sunrise shots at the Cadapdapan Rice Terraces in Candijay.
Arriving in Candijay, James and I were fetched by my brothers and we went our way to the rice terraces. We have been there before but since we were with family, most of our photographs were with everyone, this time, what we're after was sunrise while in the rice fields.
Sunrise started at 5:30 am but we arrived prior and were already positioned in a way that we were facing East. There's a mini island in the midst of the terraces, I asked my brothers to stay there while I take photos of them.
Image credits: Jean Beltran Figues via Facebook
It took us an hour of the photo shoot. I took lots of them to ensure that I have a good and sharp copy then stitched the photos into one through Adobe Lightroom to make it like a panorama photo. It was awesome watching the sunrise from there. It's amazing seeing the rays stroke through the foggy morning and we only heard nothing but our own aws and ohs as a sign of appreciation.
Cabagnow Cave Pool
After Candijay, I learned that my cousins from Cebu were in the house visiting and they wanted to go out to check some spots within the town. We brought them to Anda.
Video credits: Jean Beltran via bitLanders
First, we dropped by Cabagnow Cave Pool for lunch. We grilled fish and pork while the kids swim. The fun thing in this spot is, of course, the cave pool. This is all made by nature. An opening enough for jumping opens itself to the earth. It is a combination of salt water and the common tasteless water so the combo was great for swimming the 13 feet water pool.
There's a huge space inside underneath the land where we were having lunch. It's quite amazing how this formed into one. It was not a long time ago when I first came here, now there are improvements such as the stairs going up is already better and sturdier. There are floats in the pool too and the entire place is guarded and covered with some interlink walls.
Video credits: Jean Beltran via bitLanders
Jumping off to the water is still the best activity here although they also have set up tables and chairs for those who want to stay longer and eat. The management can also sell freshly picked Buko fruits for only Php 30!
Quinale Public Beach Resort
There's a very popular public beach in Anda, Bohol and there are hundreds if not thousands of people visiting every single day! After getting over the Cabagnow Cave Pool, we went straight to the town's public beach which was just around five minutes drive.
Image credits: Jean Beltran Figues via Facebook
This public beach is located just right in front of the school and church. There are tables and chairs for rent if you needed one while others prefer to just lay down in the sand underneath the bamboo made Teepee.
We had kids so they all enjoyed running around, playing with the waters and swimming. Unfortunately, it was low tide upon arrival but it didn't stop the kids to still enjoy the place.
Image credits: Jean Beltran Figues via Facebook
I, on the other hand, had also taken lots of photographs of my cousins and other relatives most especially teenagers.
Cake Smash Photoshoot
On the 2nd of November, our day was booked for a baby photo shoot! It's baby Amara who's turning one on December's time and her parents would really want to keep memories of her before she turns one.
Image credits: StillsandMotion via Facebook
With a Cake Smash theme at a public beach along our town, we started shooting at four when the sun was not too harsh anymore. The cake was a simple chiffon but with icing. I enjoyed the shoot, I didn't expect that editing it over on Adobe Lightroom was very enjoyable!
Baby Amara cried when she was dressed in this tutu but later on smiled and laughed while smashing the cakes! It was such as a cute moment of course for the parents too!
Image credits: StillsandMotion via Facebook
We had family portraits and I made a collage too of their many many photographs which I don't want to keep with me anymore, as much as possible, I wanted their photos to be given to the family because it will serve as their remembrance. Additionally, James and I will also take her dedication shots which will happen by December, on her first birthday too!
Portraits with Gecell
By Saturday, the next appointment was another photo shoot for my sister in law. We had been planning this for two weeks now and finally, we had it realized.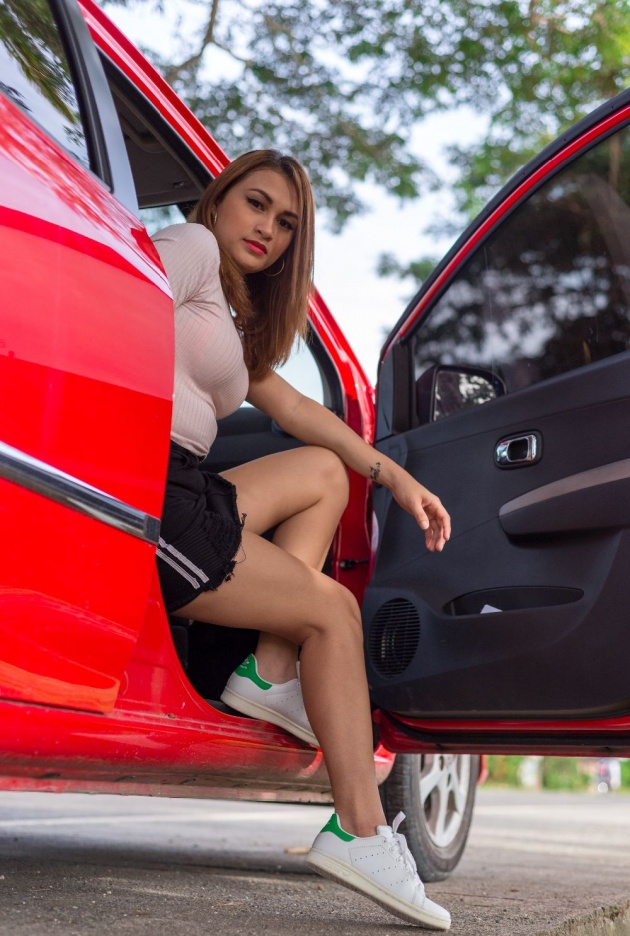 Image credits: Jean Beltran uploaded via bitLanders
The theme was a pictorial with Wiggy, their car. The car was red so I asked her to wear something light like white so she did and we drove to the neighboring town where there were huge Acacia trees with branches and leaves covering the road for good lighting.
It was quite challenging for a pictorial next to the road because there are cars and buses going here and there but my brother, Gecell's husband was very supportive of it that he made sure that we were safe while the pictorial was ongoing.
That was just a fun shoot which we always do whenever we are back in Bohol. For sure in the next few weeks and months, we will be doing another fun shoot but of different concept.
Seth's Dedication
Image credits: StillsandMotion via Facebook
And yet another photo shoot on Sunday for my nephew's dedication. It was a tight one because it was held inside our local church which has a very limited space so taking photographs was very challenging because of not enough lighting.
But what I did was enhance the lighting in the post-processing part. Also, I had created a tarpaulin design for the Dedication event. It was a photo with Seth on the beach and I edited it in Adobe Photoshop. The tarpaulin design was made in just a few hours, perhaps two hours. The good thing is that there's already a tarpaulin printing company nearby so printing it on Saturday was easy and fast.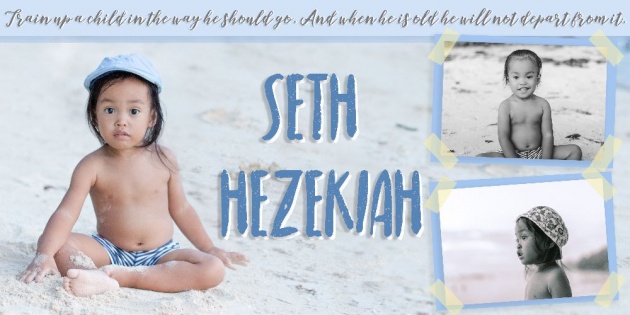 Image credits: Jean Beltran Figues uploaded via bitLanders
The entire weekend was really full pack, I guess I had spent numerous hours in front of the computer editing photos and doing some Adobe Photoshop works rather than blogging or interacting with other social media.
Still, it was worth it. I believe it helped me enhance my skills as a photographer as well as the editing process. I have to improve more to make it more efficient most especially in the editing part on Lightroom.
Thanks a lot for reading!
----------------------------
About the author:
Jean Beltran-Figues is a photography enthusiast.
A traveler who wants to promote her beloved country, the Philippines.