You are all probably tired of hearing me talk about this damned movie but I don't care because, well, this is my blog and I can write about whatever the hell I want. Marvel UK's YouTube channel has posted the newest trailer for Guardians of the Galaxy, dubbed the "international trailer." It doesn't have all that much new footage but it is still pretty interesting. The first thing that I noticed about the trailer is the lack of notable music. Every trailer so far has featured and awesome soundtrack including Spirit in the Sky and Hooked on a Feeling and I felt that those songs did a great job of setting the tone for the movie. They were awesome but at the same time it says "we know this is silly but we're doing it any way." This new trailer is disappointingly devoid of these iconic songs which are now heavily associated with the film.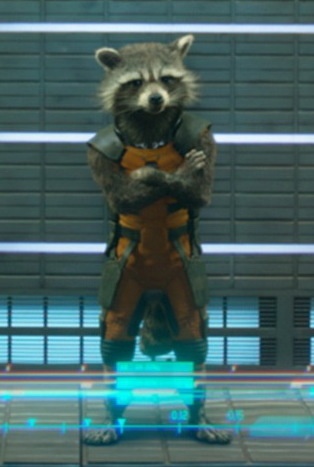 Other than that we get some more dialogue, especially from Rocket. Who doesn't want more Bradley Cooper voiced badassitude?
We also get to hear Gamora speak for the first time. In the original trailer neither Rocket, Groot, or Gamora get to speak. When it came out people cried to hear Rocket and Groot's voices. Gamora is the only female we didn't hear and no one cared. Is this a case of sexism? It could just be that Rocket is a talking raccoon who is supposed to have an Australian accent but is being voiced by Bradley Cooper who has an accent. And, well, Groot is a talking tree monster who can only say "I am Groot" and is being voiced by Vin Diesel. Do y'all think this sexism or is it valid for people to care more about the iconic characters being done in CGI?
MY LINKS
YouTube: youtube.com/ThatTallGuyJohn
Tumblr: thattallguyjohn.tumblr.com