In the last weeks, several directors started to speak up and share their thoughts about the film industry and the future of films. It started with Steven Soderbergh's State of Cinema address and how cinema is now "under assault by movie studios." It continued with Steven Spielberg and Georges Lucas' predictions of an "implosion" of the film industry and its future being online. And this week, we announced that actor and director Matthew Modine were presenting his short films on his web channel on Film Annex, along with an interview he did in our studio. Seeing big directors and actors acknowledging that cinema is changing and shifting towards digital film distribution is a great encouragement for our platform.
Today, I came across an infographic from the end of 2012 that completes well those thoughts. It shows that movie theaters tickets sales are dropping but that studios are compensating thanks to social media and viral marketing. It also gives great examples of successful viral marketing and social media campaigns for films. See an exerpt below and the full infographic here (by Allmand Law).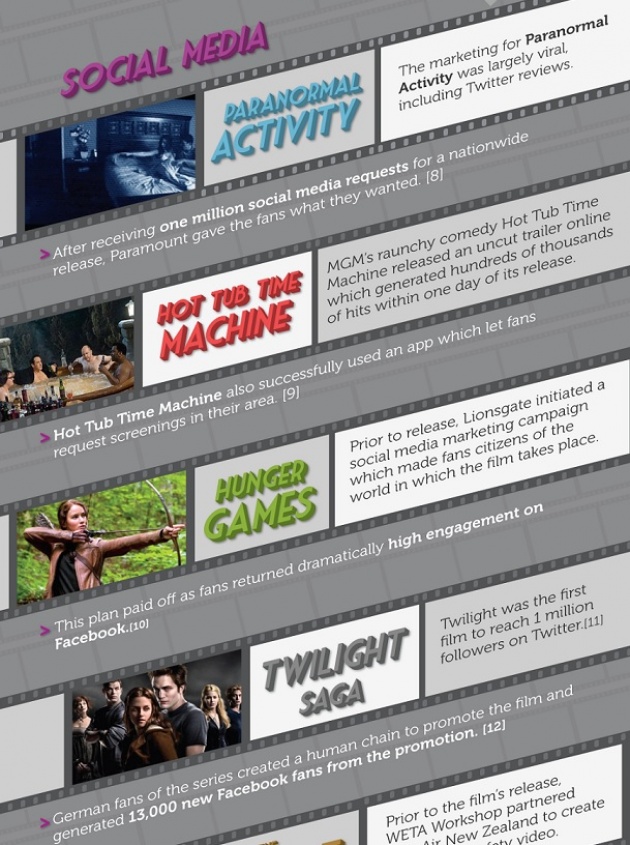 On that note, have a look at the new generation of indie filmmakers already embracing online film distribution and social media film promotion, and some of their latest films: Living With Someone by Mark Kuczewski, Morpheus by Lisa Stock, The Pact by Justin Viar, or Vent, by Erick Van Schaaik:
What do you think of these new film trends? Where do you see the future of films? Join the conversation on Twitter with #FilmAnnex #FutureOfFilm #FilmPromotion.
- Jennifer