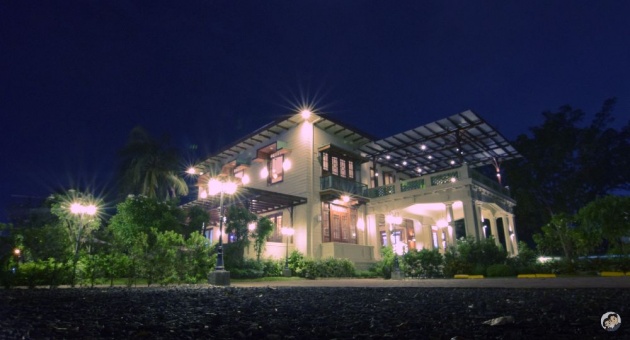 Image credits: Jean Beltran-Figues via bitLanders.com
Although I still have a lot of backlogs in terms of writing blogs, I can't help myself but prioritize this new entry because it is a very very special occasion for me and my husband.
Exactly nine years ago, our romantic relationship started. We are both happy that we have reached this point in our relationship and we are still counting the years while enjoying the happiness and challenges while being together now as married couple.
I can't say that being together for nine years was smooth. In fact there were times when our relationship has been tested. There were lots of misunderstanding, all relationships go through the same trials but what's important is the firm decision to stand with each other no matter what. We have been to a long distance relationship as well when I worked in United Arab Emirates year 2012 to 2014 which was probably the most challenging phase of our relationship as boyfriend and girlfriend. It was two years of being away from each other but the communication was there throughout the entirety of my overseas Filipino worker experience.
In 2015, we finally tied the knot in a Civil Wedding ceremony and that was the start of our relationship as husband and wife. Because we have been in the relationship for quite some time before getting married, there was not much adjustment towards each other but of course we later learned a lot more of our traits while staying together. These things we learned about each other specially the negative sides were all became an easy thing for us to manage because of the worthwhile activities we both had been into such as photography and travel.
Check out the Querlo chat bot about traveling below which I had personally created:
BitLanders played a huge part of our travel and photography hobbies as I had shared most of our travel in my blogs as well as the photos through the gallery and the movies section. Aside from that, I had been open as well to the recent sad event of our lives when I had undergone a major operation for my ectopic pregnancy last June.
That is why in our ninth anniversary, I am again sharing out to this community how we had spent the day together.
-

Circa 1900 Casa Dos

-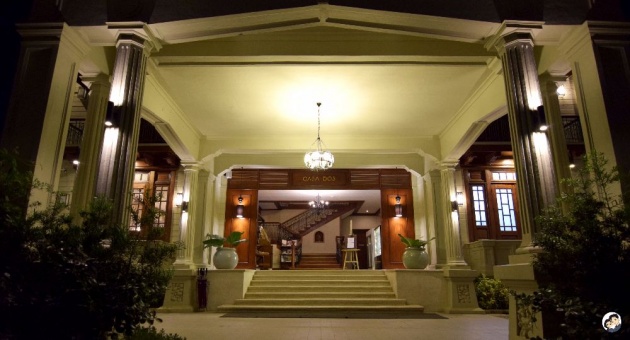 Image credits: Jean Beltran-Figues via bitLanders.com
That special day is a time worth celebrating because first, we have survived the latest challenge with my operation and now I have finally recovered however, we are still trying to get back to the usual life. And secondly, we are celebrating this nine years of love between us, I guess that is enough for us to make this day extra special.
James told me to get ready by 5pm so we can have dinner at Circa 1900 Casa Dos which is just a few minutes walk from his office in Lahug. He had made a call for reservation for 7pm but we arrive earlier than the specified time.
Last year, James' company celebrated their Christmas party at Circa 1900 Casa Uno which is just across Casa Dos. Upon entering the compound, their romantic lights got my attention. There's always something romantic with lights and I can't seem to explain why but it's just fascinating to me.
Video credits: Jean Beltran-Figues via bitLanders.com
Casa Dos was opened last year however, although it is still new to the public, it is also old in a sense that the structure is actually an ancestral home turned into a public restaurant. Just as the first Casa Uno, Casa Dos has the same theme, historic rustic and definitely homey. It reminds me of Hispanic houses with those big wooden windows with intervals made from Capiz shells. The owners of the property had made exceptional effort to make sure that the original structure and architecture of both the two houses are retained.
The restaurants is owned by Executive Chef Steve and his wife, Eya Shrimski. Circa 1900 Casa Dos has certain areas such as Cicada, a tapas bar featuring alfresco casual dining and function space complete with a swimming pool and soon, a Noshery will be opened as well.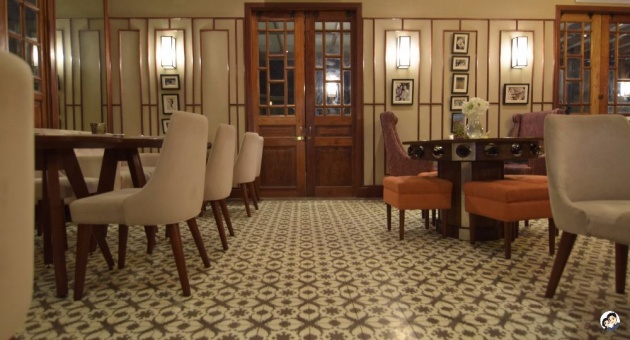 Image credits: Jean Beltran-Figues via bitLanders.com
Because I have very little knowledge about certain Spanish or Italian terms if they are themselves, I tried to look forward for these terms' meaning.
Cicada - this is kind of weird but this means insects which can be eaten, in Tagalog it means Kuliglig. But it is also a Latin term which means tree cricket.
Tapas Bar - according to online resources, this is derived from the Spanish/Portuguese verb tapar which means "to cover". For cuisine, it means appetizer or snack.
Alfresco Dining - an Italian term which means cool, mostly because it is dining from outside which is usually fresh and cool at the same time.
Noshery - a pastry and bakery.
Casa Dos has areas as well good for group events such as the Galleria Jereza which can accommodate 60 heads at once. The Belvedere as well which includes the pool side and function hall is perfect venue for yoga, Zumba, Pilates or Tai Chi.
It was quite astonishing to learn that they are offering these as it is located in the city proper of Cebu which is fully filled with buildings and cemented structures. It is a fun realization that without going to far places, one can already find a certain place in which you can go look back to Philippine history as well as perform meditation activities.
-

Dinner Time

-
At first, when James told me we're dining at Circa 1900, I immediately searched for their menu. Of course I don't want us to spend lots of money for a one time meal and I know certain restaurants are very pricey! Anyways, I found their Cicada menu price range fine so I was not too worried about spending. I strongly believed that we won't be spending more than a thousand pesos here and I was glad that happened.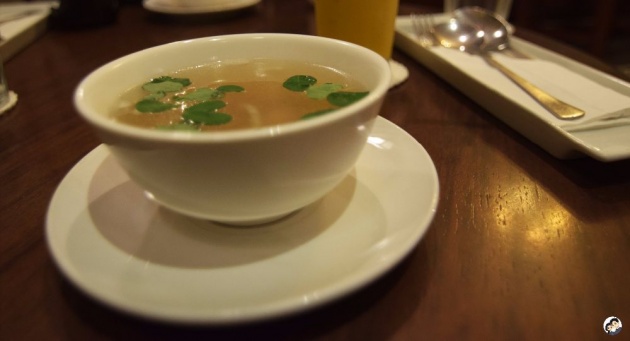 Image credits: Jean Beltran-Figues via bitLanders.com
So we started off with our Chicken Binakol with Ginger, Kaffirlime & Lemongrass soup. It took us sometime to finish the soup though because first, it was super hot when served and I don't like eating something hot which might burn my tongue. And secondly, because James and I were taking pictures and videos at the Cicada area.
After finishing the soup, our attender took the soup bowls and served the main Tapas dish which is also their best seller, Pork Ribs Tadyang which was slow cooked for 12 hours together with his garlic rice and my order which Pizza with Ham, Egg, Cheese & Arugula. We also got our drinks which were fresh calamansi juice for James and mine was banana mango apple whip shake.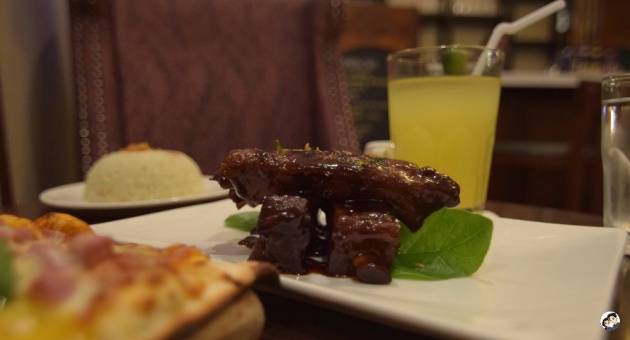 Image credits: Jean Beltran-Figues via bitLanders.com
First and foremost, I'd like to say that their best seller is definitely a must try by every guest! It's so tender and yummy that when I was using my fork to pull that meat out, it just slide down with so little effort exerted. I understand the size is just good for two people but James was super satisfied with it, he rarely give compliments for food by the way but this time, he was very appreciative. He also liked that the garlic rice serving was a generous one.
Then to my pizza, it was served on a rectangular natural acacia wooden pizza plate cut into squares and although I thought it was just so enough for me, I was actually wrong because after taking the fourth slice, I was feeling full already, I guess it was because I was also munching on the ribs or perhaps it was because of the soup?
Well, we ended forcing ourselves to eat everything like literally everything including the juices and shakes! I even asked for another set of water! Well, after paying, we realized that we should get to different restaurants in Cebu once in a while and try out as much cuisine as possible. We are not actually the kind of people who likes dining it at restaurants a lot specially now that I am on leave, we always eat at home and would only eat out when we go to malls for grocery or if we have to buy something.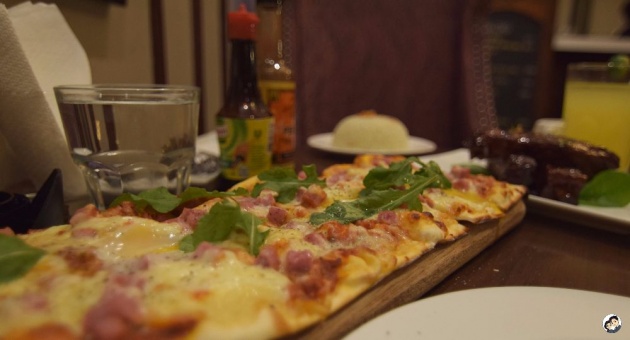 Image credits: Jean Beltran-Figues via bitLanders.com
Truly, we had fun that night, talking about a lot of things, we talked about our plans and the previous things that had happened. Life indeed is unpredictable, plans are just merely plans as our bodies are vulnerable and we don't own our future.
After dining, we went outside and took sometime to make long exposure shots at the pool area! Below, I am listing the things that both James and I loved about the restaurant.
-

Things We Love About Casa Dos

-
There might be more things that we have not discovered about Circa 1900 because its our first time dining in although James had an experience at Casa Uno but that was for a group party. We believe there will be more visits and meals at Casa Dos in the future. So far, here are the things we like and love about Circa 1900 Casa Dos:
1. AMBIANCE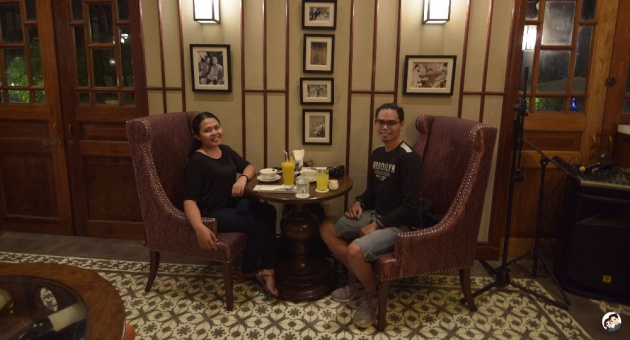 Image credits: Jean Beltran-Figues via bitLanders.com
Top 1 because both James and I love this kind of ambiance, the historic presence of wooden items, old photographs installed on the walls, wine storage turned into tables, yellow lights which reminds me of colonial days and tiles of different designs! Oh I can't get enough of them, I was taking photos all over the place even if they were redundant! I wish I could post more images here in this blog but you can check my gallery section instead.
Another thing to note as well was the temperature of the Cicada area. It was just enough that we don't feel cold nor hot, it was just in the right exact temperature which made us comfortable and cool at the same time.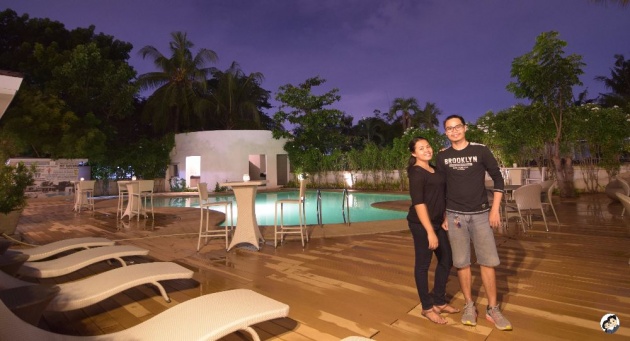 Image credits: Jean Beltran-Figues via bitLanders.com
It was also good that there were only a few people around. When we arrived a family group just finished dining so after they left, we were the only ones inside then while we were having our soup, a father and daughter came inquiring about their packages for the daughter's Debut. Then after sometime, another couple came for dinner.
It was quiet and very romantic as well. I like this kind of feel. I really felt like I was in a friend's house or something like that.
2. STAFF
Very accommodating and hospitable. We arrived at the Noshery area which was just adjacent to the Cicada and the staff at the front desk welcomed us with a smile. He even verified if it was James' reservation in which we nodded! That's what we call as initiative!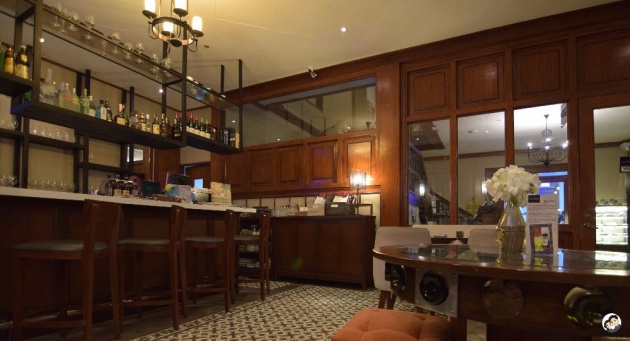 Image credits: Jean Beltran-Figues via bitLanders.com
Upon reaching our table, another lady staff welcomed us and gave the menu. She was talking to us in our local dialect but with English combination too! She glances and smiles at us while talking and she made us feel very comfortable! She even recommended the best seller! By the way we were seated at a corner with that huge chair which looked like owned by someone with a royal blood. I always see those in movies!
Aside from that, they were also very approachable and active most specially polite. They always check on us and asks if the food was okay and if there's something else we need which we greatly appreciate.
3. FOOD
Well, I did mention that we were super satisfied with the food we ate. I know there's still a huge range of food available to taste for in the future but because of the good experience on our very first time, we felt like everything on the menu is worth ordering.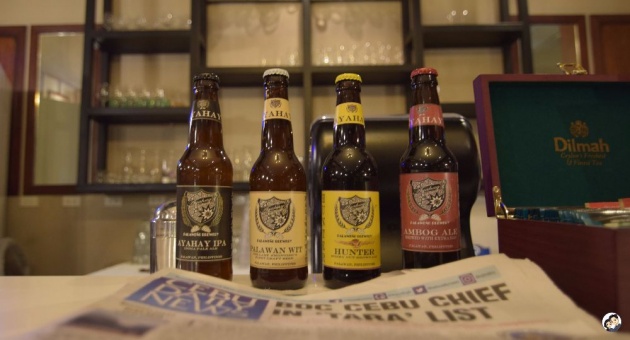 Image credits: Jean Beltran-Figues via bitLanders.com
We look forward to our next meal here, we believe it will be as awesome as the first.
4. SERVICE
As we were already going out of the compound, two other staffs from Casa Uno approached us and asked if we were on our way to the main highway then offered us a free ride with their electric vehicle!
Video credits: Jean Beltran-Figues via bitLanders.com
Office: Sanjercasvil Road, Gorordo Avenue, 6000 Lahug, Cebu City, Philippines
Phone:
Circa 1900 Casa Uno - (032) 239 6265
Circa 1900 Casa Dos - (032) 417 3886
Email: info.circa1900@gmail.com
xoxo,
Jean Beltran-Figues